Fingal Mayor opens 2015 ISAF Nation's Cup European Finals
05 May 2015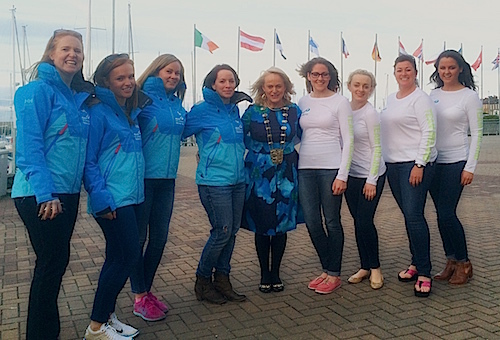 Overseen by the 11 competing European nations, the 2015 ISAF Nation's Cup European Finals in conjunction with McPeake Auctioneers was officially opened by Fingal Mayor Mags Murray in Howth on Wednesday evening. The Mayor wished for fair winds for the sailors and encouraged all involved in this major match-racing championships to enjoy Howth, describing it as 'the jewel of Fingal' with its spectacular coastline and warm and inviting local hospitality.
Thirteen teams from eleven nations will compete in the Open series, with Ireland being represented by experienced match-racer Marty O'Leary and his team - no strangers to Howth waters, having competed here in the Irish Match Racing Championships back in December.
The Women's championships will be a very competitive event with 5 countries taking part including two Irish teams led by 'youthful veterans' Diana Kissane and Mary O'Loughlin. The Nation's Cup will be a family affair for the Kissanes, as Diana's father Richard (Rear Commodore of HYC) is also chairman of this event.
The umpire and judging team is drawn from five different countries, headed up by French 'Chief Umpire' Thibaut Gridel and also including Kinsale and ISA Sailfleet's own Michael O'Connor. The championships will be sailed in the eight ISA Sailfleet J80s and racing will be managed by Howth Past Commodore, International Race Officer and ISA President David Lovegrove.
Top photo: The two Irish Women's team entries led by Mary O'Loughlin (far left) and Diana Kissane (third from right) with Fingal Mayor Mags Murray.
See full details of the 4-day racing schedule which begins Thursday 7th May at: hyc.ie/isaf-nations-cup-euro-final-2015. The event can also be followed live on 'Twitter' newsfeed at the @HYC_Events page.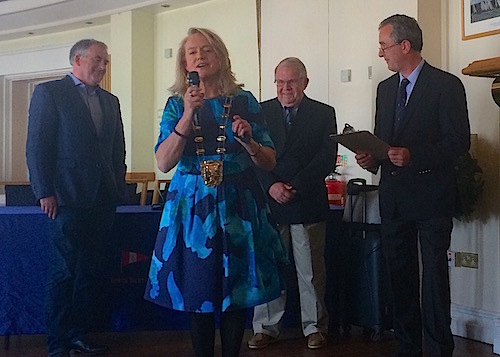 Registered in the Republic of Ireland. Registered No. 81187