Scott Flanigan enjoys Match Racing success in Italy
16 February 2015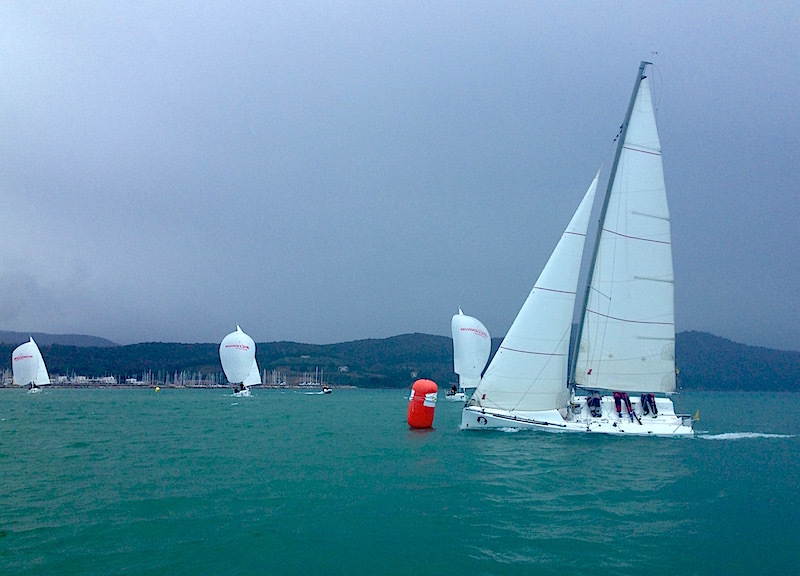 HYC's London Olympic sailor Scott Flanigan was racing with the Great British Match Racing Team this weekend and won the Grade 3 match race event in Scarlino, Italy, beating world number 17 Tomislav Basic in the final race to take the event. This week marks the beginning of the 2015 European Match Racing circuit and Cork's Philip Bendon was also competing in Antibes, France in another Grade 3 event where he finished fourth.
Scott is sailing with Mark Lees, Matt Haslam and James Hemmingway for the remainder of the season as they target a place on the World Match racing tour for the 2016/17 season. Mark visited Howth in the cold weather last December when he beat Annabel Vose and our own Graeme Grant at the Irish Match Racing National Championships.
The event was marked by very wet and tricky conditions. Scott's team won 7 of their 8 races, only dropping one race after breaking their spinnaker halyard. Their final race against top seed Tomislav Basic from Croatia was the decider, with the GBR match racing team leaving their best sailing till last.
Teams from at least 9 nations will be vying for top spot at the Nations Cup European Championships in Howth in early May.
Mark Lees: Helm, Scott Flanigan: Mainsheet trimmer & tactician, Matt Haslam: Trimmer, James Hemmingway: Bowman
Registered in the Republic of Ireland. Registered No. 81187