Cruising Group

WECOME TO NEW CAPTAIN SUSAN KAVANAGH Click here to read more
We welcome all Yacht and Motorboat owners, crew and interested members who are existing members of Howth Yacht Club. New members of all ages are welcome to join our Cruising Group.
Our Mission Statement is as follows:
"To share our love and knowledge of cruising and make it more enjoyable and safer to all our members"
We have over 140 members. When not Impaired by the present epidemic, we meet regularly (approx. once a month) during the winter months, to share our experiences. We also as a Cruising Group have an Annual Prize Giving Dinner with a large number of competitions for the best Annual Logs and Voyage Photographs. Five trophies in total to be won each year. The Cruising Group also organises a Start of Season Breakfast (usually in April) with a line throwing competition and award a special Asgard Trophy, followed by the first cruise of the season. Cruises to many of the East Coast harbours are undertaken. Many short notice cruises taking advantage of spells of good weather and tide are also undertaken during the sailing season. These short notice cruises are very popular and are affectionally termed "Armadas".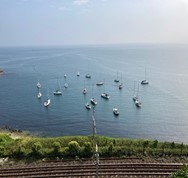 More Cruising photos from 2020 in
Gallery
---
Registered in the Republic of Ireland. Registered No. 81187