Cruising Group

Cruising Group Mission Statement:
"To share our love and knowledge of cruising and to make it safe and enjoyable for all our members"
We welcome all current members of Howth Yacht Club, whether they are boat owners, crew or simply interested in exploring what cruising might offer them and their families.
We have over 170 members. When not Impaired by the present epidemic, we meet regularly (approx. once a month) during the year to discuss relevant topics and to share experiences. In April, the Group organises a Start of Season Breakfast, with a line throwing competition and a special Asgard Trophy, followed by the first cruise of the season. During the summer, members set sail for a variety of destinations, either as individuals or as part of a Cruising Group event. In addition, we enjoy the popular "short notice" day cruises ( affectionally termed "Armadas") which take advantage of spells of good weather and tide to sail to a pleasant lunch spot.
At the end of the season, we have an Annual Prize Giving Dinner, with 5 trophies to be awarded in a number of competitions for the best Annual Logs and Voyage Photographs.
If you are looking to try some relaxing sailing, would like to see more of our beautiful coastline, or want to gain experience in any aspect of boat management, voyage planning, tides, weather or safety, then consider joining our Cruising Group. There is a wealth of experience among our members, which they are happy to share.
To join or for further information, please email Susan Kavanagh on kavanagh.sc@gmail.com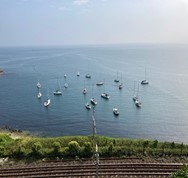 ---
Registered in the Republic of Ireland. Registered No. 81187