Blue Velvet wins Puppeteer Nationals
27 July 2014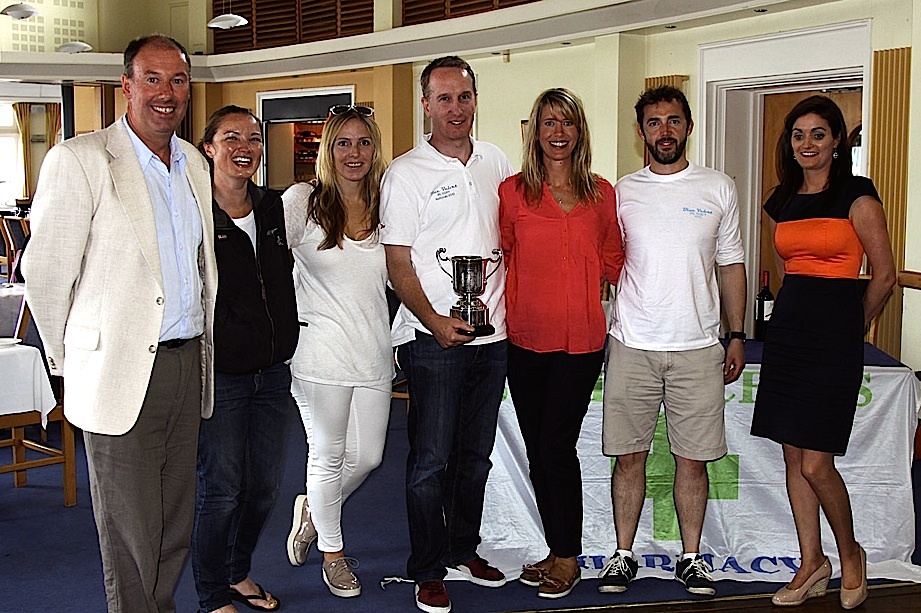 A tough final day's racing inspired Puppeteer Class Captain Colin Kavanagh and his crew on 'Blue Velvet' to a strong finish and to win their championships while 'Mayfly' took the handicap prize.
The Sutton Cross Pharmacy Puppeteer 22 Nationals 2014 were held in HYC on the 26th and 27th July. The conditions for the 16 boat fleet ranged from a little over 5 knots in Race 1 to over 30 knots at times in Race 6. After two races on Saturday David Clarke and Liam Egan on Harlequin held a 2 point lead over Yellow Peril and Blue Velvet on scratch, with Mayfly 5 points clear of Papagena on Handicap.
With four races scheduled for Sunday and more breeze forecast the teams were going to have their work cut out. Neil Murphy on Yellow Peril won Race 3 to go into the lead at the half way stage, but strong performances by Blue Velvet in Races 4, 5 and 6 saw them take the Championship on scratch, with Yellow Peril in second and the Hegarty's on Eclipse moving up to third overall. Mayfly continued her dominance on Handicap to take the Trophy, ahead of Papagena in 2nd and Gannet in 3rd.
A great weekend's racing was had by all, expertly managed by Harry Gallagher and his team on the Committee Boat. Thanks to all those involved, both on the water and off, particularly Charlotte and Graham in Sutton Cross Pharmacy for their continued support of the Class and the Club.
(Top photo: Commodore Brian Turvey with Colin and Kathy Kavanagh and their crew of 'Blue Velvet' and Sutton Cross Pharmacy's Charlotte O'Connor on the right)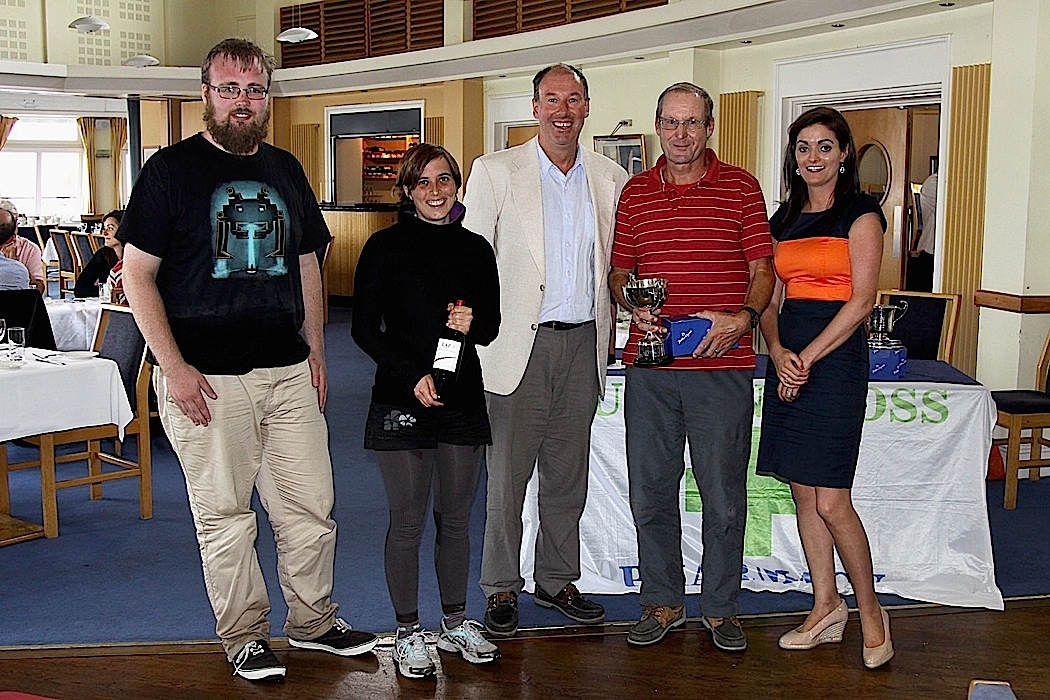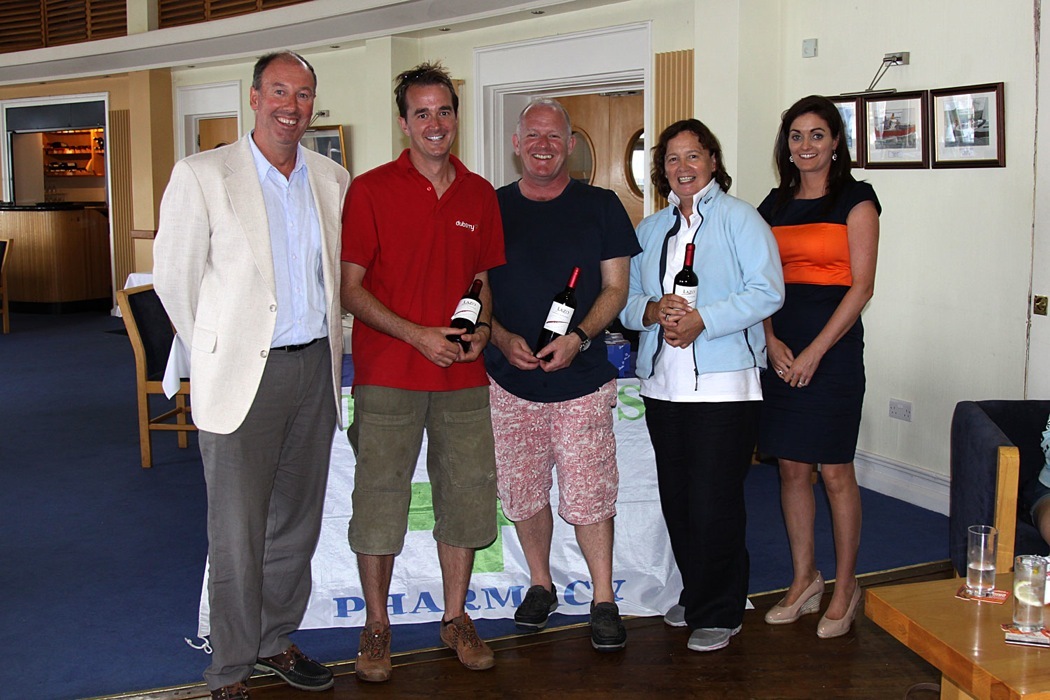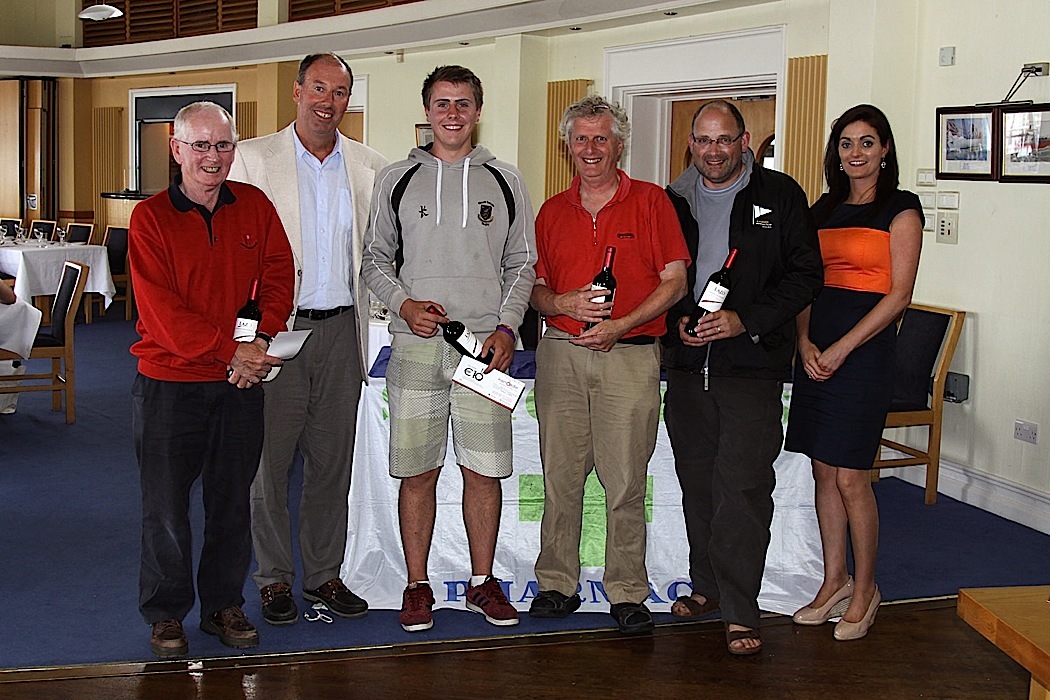 Registered in the Republic of Ireland. Registered No. 81187