Ireland win Commodores' Cup!
26 July 2014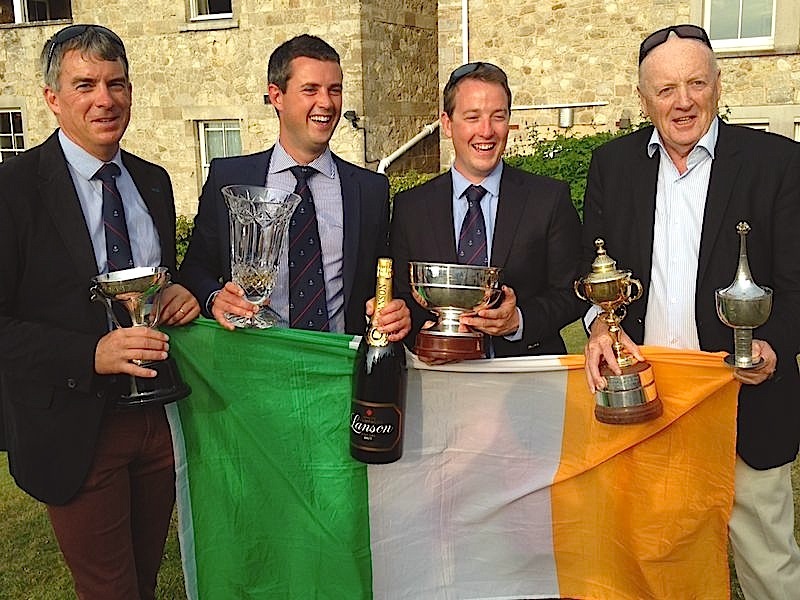 Howth sailors Dan O'Grady, Dylan Gannon, Ross McDonald and Norbert Reilly celebrated a wonderful victory in the Commodores' Cup after a convincing win this week. After a tense and at times gruelling week at Cowes, Ireland emerged overall winners of the Brewin Dolphin Commodores' Cup with a 174-point winning margin in the nine-team event. Ireland won the event for the first time ever in 2010 but was unable to defend in 2012 for economic reasons.
In addition to the Commodores' Cup and trophy for best individual boat, the team also won the award for best in the inshore series as well as the Edward Heath Cup for a European team.
Since starting last Sunday when team captain Anthony O'Leary on Antix won both races, Marc Glimcher's Catapult and Quokka 8 chartered by Michael Boyd and Niall Dowling have steadily increased their points advantage and were able to start the penultimate race around the Isle of Wight on Friday with a 99-point lead.
Although expecting a fresh sea breeze to develop today, the final race 'around the cans' was shortened after one hour when the light breeze died to near calm conditions.
However, Antix had established an early lead on handicap to finish the event as she had started while Quokka 8 was second. Catapult was first on the water correcting to fourth on IRC handicap but her result was sufficient to confirm the American boat as best individual performer of the series.
"We're elated after today," said Anthony O'Leary, team captain. "Yesterday we felt we didn't get the value for the colossal team effort that went in so to finish today in the style that we did with a 1-2-4 is the way to finish an event."
"This is an event won by the sailors as many of the boats were of similar capacity and capability," remarked Norbert Reilly, Commodore of the Irish Cruiser Racing Association. "It shows we have the sailors there and we just have to use these guys to train more of our younger sailors. It's not that we don't have the talent, it's that we just don't use it."
The main handicap system for cruiser racers is IRC so this is basically the world championships for IRC racing and not an easy event to win he said.
"Most of our country is beside the sea, it's crazy that we don't have more sailors," said Reilly. "ICRA are pushing hard to get the Irish Sailing Association to realise that there's huge talent there for a clean sport for all the family."
(Top picture: Dan O'Grady, Dylan Gannon, Ross McDonald and Norbert Reilly)
Registered in the Republic of Ireland. Registered No. 81187