Sailing for Summer 2021
18 January 2021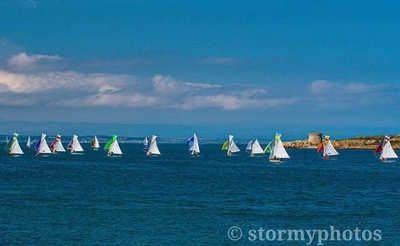 Just like Halloween now kicks off the start of the Christmas celebrations, the passing of New Year's Day is the signal to get arrangements in place for the upcoming sailing season. Although many of life's certainties have been capsized by COVID, Howth YC has its planning for the upcoming sailing season well in hand.
The current Level 5+ restrictions have kept the intrepid Frostbite and Brass Monkey fleets ashore and denied the sailors their weekly dose of climate confrontation and post-race rehydration therapy – for medicinal purposes of course. However, racers can keep their skills sharpened with HYC's popular E-Racing series, which allows entrants compete from the comfort of an armchair in front of a computer or tablet screen (and without a mask). The next series, titled the 'Feet-Up Frostbite Series', gets underway on Thursday, January 21st at 8.30pm – four races every Thursday night for four weeks. Entries can be made online from the HYC website and there is a spectator facility available – just Google 'Virtual Racing', download the free programme and look up the HYC event every Thursday night from 8.30pm (or click here for full instructions to get started).
The first of the HYC Summer Season keelboat races will be a Fingal Challenge race on April 24th that will re-introduce the competitors to the Kish Lighthouse. Midweek racing will then start on Tues, April 27th for the one-designs and on the following night the Cruisers will have their first Wednesday outing. The Half Tonners will provide some spectacle on the weekend of May 8/9th and the Lambay Races will be on June 5th.
The Club is hosting events across the Summer with a number of headliners that will bring huge fleets to the village. The Lasers are early season visitors for their Leinster Championship on May 1/2, the Optimist Class will be with us for their Leinsters on June 12/13 and the J24's for their Easterns on Aug 28/29 followed by the Squibs on the following weekend. That nicely brings us to Sept 11th, the first day of a 6 weekend Autumn League. Full details are listed on the 'Open Events' page of the website.
Sailing, like life in general, suffered the consequences of COVID in 2020 and the shock of losing our traditional Christmas and New Year festivities is still with us. However, with Easter celebrations only 3 months away and the vaccine programme underway, we are confident that the 2021 Season is ready to roll. We are all looking forward to again enjoying good craic and camaraderie afloat and making up for lost time!
Photo Credit Tomas Ryan, Stormy Photos
Registered in the Republic of Ireland. Registered No. 81187