Day two at The Half Ton Classics Cup
09 July 2014
Likely one of the most scenic short offshore races ever, perfectly describes the course set for the fourth race at the Half Ton Classics Cup 2014, which took the sailors from Saint-Quay-Portrieux, along the cliffs of Northern Brittany, around the stunning Ile de Bréhat archipelago and back, a distance of just under 40 miles.
The course required them to dodge rocks, battle the tide and pass through some very narrow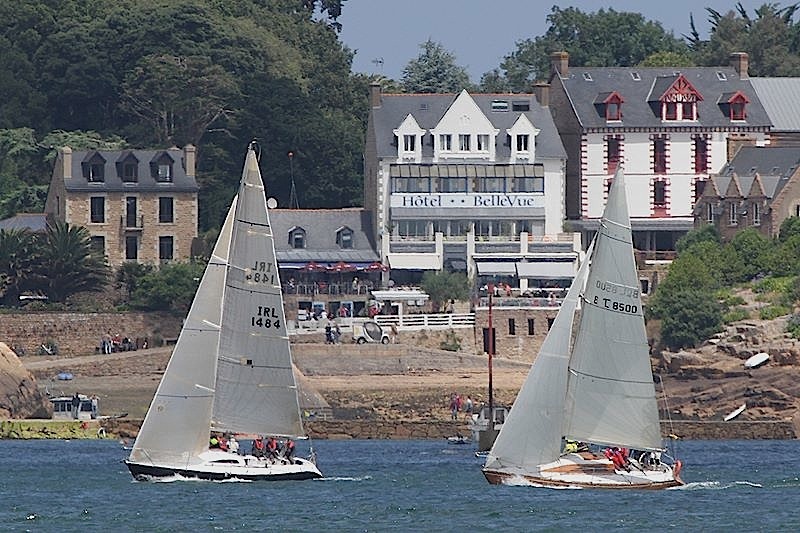 passages around the pink granite archipelago, giving the navigators a serious workout. It was also a tough day for the tacticians as they battled their fellow competitors as well as the elements and geography.
With a brisk north westerly ranging from 18-25 knots and plenty of lovely warm sunshine it was more champagne sailing for the 22 competing teams with a hearty beat out and a spectacular run home. Initially the course looked very challenging and one or two skippers expressed concerns about the safety of navigating through the narrow channels, but the committee's decision was vindicated and the teams enjoyed a spectacular and safe race.
Robert Tregear's Per Elisa got the best start, but from the off Peter Morton's Swuzzlebubble (1977 Farr, originally owned and skippered by Ian Gibbs) looked confident and they put in an outstanding beat to lead by seven minutes at the halfway mark. As they turned for home and hoisted the kite a mentally exhausted Peter handed the helm to Dave Lenz and took over trimming the main. Dave reveled in the surfing conditions and the crew took full advantage of the favourable tidal gate to extended their lead to over ten minutes by the finish line.
Although they had a generous lead, Swuzzlebubble is the highest rated boat in the fleet and there was an anxious wait until the results were published confirming that they had beaten Philippe Pilate's General Tapioca (1978 Berret) by two minutes forty four seconds, with Bernard Le Ray Fournier's Brittany Drizzle, a sister ship of General Tapioca, just over a minute further back in third. Back ashore Peter confirmed that it has been a fabulous day's sailing, but joked at the prize giving that 'I'm not sure about all those rocks - I think I prefer the mud of the Solent! But it was very pretty.'
The fight for fourth place was a close one with Toni Stoschek's Superhero (1988 Andrieu),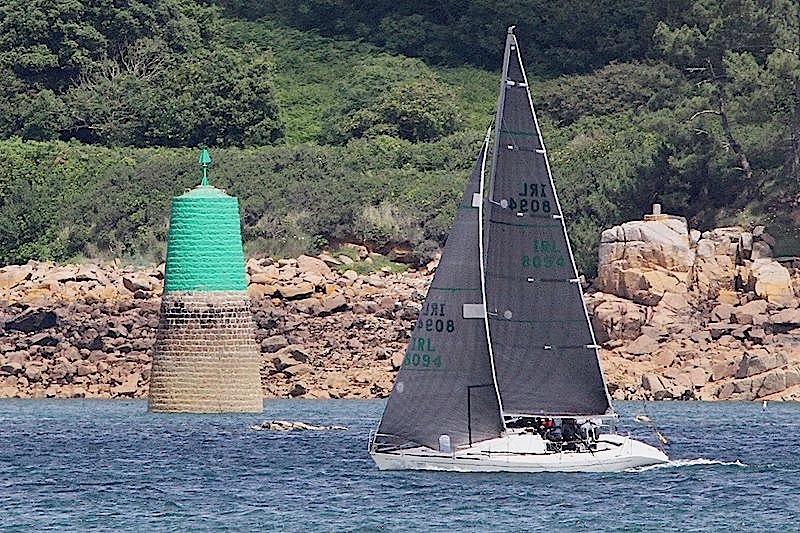 David Cullen's King One (1981 Berret - winner of that year's Half Ton Cup with Paul Elvstrom as skipper) and Nigel Bigg's Checkmate XV (1985 Humphries) finishing in that order within 36 seconds, and a mere two seconds separating Superhero and King One.
With four races completed the discard comes into play and in the overall standings Swuzzlebubble now enjoys a five point lead over Brittany Drizzle with General Tapioca two further points back in third. Fourth place is filled by Claude Charbonnier's Sibelius (1980 Jubert-Nivelt), who finished seventh in today's race and is now on equal points overall with Superhero, who takes fifth on count back.
As well as the overall trophy there is also a special prize for the Series Half Tonners, which are currently lead by David Evans' 1978 Stephen Jones designed Hustler 32 Hullabaloo XV. David found Hullabaloo rotting in the mud on the River Medway in 1996 and bought her with a view to restoring her and introducing his young family to racing. 'She was in such a bad state that I regretted my purchase within minutes of handing over the money.'
David wryly joked when asked about her restoration. Many evenings and weekends of hard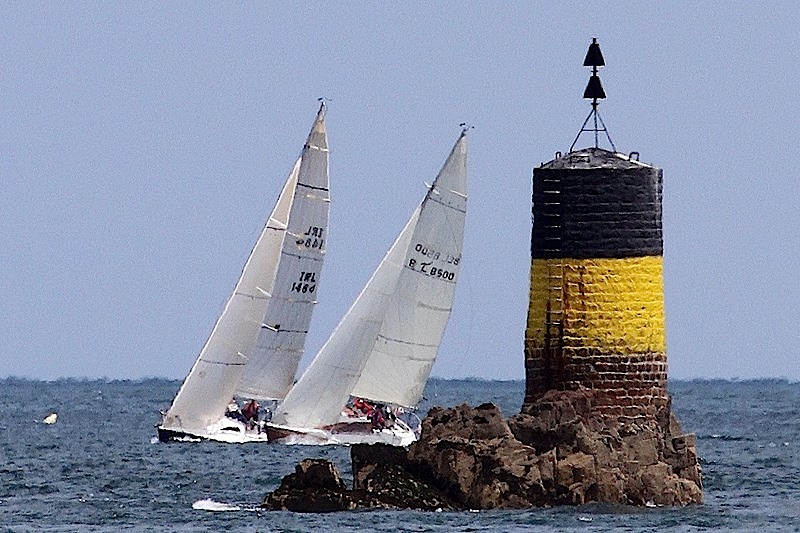 work later and David had the cruiser/racer he had been looking for and he's been racing her with family and friends ever since, as he explained after racing today; 'We've been doing the Half Ton Classics Cups since the first one in 2003. It was great, I only had three young children crewing for me so we were a bit pushed, but it whetted our appetites. We missed the next two events, but we were back in Nieuwpoort in 2009 in which we were second overall, so it just goes to show that production boats can do this sort of thing.... We sailed 330 miles on our own bottom to get here with just my youngest son and myself. It's a fabulous holiday and my other son and three friends joined us. Our oldest crewmember is 72!..... For the price of a reasonable car you can buy a Half Tonner you can go sailing and enjoy yourself, meet lovely people and have fabulous racing!'
Race 4
1: 'Swuzzlebubble' Morton Peter (tc 06h05:53)
2: 'General Tapioca' Pilate Philippe (tc 06h08:37)
3: 'Brittany Drizzle' Fournier le Ray Bernard (tc 06h09:39)
4: 'Superhero' Stoschek Toni (tc 06h13:16)
5: 'King One' Cullen David (tc 06h13:17)
6: 'Checkmate Xv' Biggs Nigel (tc 06h13:52)
7: 'Sibelius' Charbonnier Claude (tc 06h15:31)
8: 'Port de Perros Guirec' Nadaud Nicolas (tc 06h16:53)
9: 'Miss Whiplash' Pullen Paul (tc 06h18:05)
10: 'The Big Picture' Evans Richard Mickael (tc 06h19:18)
11: 'Hullabaloo Xv' Evans David (tc 06h23:05)
12: 'Concorde' Marshall Francis (tc 06h26:58)
13: 'Maeva' Waniart Frederic (tc 06h29:27)
14: 'Scorpion' Davies Geoff (tc 06h32:30)
15: 'Crakajax' Hollis Richard (tc 06h40:23)
16: 'Trastada' Roddy Angus (tc 06h44:10)
17: 'Per Elisa' Tregear Robert (tc 06h45:41)
18: 'Fantasy' Van Burm Ian (tc 06h45:44)
19: 'Harmony' Swan Jonny (tc 06h49:53)
20: 'Melchonenn' Guillerm Pierre Emmanuel (tc 06h52:38)
21: 'Turbidite' Neuilly Alexandre (tc 06h57:52)
---: 'Spip' Martin Thibault (tc 06h57:52)
General after four races
1: 'Swuzzlebubble', Peter Morton, 5 points
2: 'Brittany Drizzle', Bernard Fournier le Ray, 10 points
3: 'General Tapioca', Philippe Pilate, 12 points
4: 'Sibelius', Claude Charbonnier, 19 points
5: 'Superhero', Toni Stoschek, 19 points
6: 'King One', David Cullen, 24 points
7: 'Checkmate Xv', Nigel Biggs, 25 points
8: 'Miss Whiplash', Paul Pullen, 33 points
9: 'Hullabaloo Xv', David Evans, 35 points
10: 'Concorde', Francis Marshall, 38 points
11: 'Port de Perros Guirec', Nicolas Nadaud, 38 points
12: 'The Big Picture', Richard Mickael Evans, 39 points
13: 'Maeva', Frederic Waniart, 46 points
14: 'Scorpion', Geoff Davies, 51 points
15: 'Per Elisa', Robert Tregear, 53 points
16: 'Harmony', Jonny Swan, 55 points
17: 'Trastada', Angus Roddy, 64 points
18: 'Crakajax', Richard Hollis, 64 points
19: 'Turbidite', Alexandre Neuilly, 70 points
20: 'Fantasy', Ian Van Burm, 71 points
21: 'Melchonenn', Pierre Emmanuel Guillerm, 75 points
22: 'Spip', Thibault Martin, 90 points
Tomorrow the boats will return to short course racing with up to four more races being anticipated. The forecast is anticipating more northwesterly winds in the mid to upper teens and plenty more sunshine so it looks like another great day's racing is in store. The regatta continues until Friday.
Registered in the Republic of Ireland. Registered No. 81187