Dylan O'Grady wins Howth 17's Garryowen Cup
23 June 2014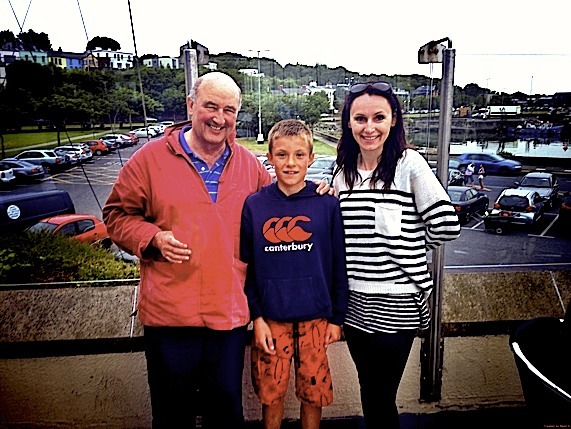 11 year-old Dylan O'Grady showed a clean pair of heels to the other participants in this year's Garryowen Cup - the annual Howth Seventeen's under 18s race. Dylan helmed Peter Courtney's 'Oona' - no stranger to the top of the fleet and crewed by the owner along with David O'Shea and Rima Macken.
A last-minute change to an East Pier start (rather than a committee boat course) proved to be wise, as the very light breeze was just enough to allow the hour-long race to be completed by 'substitute' race officer Roddy Cooper.
Dylan emerged at the front of the fleet at the beginning of the race and battled with Oliver Juchenvicius on Ian Malcolm's 'Aura' and Shane O'Brien on 'Deilginis' for much of the race. But the very light and fluky conditions were carefully managed by Ewan McMahon on the Turvey's 'Isobel', and almost caught 'Oona' with only metres to finish. A clever beat to the finish out of the flood tide by Joanna Sargent on Dr Tom Houlihan's 'Zaida' afforded her a deserved 3rd place.
Top photo L-R is the winning team (minus a missing David O'Shea): Peter Courtney, Dylan O'Grady and Rima Macken
The results of the Garryowen Cup were:
1. Dylan O'Grady on 'Oona'
2. Ewan McMahon on 'Isobel'
3. Joanna Sargent on 'Zaida'
4. Oliver Juchenvicius on 'Aura'
5. Milo Cruise O'Brien on 'Rita'
6. Sam Markey on 'Leila'
7. Jonathan Sargent on 'Echo'
8. Dylan McEvoy on 'Sheila
Shane O'Brien and his crew of Ian and Nick Massey and Mike Toomey on Deilginis retired towards the end of the race.
Registered in the Republic of Ireland. Registered No. 81187