Lambay Races add a 'classic' touch
03 June 2014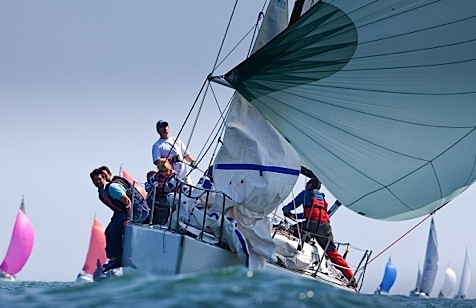 This weekend, Saturday June 7th, Howth Yacht Club once again hosts one of Ireland's longest established sailing events, the Lambay Races. The event has been part of Howth's sailing calender for well over 110 years, the first trophy dates back to 1899 and was put up by a member of what was then Howth Sailing Club.
Saturday's event is proudly sponsored again this year by Trustee Decisions Ltd. - a specialist company providing professional advice to trustees of private and public group pension schemes.
Apart from the usual inshore and offshore fleets, we will also have a throwback to the traditional Lambay Races with the Howth Seventeens starting off the East Pier and finishing in Howth Sound. There will also be a pier start for classic boats which will hopefully include a Galway Hooker.
This change in format for traditional classes is the idea of Bryan Lynch to mark the centenary of the Howth Seventeen 'Echo' (no. 8) which has been in the Lynch family since 1969 and is currently owned and skippered by Bryan's daughter Harriet.
As the entries roll in, it seems that the Puppeteers will end up being one of the biggest fleets. Every inch of the 16 or so mile race track will likely be needed by whomever will end up claiming the Lambay Lady trophy, which is awarded to the boat that wins its class by the largest time differential over the boat that comes second.
Leaving aside the excellent racing that the event usually provides, the onshore festivities start early on Saturday morning with coffee and bacon rolls, bar food and barbecue available all day, the prize giving will take place at 17:30 and dinner is available in the dining room from 18:00 (booking essential).
Music and dancing will be provided by Buck Taylor, a James Taylor tribute act with DJ David O'Shea continuing the fun until late.
Entry is available online here on the site.
Registered in the Republic of Ireland. Registered No. 81187