Helen Mary Wilkes conferred with Honorary Membership
22 April 2017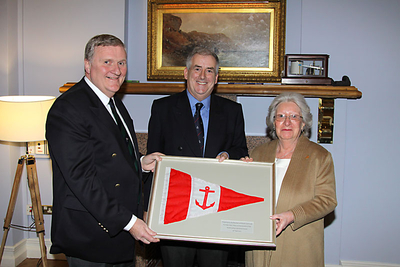 Following World Sailing's recent acknowledgement of her 40 years of service to international sailing and the well-deserved award of their Gold Medal, Howth Yacht Club hosted an evening for Helen Mary Wilkes on Thursday 20th April, conferring her with Honorary Membership of the club.
The attendees included ISA President Jack Roy, former President Paddy Boyd and a host of friends and fellow members including many volunteers that were part of Helen Mary's team that ran the Optimist World Championships in Howth in 1981. In his presentation to Helen Mary, Commodore Joe McPeake mentioned that he had done his dinghy sailing in RCYC and Malahide and had not had the direct pleasure of seeing Helen Mary in action and referring to her dedication to the class and the sport said that 'it was hugely appropriate that such recognition be celebrated during current times, given the importance and concentration of volunteerism in the sport of sailing and indeed in Howth Yacht Club.' ISA President Jack Roy told the gathered members and guests that sailing must thrive in current times through the support of sailors and volunteers that is vital to future sustainable growth. Referring to Helen Mary's work with the International Optimist Class, he described youth club sailing as the 'bedrock of the sport' and from which the future of sailing and sailing clubs emerge.
Helen Mary thanked the very many people who helped grow the Optimist Class during her tenure as President and made particular reference to David Harte who's work to appoint and certify builders and boatyards all over the world was key to the development of the class and its growth from a base in the 1980s of 40 countries to more than 100 today. She echoed those comments from the Commodore and ISA President in acknowledging the contribution of volunteers in Howth and elsewhere who are the vital foundation of the sport.
(Top photo: ISA President Jack Roy, Commodore Joe McPeake and Helen Mary Wilkes)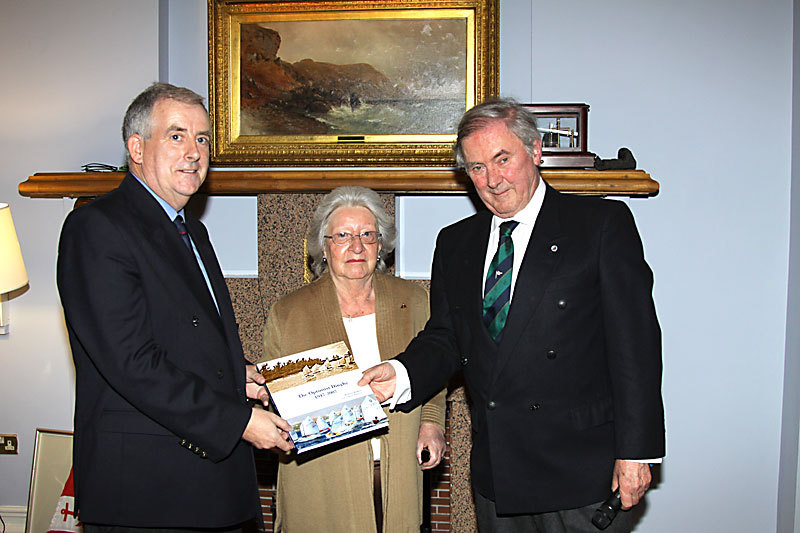 Also see WM Nixon's piece in Afloat.ie here
Registered in the Republic of Ireland. Registered No. 81187