World Sailing award Gold Medal to Helen Mary Wilkes
29 March 2017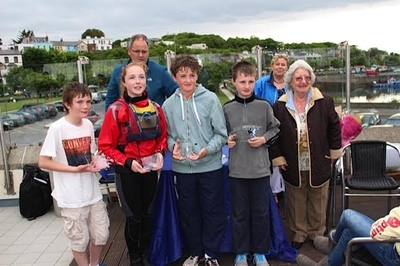 Following a lifetime of dedication to the organisation of our sport of sailing, much of it at the very highest level, World Sailing has bestowed its Gold Medal to Howth's Helen Mary Wilkes. Described as an award presented 'in recognition of outstanding service to the International Sailing Federation', the Gold Medal was heralded last week in a letter to Helen Mary from the newly-elected President of World Sailing Kim Andersen.
Treasa Cox, the ISA's Head of Communications said of the award: "We would like to wish a sincere congratulations to Helen Mary Wilkes who has been awarded the Gold Medal of World Sailing following thirty four years of service to our sport. She is President of Honour of the International Optimist Dinghy Association and a former president of the Women's International Match Racing Association. In 2008 she was awarded the WS President's Development Award for her outstanding contribution to the development of sailing and was inducted into the ISA Hall of Fame. A true ambassador for our sport, she is only the fifth woman to receive the Gold Medal."
Helen Mary's long association with our sport's international governing body World Sailing (formerly ISAF) initially stems from her involvement in the International Optimist Class, where both she and husband Robert performed a unique double-act of President and Secretary, overseeing its growth over many decades as it became the largest sailing class in the world.
(Top photo: Helen Mary presents the 2015 Vice President's Trophy to the RCYC team and overseen by IODAI's Aidan Staunton and Jill Sommerville)
See Helen Mary's full 'CV' in this tribute article by our own WM Nixon on Afloat.ie
Registered in the Republic of Ireland. Registered No. 81187