Perfect conditions for Aqua Double Handed Race
31 July 2016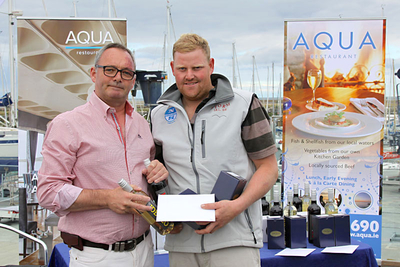 Perfect conditions for a short-handed coastal race greeted competitors for the third Aqua Double-handed Race on Saturday the 30th of July. Twenty nine boats started in full view of the sponsor's restaurant (Aqua) in Howth sound. The course took the mixed fleet northwards around Lambay island then down to and around the Kish lighthouse and back to Howth.
Competitors enjoyed flat-water sailing and light winds for the duration of the race which took the boats between 4 and 5 hours to complete, whereafter they enjoyed some refreshments and the prize-giving was hosted and presented by Aqua Restaurant's Dave Murnane.
The spinnaker class (IRC) was won by Pat Kelly on Storm and the white sail class (IRC) was won by Stephen Harris on Tiger. The prizes include a generous mix of glassware, wine and meals in the sponsors restaurant. It was closed by 'Splashdance's' Mossy Shanahan who thanked Dave and Aqua for their continued support and sponsorship for this annual event and expressed the opinion of all competitors that they look forward to next year's race.
Top photo: Aqua's Dave Murnane presents 'Storm's' Paddy Kelly with his prize. See the full gallery here
Registered in the Republic of Ireland. Registered No. 81187