Combined prizegiving for Class 1, 2 and Saturday White Sails is a real party
03 February 2016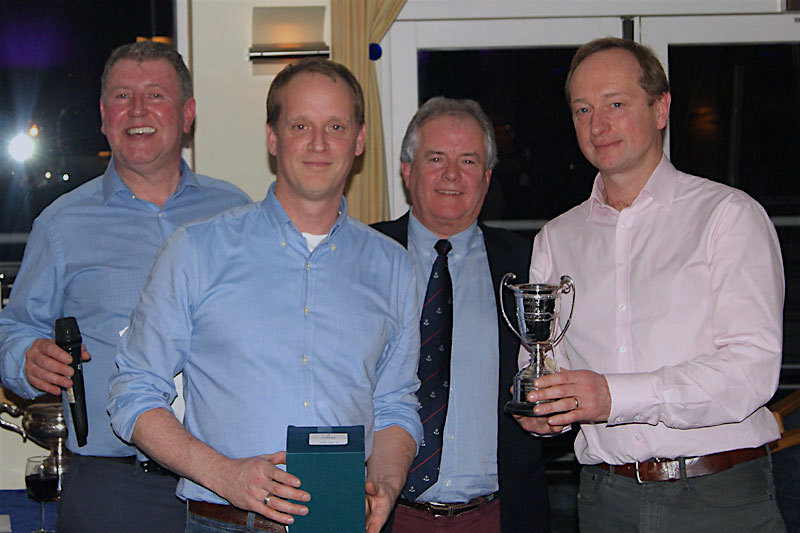 Class 2 together with Class 1 and the Saturday White Sail fleet held their Annual Prize giving dinner in the club on Saturday 30th January. There was a great turnout with the event attended by more than 140 crew and friends across all three fleets.
Commodore Berchmans Gannon opened the evening and spoke of the clubs plans for 2016 and beyond. It was great to see that 'Comanche Raider' put together a 'reunion crew', which added to a great atmosphere on the night!
The restaurant team lead by Jason Dunphy, pulled out all the stops to look after the large crowd with a wonderful meal.
The big winners on the night were Michael & Richard Evans of 'The Big Picture' collecting The Guinness Cup, Solas Trophy, Blythe Spirit Cup and the IRC season overall 'Mischief Cup'. Other winners on the night included 'Impetuous' for the Okeechobee Cup, 'Indulgence' for the Mercedes Benz Trophy and 'Bite the Bullet' with the Silver Wind Trophy and Kumquat Cup. Dermot Skehan's 'Toughnut' picked up the Audrey Pearson Trophy and HPH season overall Cochise Cup. (See all the photos in the gallery here)
The crews danced the night away to the music of local group 'Gemini' with the help of a well-run bar! I would like to thank all the HYC administrative staff who helped to make a very enjoyable night.
Fergal Noonan
(Top photo: Fergal Noonan, Ritchie Evans, Commodore Berchmans Gannon and Michael Evans)
Registered in the Republic of Ireland. Registered No. 81187