A 'balmy' Frostbite race in January!
24 January 2016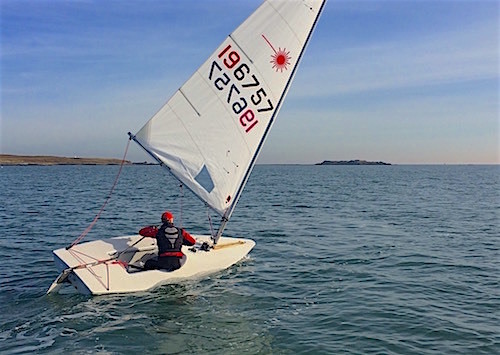 The conditions proved a real test for all who made it out for last Sunday morning's Laser Frostbite races. The balmy temperatures returned! The wind strength varied between 17 and 23 knots, with over 30 knot gusts, while the direction oscillated between SE and SSW. The gusts provided some very exciting downwind legs but the variable direction made race management challenging. A lumpy sea in the sound, combined with the gusts, ensured plenty of capsizes and swimming practice at the gybe mark. The strong ebb tide led to some embarrassing over-standing of the weather mark as well as black flags at the start line!
The 17-boat fleet enjoyed two very competitive races using the triangle/WL course. The results showed certain sailors mastered the conditions successfully with consistent winners coming out on top in the standard and 4.7 fleets.
The Standard Rig fleet enjoyed some very close racing, Daragh Sheridan showed some impressive downwind speed to lead the pack in both races with Mike Evans and Darrach Dineen alternating in second place. Conor Costello had some problems with his boat and decided to beach it on Claremont to put it back together (he said) or maybe he was just taking a rest, we're not to sure.
The radials fleet winners alternated between Rory Murdoch and Sarah Gallagher. The 4.7 fleet turned out in good numbers and saw good racing with Shane O'Brien handling the conditions well on the day to take both races, Emma Gallagher coming second in both.
(Top photo: Daragh Sheridan shows his downwind skills)
Report by David Mulligan
Registered in the Republic of Ireland. Registered No. 81187