An interview with Doug and Colin
10 January 2016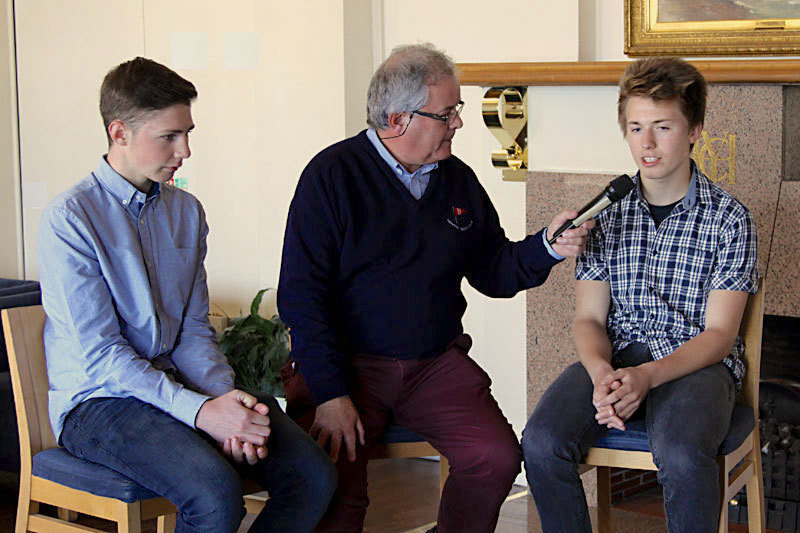 To help discover what it takes to become medalists in world sailing, Commodore Berchmans Gannon interviewed HYC's newest heroes and ISAF Youth Worlds bronze medal winners Doug Elmes and Colin O'Sullivan in the club on Sunday afternoon and he and Ross McDonald presented them with a pair of framed photographs following their success in Langkawi last week.
They described their pathway to sailing via the Optimist Class in Waterford and Malahide respectively and how they met to form a focused and skilful partnership in their 420, training in Howth in all types of weather and throughout the year. A packed clubhouse listened to their story which conveyed a determination and self-belief that can only be described as remarkable for guys of their age - or of any age and heard how their 2nd place in last year's ISA Youth Pathway Championships gave them the confidence to suggest that they could compete at the very highest level in the world. The audience included former Olympian Ciara Peelo, who had also won a bronze medal at that championships in 1996 with Laura Dillon (who sent her congratulations from London).
Doug and Colin described their preparation for the event and how they managed to stay 'in the zone' during the 6 days of the Youth Worlds, including the 'distraction' of a day off in the middle of the week.
They also spoke about the pressures they coped with and decisions they made for the final race - determined to finish on the podium. See below for their description of that race:
Registered in the Republic of Ireland. Registered No. 81187