Ireland's Youth Team returns home with a bronze medal
05 January 2016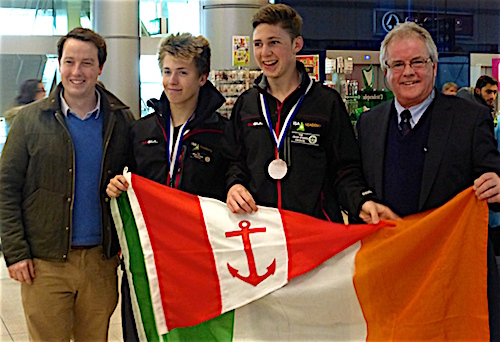 The traditional midwinter festive air of Dublin Airport returned briefly but vividly today when Ireland's team in the Youth Sailing Worlds came home in triumph from Langkawi in Malaysia bearing the Bronze Medal won in the International 420 by Douglas Elmes (17) and Colin O'Sullivan (16).
There to provide a rapturous welcome were family and friends, together with Howth YC Commodore Berchmans Gannon and HYC Honorary PR Officer Ross MacDonald. For although Elmes is from Kilkenny and started his sailing at Dunmore East, while O'Sullivan is from Malahide, it was through the intensely-focused 420 class in Howth, under the inspired tutelage of coach Graeme Grant, that the two have made their way towards a podium place in the Worlds.
The ISA Academy's project to send a team to the Youth Worlds has paid off handsomely, for in addition to the Bronze Medal in the 420, Aisling Keller came home with tenth place overall in the fleet of 50 in the Laser Radial Girls, while Liam Glynn was 15th in the 66-strong Laser Radial Boys.
W M Nixon's Sailing on Saturday blog this weekend will analyse the story behind the medal success, and there'll be a special reception for the medallists and their families in Howth YC on Sunday at 12:30 followed by Sunday lunch in the club.
Top photo: "You've done us proud…." Welcoming home the Bronze Medallists at Dublin Airport are (left to right) Ross MacDonald (Howth YC), Douglas Elmes & Colin O'Sullivan, and Berchmans Gannon (Commodore, Howth YC).
(Below) Ireland's team at Dublin Airport today, home with success from the Youth Sailing Worlds in Malaysia, are (left to right) Liam Glynn (15th in Laser Radial Boys), Aisling Keller (tenth in Laser Radial Girls) Douglas Elmes & Colin O'Sullivan (Bronze Medal, 420) and coach Ross Killian.
All photos and article by W M Nixon
Registered in the Republic of Ireland. Registered No. 81187