HYC seasonal high gilted by Youth Worlds medals for Doug and Colin
03 January 2016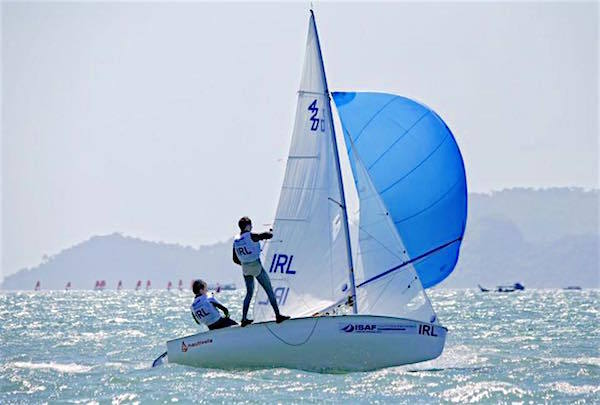 While most of us were eating, socialising, visiting friends and relations or simply relaxing, some Howth Yacht Club sailors were busy competing at the forefront of international sailing during the Christmas-New Year period. A mix of emerging young talent and veteran campaigners provided many 'media-tuned' members of our club with a gripping reason to be constantly referring to results sheets and race-tracking maps for much of the past week. One of the most visible events at this time of year is the iconic offshore race that is the Rolex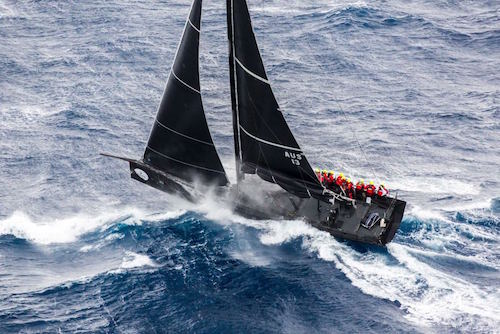 Sydney-Hobart. This year's entry list read like a 'who's who' of international talent and the most modern monohull racing yachts campaigned by owners with apparently limitless budgets, some oblivious to the idea of a 'ratings handicap' and with the single-minded goal of being the fastest boat in this 628 mile race and the first across the finish line in Hobart. So the magnificently-modern 100 foot contenders came, including supermaxi Comanche (not the former charge of Howth's Norbert Reilly – despite what he would clearly enjoy), Perpetual Loyal, Ragamuffin 100 and Wild Oats XI as well as a host of purpose-built stallions such as Rambler, Ichi Ban, Maserati, Chinese Whisper and the one design Volvo 70s, TP52s and Ocean Challenge yachts. But Howth eyes were on 3 boats with their own sailors...
Donall Ryan joined the 72-foot Discoverer of Hornet – an ex 'Global Challenge' yacht with a crew from the UK Armed Forces, who were entered as part of a circumnavigation called 'Exercise Transglobe'. He has become a seasoned offshore sailor, despite it only being a few short years since he was campaigning a Feva dinghy in Howth with the talented local Luke Malcolm. He competed in the RORC North Sea Race last May in a J111 with the Armed Forces team, finishing 8th in Class 2 IRC. Notwithstanding the potential inclemency of the North Sea at that time of the year, this Rolex Sydney to Hobart Race proved to be a real test for all competitors and having to contend with difficult seas and gale-force headwinds for the early part, just one-third of the original starting fleet of 109 boats would finish the race. Donall and his team on 'Discoverer' finished 20th in Class 2 IRC in a class that included the full Clipper Ventures fleet.
The spectacular sight of the Class 0 boats including all the aforementioned hundred-footers, added to the sense of drama at the start line in Sydney Harbour on St Stephens Day, although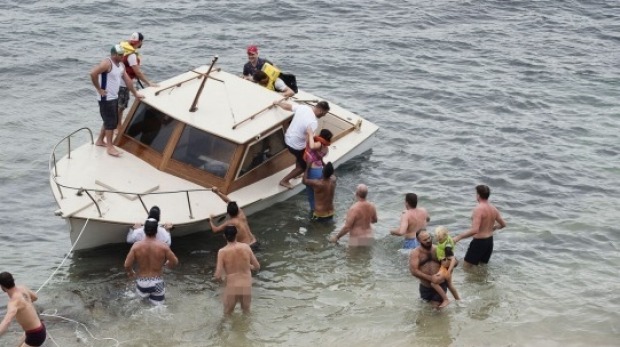 there were already twists in the drama – including a committee boat that started taking on water and managed to find its way ashore to a local nudist beach! Howth interests in Class 0 were focused on two boats, Matt Allen's 60-foot Ichi Ban had the experienced help of Howth's Gordon Maguire on board, who was taking part in his 20th Sydney-Hobart. Ichi Ban's 2015 season-long competitor Chinese Whisper had talented HYC Cadet member Shane Diviney on board and whilst he's more inclined to be trimming sails while match-racing keelboats with Chris Steele's New Zealand based 36 Below Racing team, this was clearly going to be a challenge that he would relish with enthusiasm.
They went at it like match-racers for the whole length of the race, with only 11 minutes separating Shane and winning boat Chinese Whisper from Gordon on Ichi Ban when they crossed the line after three gruelling days to Hobart. Owner Rupert Henry's Judel Vrolijk 62 Chinese Whisper went on to win Class 0 IRC, was 5th overall for Line Honours, 5th overall IRC,
2nd in ORC Div 1 and 4th in ORC. No doubt that Shane now also has a yearning for competing in more offshore classics! Ichi Ban finished one place behind and 2nd in Class 0 IRC with (the line honours victor) Comanche a further place behind in 3rd.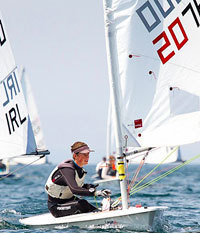 Meanwhile in Cadiz, HYC's Ewan McMahon was one of 3 ISA Performance Group Laser sailors competing in the Federacion Andaluza de Vela New Year's Race and who conspired with a raid and clean-sweep on the medals by topping the Laser Radial Class. Ewan won the six-race regatta by two points from NYC's Nicole Hemeryck and the Royal St George's Conor O'Beirne was third. Ewan was clearly intent on finishing his hugely successful year on the highest step of a podium, having won the Under 17 Laser event at Warnemuender in July (and 3rd overall) he was disappointed to finish second at the Under 17 European Laser Radial Championship and had a tremendous World Championships – finishing 18th overall and 3rd Under 17. Rumour has it that Ewan had a very 'Happy Christmas' and is now also the proud owner of a new foiling Moth, the third to come to Howth so far. His progress will be worth watching in 2016.
At the ISAF Youth Worlds in Langkawi, Malasia and as international news reports centred on the controversy about a national flag (see here), the rest of us were closely following the online reports from the Boy's 420 Class where Doug Elmes and Colin O'Sullivan were staking their claim as serious contenders for the world title. The guys are on top form after their victory at the UK End of Season Championships at Grafham Water Sailing Club in early December and this week was to reinforce their position on the international stage.
Thirty-three nations were represented in their class in Langkawi and the guys showed their intent at an early stage, scoring a 3rd, 13th (later to be discarded) and 1st in the initial 3 races. But it was their consistency that was to demonstrate their real promise throughout the 9 races during last week and they were placed in the top 10 in all but two results. On the final day, an 11th place was enough to secure Ireland's first Youth Worlds medal in a double-handed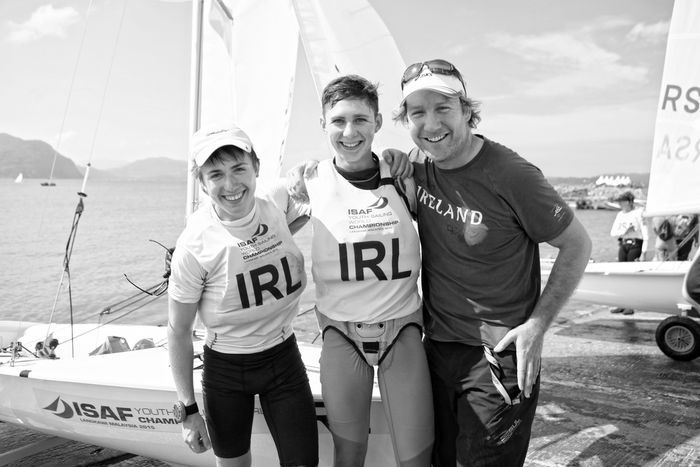 dinghy since Howth's Laura Dillon and Ciara Peelo did it in 1996 in a Laser II. For those that may not have noticed the quiet way that Doug and Colin have gone about their campaign over the past 2 years – this will come as an astounding result, but even the most tuned-in HYC members are amazed at their progress.
Their hard work under coach Graeme Grant and their determination to get afloat at the most difficult times of the year has obviously paid dividends. Their decision to base their campaign in Howth may have been much to do with Graeme's intention to develop a stream of talent locally in the 420 Class whilst being carefully overseen by the expertise and wisdom of HYC's coaching mentor Brian McDowell. The refinement of their success will continue to be honed by ISA Performance division and coach Ross Killian, who was with the guys in Malaysia to apply his own expertise and assistance.
When asked about the success of its club sailors over the past 2 weeks, Howth's own 'Performance Committee' chairman Ross McDonald said: 'It was an incredible Christmas for HYC racers. While the rest of us were hiding indoors from the weather, we were well entertained in tracking the progress of an enthralling Sydney Hobart Race and all the festive regattas. Shane's Class 0 win and 600 mile match-race with Gordon was fascinating – huge congratulations to both of them.'
'Ewan continued his excellent form, coming in 'under the radar' to win in Cadiz while the rest of us were focused on the Youth Worlds in Malaysia. But what an incredible result from Doug and Colin! To win a medal in the Youth Worlds is simply phenomenal and congratulations on an epic achievement.'
(Top photo: Doug helming and Colin on the trapeze of their 420 during the Youth Worlds in Langkawi - below: the guys on the podium with the USA and Brazilian medal winners)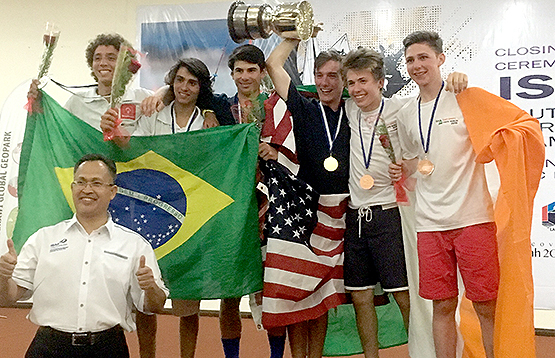 Registered in the Republic of Ireland. Registered No. 81187