Flying Across the Bermuda Triangle
15 December 2015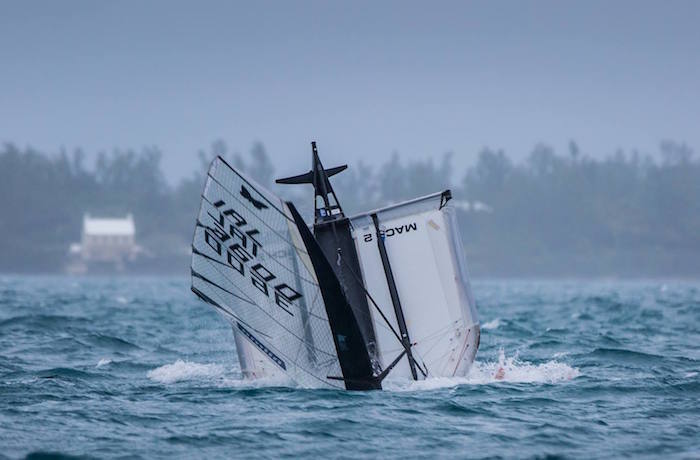 Two Irish sailors travelled to the inaugural Amlin International Moth Invitational in Bermuda last week to test the claim that the America's Cup venue is the World's best place to foil. At 32 degrees north and in the direct path of the Gulf Stream, December air and water temperatures are in the low to mid twenties. The racing area is in the Great Sound at the east end of the relatively flat island and is almost fully protected by land or reef meaning smooth water and great wind. Rory Fitzpatrick and I were the lucky Irish who packed our boats into a container at the end of October and joined up with sixty others, including a good portion of the Oracle America's Cup Team, for a week of warm weather racing.
As predicted, the Great Sound was spectacular. Regardless of direction, the wind was generally consistent across the course and, even when it was blowing a steady 27 knots with gusts of 35, the water stayed flat which makes for very fast and very exciting Moth sailing. The one surprising aspect was the size of the racing area. It was quite comfortable for a Moth doing 30 knots, but when the AC45's are racing at over 50 knots it could be a little tight. The Cup could be won by the team with the best boat handling, as opposed to outright speed or strategy.
The event was dominated by the British contingent. Rob Greenhalgh was exceptionally fast in the light and medium airs, a combination of excellent sailing and the most beautifully prepared and highly developed boat in the fleet. Chris Rashley was the dominant force in the big breeze with the trio of olympic medalists Paul Goodison, Simon Hiscocks and Chris Draper also going very well. Tom Slingsby was incredibly fast, upwind in particular but seemed to suffer serious gear failure in almost every race and eventually retired from the regatta.
On Wednesday, racing was called off early due to lack of wind and as a special treat the fleet was given a genuine access-all-areas tour of the new Team Oracle base by Tom Slingsby himself (Oracle Team Manager and Tactician). Nothing was off limits and we were given up close access to the workshops, hulls and even the multiple sets of foils that are currently in development. The level of investment that Oracle have put into their base would suggest that America's Cup sailing is going to be in Bermuda for some time.
After six days of racing, Rob Greenhalgh emerged as a clear winner, with Rashley second and Draper third. Rory was best of the Irish in 14th and I was bit further back in 34th. Special mention has to go to the Royal Bermuda Yacht Club who put on a very special event and to my hosts Roger and Marta who now know far more than they ever wanted to know about Mothracing.
The only issue I haven't mentioned with racing in calm, subtropical waters was the wildlife. On the final day a 12 foot tiger shark was spotted on the course. I also spotted a 2 foot sea turtle. Unfortunately I was doing 25 knots at the time and the creature was directly in front of me. The impact snapped my main foil and sent me into the forestay. No turtles were harmed in the making of this regatta! (Top photo credit: Beau Outteridge)
Alistair Kissane
President Irish International Moth Class Association
Registered in the Republic of Ireland. Registered No. 81187