Final day decides the winners at HYC Autumn League
17 October 2015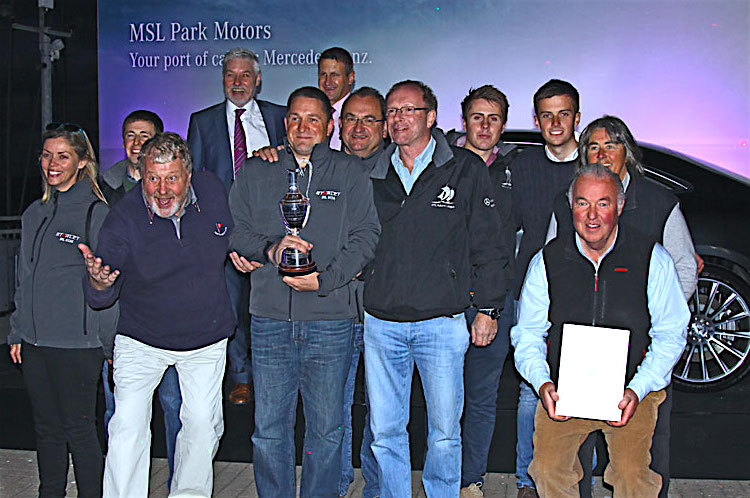 On Saturday Howth Yacht Club celebrated the completion of one of its most successful Autumn Leagues, managing to complete the full series of six consecutive races for the second year in a row. One hundred keelboats entered this year's MSL Park Motors Mercedes Benz sponsored event, with nine classes racing and boats competing for 17 trophies across the scratch, IRC, ECHO and handicap divisions.
The final day's racing conditions belied the calendar date and seemed more like late-spring sailing with a 10-12 knot northeasterly wind and sunny skies. The 060 degrees wind direction meant that many of the race leaders in the Offshore (Cruisers) and Inshore (One-design) fleets had to strain their eyes to find the windward racing marks such as 'Talbot' and 'Osprey' in a lumpy sea state. But they did, and this final race turned out to be the deciding one in many of the fleets. Pat Kelly's J109 Storm continues to be the boat to beat in Class 1 IRC at this event, although the Gregory/ Breen/ Hogg owned Beneteau First 34.7 Flashback finished just 2 points behind, having had a recent flurry of good form and also winning the final race as well as the overall ECHO prize.
With their worst score being a discarded 2nd place, Dave Cullen and his team on their half-tonner Checkmate XV capped an excellent season by winning Class 2 IRC and by 3.5 points from Stephen Quinn's J97 Lambay Rules. Jonny Swan's half-tonner Harmony won the ECHO prize.
Their fourth win from the six races put Howth's young K25 Team firmly at the top of Class 3 IRC in their J24 Kilcullen and a full 6 points clear of Vince Gaffney's Alliance II. On the ECHO leaderboard in the same class, a premature start and resulting OCS score that had to be discarded did not stop Joss Walsh and team on White Hunter celebrating their first event victory in the ECHO division from the Ray/ Costello Jeanneau Sunlight 30 Tobago.
Bringing the sponsor on board for their Class 4 race was to add extra pressure for Howard McMullen and Mossy Shanahan's on Splashdance, but MSL Park Motors Mercedes Benz Brand Manager Dean Fullston helped them to win the IRC prize by the closest of margins from Paul Tully's White Lotus. The ECHO prize was one by Kieran Jameson's Changeling.
One might have expected the light winds during this year's event to hold back the performance of some of the heavier boats, but not so for Harry Byrne's Sunrise 34 Alphida, taking first place in Class 5 IRC from Windsor Lauden and Steffi Ennis's Club Shamrock Demelza. Richard McAllister's Force Five won the ECHO prize by a huge 14 margin over Rum Doodle.
With the ISA Sailfleet J80s being used in Dun Laoghaire for the All Ireland Senior Sailing Championships, only one race was completed in the series, won by Howth's Alistair Kissane. The Puppeteer class had no such distractions and their scratch division was a hard-fought event for the top half of the fleet and eventually won by Alan Pearson and his team on Trick or Treat from Scorie Walls and Declan Browne's Gold Dust. A finish-line 'altercation' in the 5th week and the resulting protest would appear to have been the decisive moment in this fiercely fought series and occupied lots of time in the bar conversations afterwards! Gerry Kennedy and his team on Schiggy won the handicap prize.
Jeff Kay and Emer Harte shared the respective scratch and handicap spoils in the Squib class on Jeff's Chatterbox and Emer's Puffin and another very close finish saw the top boats separated by just a few points in the Howth 17 class - with Peter Courtney's Oona winning from the 117 year-old Hera (Michael and Jane Duffy). Roddy Cooper's Leila won the handicap prize.
The major overall prizes were won by Checkmate XV (Heineken Trophy for top boat) and the team Splashdance-Starlet-Trick or Treat (Olympus Team Trophy) - see top photo.
This year's Autumn League finished with the usual lively dinner - with over 250 people dining and staying late to enjoy the live entertainment afterwards. MSL Park Motors' Dean Fullston was full of praise for the sailors and Howth Yacht Club in his address at the prizegiving, saying that 'it was a great pleasure for the Mercedes Benz team to come to Howth each week during the event' and that the Autumn League continues to be 'a great event for MSL Park Motors to be associated with, affording a unique opportunity to be part of the event, club and sport'. In reply, HYC Commodore Brian Turvey added that 'MSL Park Motors and their Mercedes Benz brand add huge value and support to the event and the club members, sailors and visitors are delighted with this association.' He also thanked event chairman Feargal Kinsella and his race management teams, shore and organisational teams, as well as the club staff for helping to continue to ensure that the Autumn League remains a premier keelboat event in the annual racing calendar.
See photos here including prizegiving and on the water photos by Conor Lindsay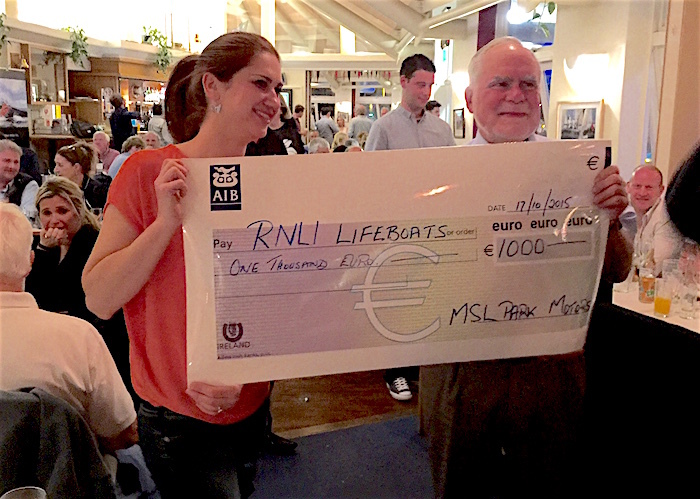 Registered in the Republic of Ireland. Registered No. 81187