Daniel Hopkins wins the RYA Youth National Championship in Cultra
29 September 2015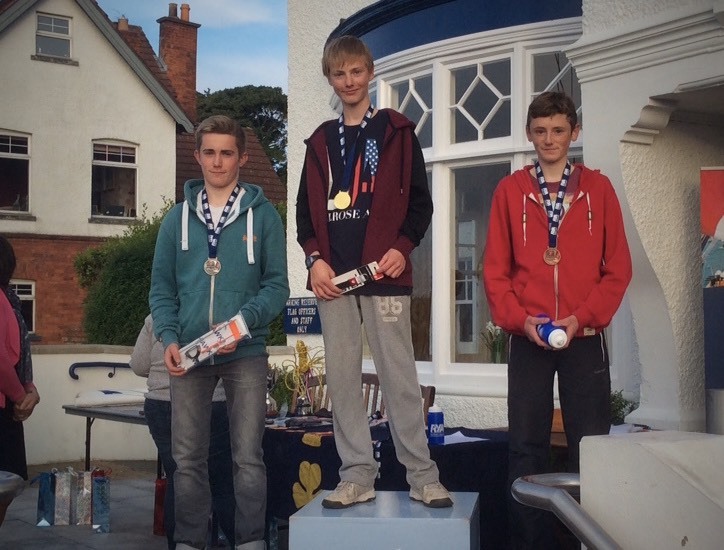 Five of HYC's junior sailors travelled to the Royal Northern Ireland Yacht Club in Cultra to compete in the RYA Youth Championships. This was the first year that sailors in the south were invited and a large attendance was expected. In excess of 159 boats races over the weekend in what can only be described as champagne sailing conditions. The sailors were spread out of a number of fleets the largest being the Topper Fleet which in addition to a main racing fleet of 44 boats also had a 4.2 fleet (13 boats) and a Topper Regatta fleet (15 boats) and Topper 4.2 Regatta Fleet (10 boats). That's 82 Toppers!
The class is certainly going from strength to strength. Next in size was the Laser Radial fleet with 38 entries and the laser 4.7 with 19 entries. 2 or 3 boats competed in each of the Laser Standard, Feva, 420 and Optimist classes. On Saturday morning, a calm Belfast Lough greeted the sailors but the wind soon filled in and 159 competitors launched for the Race Course. Three races were completed in 10-15 knots of wind blowing from the shore, providing shifty, tactical conditions.
Top HYC competitors were Max Kavanagh in the Topper Class with three third places, Aoife Hopkins in the Radial and Daniel Hopkins in the 4.7 all competed at the very top of their fleets with Daniel and Aoife both overnight leaders in their classes.
Sunday once again brought calm conditions at first but the wind soon filled in. Conditions were lighter than the previous day with 8-12kts of wind. There were mixed fortunes for the HYC bunch and only Daniel was consistent winning 4 out of the 6 races. He won the 5th one too but started at the Radial Pin end mark (There were 2 pin end marks) so retired from the race once he realised his mistake.
The HYC juniors had a great weekend in warm sunshine on Belfast Lough. Results were as follows:
Daniel Hopkins 1st Laser 4.7 Class, Max Kavanagh 2nd Boy Topper Class, Aoife Hopkins 2nd Girl Radial Class, Ewan McMahon 12th , Nell Staunton 16th
On behalf of HYC we would like to thank RNIYC and RYA Northern Ireland for hosting a great event….We're looking forward to next year already !
Registered in the Republic of Ireland. Registered No. 81187