IOM Mortelecque Trophy
18 September 2015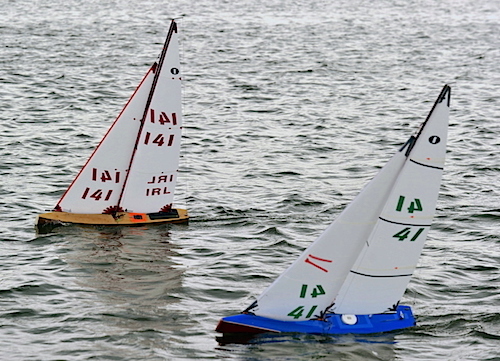 A report from Gilbert Louis (IRL141) from HYC who competed at the IOM Mortelecque Trophy regatta in Valenciennes the weekend of the 12th & 13th September. He joined his brother in France and together they made the trip up to Valenciennes arriving after just over a 2-hour car journey to a typical French breakfast welcome…
'Et oui! A coffee with a croissant… hmmmm nice!' Very quickly it was time to rig up the boats, confirm the registration and boat cert before we were out for the first race. It was very well organised.
21 boats is about the max IOM can realistically sail together. Anything above this and the fleet is broken down into 2 fleets with 4 boats moving each way (top 4 boats from B fleet progressing to A and last 4 of the A fleet going down to B fleet for the next race). This provided for some well disputed starts - and those starts were key to the end result as the top weather mark was not that far.
The IOM class only allows 3 rigs to cover winds up to 30-35 knots. Here there was no question on the choice of rig. Despite a forecast for 11-21 knots we had 6-10 knots max all day, so top rig it was for everyone.' Gilbert races a Goth XP IOM boat designed by Frank Russell Design from Australia, built in wood by national Irish master-craftsman Neill Suitor from our Northern Ireland fleet. Gilbert was the only wooden boat racing there.
'I found the pace early one with 3 5th place for the first 3 races establishing 3rd place after 3 race. But then as the wind got even lighter I found difficult to find the same pace. Whilst managing to get in the top 3 a number of time I didn't manage to finish better then 5th.
After day 1 and 11 races completed, I found myself in 8th place out of 21 boats.'
Day 2 was pretty much the same wind but this time coming 180 degree from the Saturday. But as light if not lighter at times. Once again Gilbert didn't break the top 5 despite once again sail in the top 3 even leading some of the races at times. 'This was frustrating! My boat was outpointing pretty much everyone else but was looking to find speed not pointing and despite making tuning changes between each race only found some marginal speed improvements. '
Nonetheless this was a really good experience to gain as Gilbert knows what he needs to work on. 'A new main with the max draft in different location, a bigger rudder is on the works to try next. And this is part of the tuning when you sail a new design boat. This is part of the fun too!'
At the end of day 2 Gilbert had progressed and built a nice gap in 6th place overall. The event was won by Guillaume Florent (Bronze Olympic medallist in Finn class).
Photos (courtesy Etienne Cattiaux) here
Howth Yacht Club host the home of the IOM (International One Metre) fleet. This class is the most widely used Remote Control sailboat class in the World offering plenty for the amator builders for fun and for the hard-core competitors. Visit the Class website to find out more at
Registered in the Republic of Ireland. Registered No. 81187