Light airs for Autumn League fleets
20 September 2015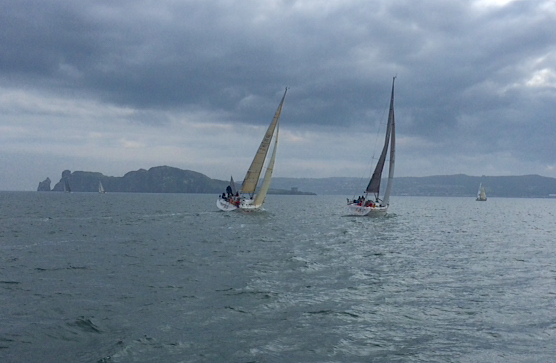 With a super-light air forecast, the competition to shed weight was more in keeping with "Operation Transformation" than a typical Autumn League race. Ladies and small children were in demand over the denser gentlemen. Cars found themselves furnished with more cushions than Hickeys on the opening day of the Christmas sales. Gossamer-thin spinnakers were hoofed aboard at the expense of water, sandwiches and other staples.
The committee boats, Star Point and Sea Wych trundled out to the race areas with postponement flags tied to halyards ready for deployment. Race Officers Derek Bothwell and Richard Kissane were not going to be beaten by Mother Nature. The pair huddled (Over VHF) and whatever voodoo they dealt in worked. A reasonably steady 7 kts from the South East slipped over the sea.
For those not keen on bumpy Easterlies, there was no need to load up on the Stugeron. Flat seas suited the lighter hulled boats on the Offshore a course at the expense of the heavier lumps. In Class 2 it the veteran/new (delete according to your opinion) Half Tonners which hogged the limelight. "Harmony" and "Checkmate" battled it out around the course with a few friendly luffs here and there and finished in that order on IRC. Last week's winner "Lambay Rules" erred on the side of caution on hearing the individual recall and returned to the start line, giving away valuable time. It was a decision which cost a few points and everything is like to count in this hyper-competitive division.
Start of the day has to go to "Pretty Polly" in Class 4. The video shows Chris Hourican's First 47.7 about two feet from the line at full pelt. Unfortunately, that early performance didn't translate to a similar finish result. The Class was won by "White Lotus" which now shares the lead with "Splashdance" (Lord Howard of Howth).
Elsewhere on the magic carpet, the Howth Seventeen "Hera" dominated her sisters, winning by almost 4 minutes. "Harlequin" sneaked a Puppeteer 22 victory by only a couple of seconds over series leader "Trick or Treat", no doubt not feeling as swift without sage Winkie Nixon aboard this week.
In Class 5, the evergreen "Alphida" took the spoils. Some heavy petting on the start line between "Mystique of Malahide" and "Sandpiper" ended as quickly as it started, with Andy Knowles being given a quick kiss and sent on his way.
The new kids on the block aboard the Formula 28 "White Hunter" have found early form with a win hauling the RNLI boys up to third in Class 3, only a few points behind leader Vince Gaffney on "Alliance Eleven".
All the racing finished inside the time limits, a testament to the clever courses set. Everyone was back home by 1730 for tea and medals and to exchange war stories whilst gorging on one of Jason's burgers.
Registered in the Republic of Ireland. Registered No. 81187