DeDannan's cruising report from north Croatia
12 September 2015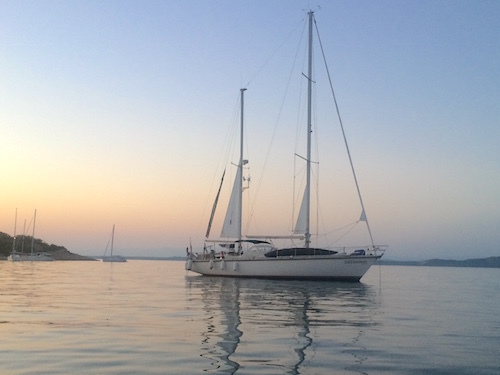 Tony Olin's report and photographs from Northern Croatia in 'DeDannan', where he and crew are now on the way back southwards through Croatia having been to Venice for a few weeks, and will be leaving shortly for Corfu - a 230nm journey in one hit and hoping that hope the north-westerly wind holds up...
Linda and the gang had gone home and Alfie and I left the Krka river to head west to the island (Otok) Karpije, we entered a nice well sheltered bay to the NW, it's always best to be sheltered from the NE Bora in this part of the Adriatic we had no choice but to take a port authority buoy @ €40 per night, anchoring is prohibited in the best bays, I have a very handy boat hook that clips onto the buoy with line attached, you then just pull the pole free and your on, I bought it from Davies trad boat chandlery in London many years ago and it works a dream when single handing.
We had a few quite days there, there was a couple of cheap tavernas and the usual Mini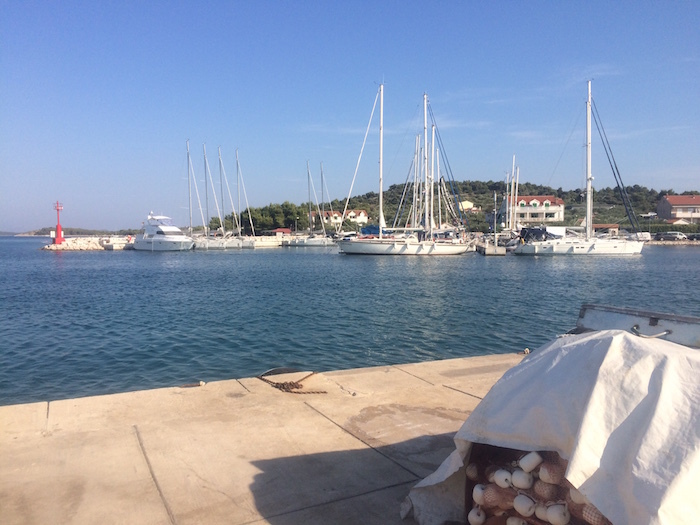 market to keep us in fresh bread and milk. We then took our selfs off to Otok Murter and into the ACI Marina in the nice little port of Jezera @ €90 per night, I did a good job of mooring up on my own, I move my stern lines mid ships and throw them to the marinero to put around the rings and throw them back to me making them off mid ships, I then put the drive into forward prop and this holds her perfectly steady whilst I take up the lazy lines to the bow for making off, I then put the drive into reverse and tighten up on the stern lines for a nice tidy mooring without killing yourself heaving and pulling, you see it's all about technique.
Jezera is a grand village with nice tavernas and several mini markets a few bars etc to keep the sailor occupied, I took my Go-Cycle out and took off around the island each day, these are expensive bikes that fold into a suitcase, but they are worth the money, made from carbon fibre and stainless steel, so no rust, they hold their charge for days and can go 40 km on a single charge, very comfortable and safe with disc brakes both wheels.
We meandered around the islands for a few more days, we came across a grand little fishing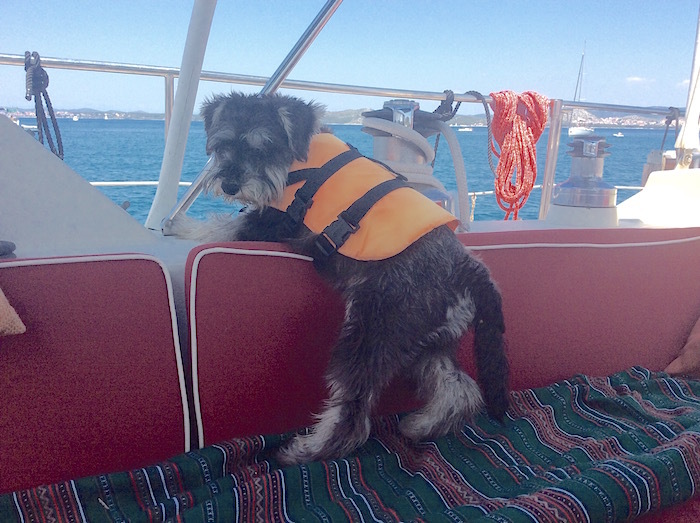 port on Otok Pasman (Pashman) were we came along side the pier, it was the first and only port that I came across were a cruiser could stay for free, no water or electricity, but that doesn't bother us as DeDanann has 1000 litres of water in store and a good genny. I had wanted to take the time to varnish all the cabin floors and with just myself and Alfie on board this was the time to do it, so up early each morning whilst it was cool, rubbing down and varnishing done before midday, then a long lunch in the port side taverna which was glad of the business as I would have a three course meal and a half bottle of their best wine to wash it down, then back to DeDanann for our siesta under the Bimini as the varnish dried, the living was easy here and I was up for enjoying it.
In the late evenings Alfie and I would go swimming and sometimes fishing in my new klepper kayak that I bought at the Düsseldorf boot show, great upper body exercise combined with relaxing fun is fishing off a kayak, they also make a great tender for shopping etc.
Linda, who was back home visiting the grand kids and the boys, was now looking to return, so I untied my lines and said farewell to Pashman, I had a grand sail to windward tacking up and down the Pashman channel all the way to the port of Zadar to pick her up, on arrival at the marina I called them up to request some assistance mooring up as the wind was blowing at 20 kts and I explained I was single handed, well they sent me this lazy young fella, I put DeDanann in perfectly, threw yer man the stern lines, he kept insisting I take the lazy line he had in his hand, take the stern lines and give them back to me, I'm on my own, I said, well he messed about and failed to catch the lines as I threw them to him, in the meantime, the bow of DeDanann came off with the wind, I jumped into the cockpit and hit the bow thruster, sucking up a mooring line and shearing off the propellor in the process, luckily, a German skipper who was watching came to my assistance and took the lines and made them off in time to get DeDanann into forward drive to straighten her back up, when I got tied up I pointed to Alfie, and told that young fella, that dog had more f!!!!!! brains than you, he walked off muttering something in Croation. The next morning early it was back on with the diving gear and down nine meters to retrieve the propellor, replace the eight nylon bolts and shear pin and we were back in business.
Linda arrived with a whole suitcase full of good Irish grub, it's only when your away from home for extended periods that you realise the quality of the food and drink back home, the food in Croatia is boring, every single taverna has the same menu for both lunch and dinner, whatever about the fish here, the meat is both tough and completely tasteless.
We spent a few more days here in Zadar, it also has a Stari Grad (walled city) built by the venetians, we would take the water taxi from the marina, a big old wooden rowing boat, the oars man stands up and rows looking forward with short but efficient strokes as he crosses the port with up to fifteen or so people on board, he had a great skill in holding his boat steady as we disembarked up the steps as the wash from the passing motor boats bashed off the pier wall, he could hold that boat in position with one oar without using a line ashore.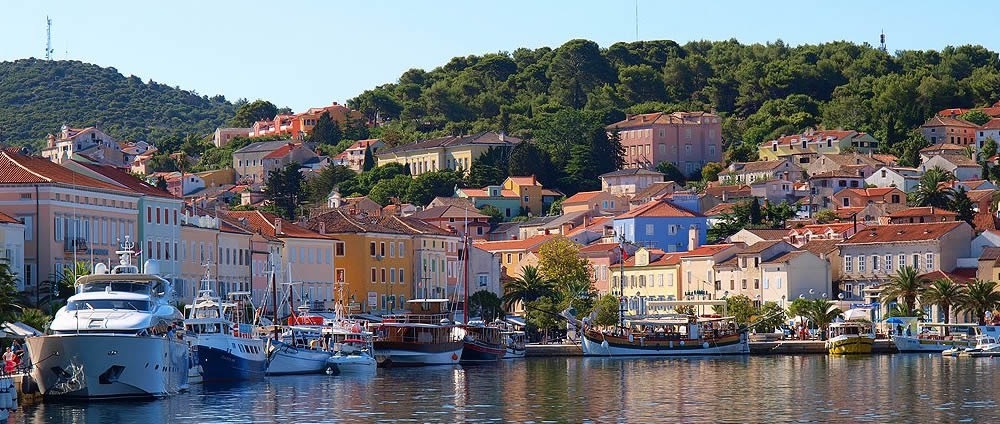 We headed off to the north west to visit a few more of the islands, staying mostly on either bouys or lying to our own anchor, after two months of Croatia one island was the same as the next and we were starting to become a bit bored, we did enjoy a few days at the well sheltered harbour of Otok Losinj, Mali, which has a decent sized town, a shipyard that is now lying almost derelict since the breakup of the Balkans, it's worth a visit if up in North Croatia, the marina was the friendliest we had been to since leaving Greece, as it was full of mainly Italian boats and they are friendly by nature.
We stocked up at the local lidels, Linda wouldn't shop there back home, but it is the best option here in Croatia, before heading off north west through a few more of the islands on our way to the port of Pula, as you go further north you see less of the charter boats and mainly Italian boats cruising this area, very few Irish or British boats about this far north.
We arrived at the Marina Veruda near Pula after a good sail in a steady 15 kts of west wind, the weather was starting to change as we came in with thunder and heavy rain being forecast for a few days, we found the official Croatian forecast to be very good, they get it right most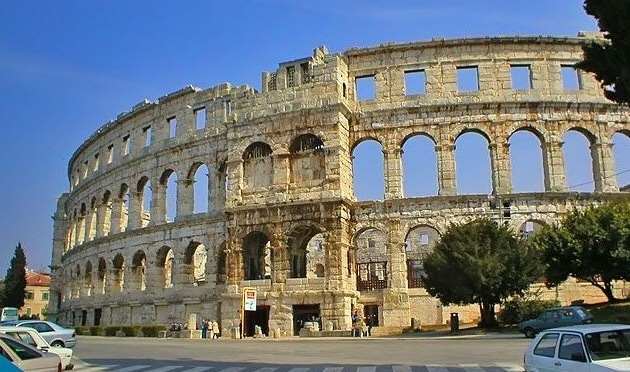 of the time, the forecasted weather came in that night and it didn't stop raining for nearly a week with high winds to go with it, it was sad to see some families who had chartered with kids not being able to leave the marina before handing the boat back. We took in some of the sites, there is a huge Roman amphitheater they call the Arena, it is as big as the coliseum in Rome, built under the rein of Titas for the pleasure of the rich and noble to watch both gladiatorial combat and those sentenced to death to fight wild animals such as bears, panthers, and lions etc.like most cities in Croatia it has an old walled city that to be fair they keep very well, their conservation policies work, as you don't see these old buildings being knocked down and replaced with little pockets of modern buildings, or any tatty plastic shop fronts etc.
The Marina Veruda is huge by Croatian standards, I needed a few small jobs done on DeDanann and thought this would be a good time to get them done with the weather so bad, I asked the local rigger to make me up a main out haul in dyneema with two splices, sure he said, I'll drop it off this evening, how much will it be, said I, not too much was his reply, well, how much is it likely to be, I asked, €320 or there abouts he said, I told him I had this replaced in Greece last November for €80, your in Croatia now was his reply, no thanks, said I.
I have been having problems with the depth sounder repeater, several electronics specialists have looked at it but none can fix it, they all talk a good story mind, our hydraulic passerelle needs fixing and I have just wasted my time with so called specialists coming to look at it and not being able to get it working again, for a country with so many boats visiting their marinas the service is very poor, we could have all these problems sorted no bother in Greece or Spain for reasonable money.
The bad weather was coming to an end and we set sail for the port of Rovinj some twenty odd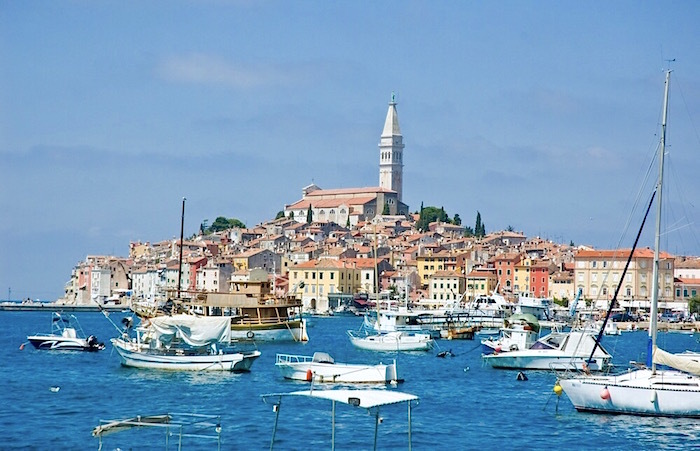 miles to the north, we came in out of a sloppy sea to the port and called up the Marina, they were full and could not accommodate us, so we dropped anchor beside some local boats in the harbour, Linda was down below cooking dinner when a very nasty port official came by and ordered us out of the harbour, I pointed to the local boats on anchor beside us, he still insisted that we go to an official anchorage to the south of the marina, I said ok, that Linda was cooking below and we will go in fifteen minutes, you will go "now" immediately he insisted, we put up no argument and took ourselves around to the anchorage, the official bouys were all taken so we threw out the anchor, within minutes another port official arrived and charged us €25 to lie to our own anchor, when I protested, his response was, "pay up or get out".
We had intended to stay a few days here as Rovinj is like a little Venice and would be nice to see, we were so p!!!!! off at this stage being ripped off with very expensive marinas, having to
pay big money for bouys and now to pay to anchor that we decided we would set course for Venice early the next morning, enough was enough. We didn't really enjoy our time here in Croatia, like Montenegro, we found the people unfriendly, they see the charterers and cruising sailors fair game to be ripped off at every opportunity, perhaps their inhospitable nature is not the intent but more their culture, we wouldn't like to live among them and that's for sure. Croatia is more for the charterer spending a week or two, the weather is good, the seas are always slight among the islands and the cities are nice to visit, for the cruiser spending a few months, the inhospitable nature of the people is too much to bear, there are better cruising grounds to spend your time and money, for us, it's all about the people that one meets that makes for a good time.
We're glad we came and ticked off a few more countries through the Balkans, but like a lot of other cruisers we met, we are really fed up being milked.
DeDanann Out.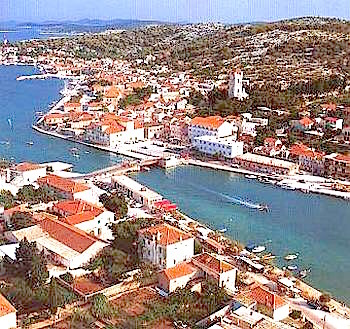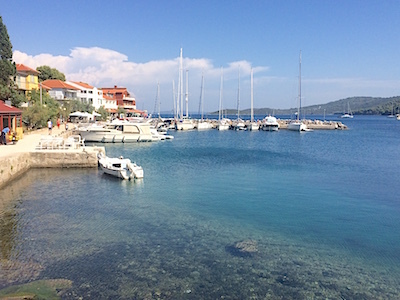 Registered in the Republic of Ireland. Registered No. 81187