O'Grady and Byrne lead after the first day of Optimist Leinsters
05 September 2015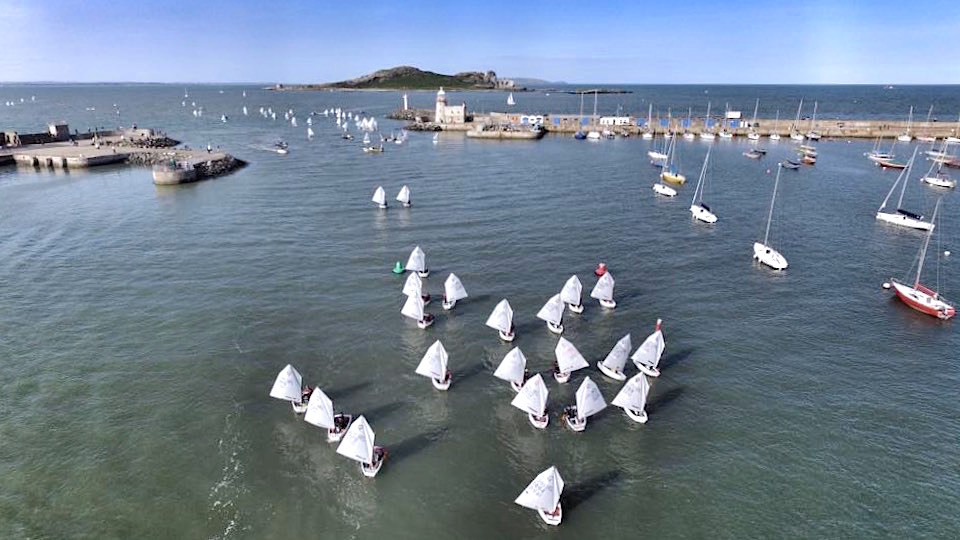 Howth Yacht Club is currently hosting the Allianz Leinster Optimist Championships with in excess of 150 entries it is the largest event in Ireland this weekend. Saturday dawned bright and if not sunny, exceedingly pleasant. The wind was from the north approx 12 knots and the there was definitely an autumnal nip in the air.
Richard Kissane as PRO started the proceeding at 11 am with a sailors briefing and the sailors launched shortly afterwards. It was a beat out to the course beside Irelands eye but luckily the tide had turned and helped the sailors on their way. After the sailors had launched refreshments and home made goodies were served to parents with donations going to Crumlin Children's Hospital.
3 races were completed on the main fleet course with the wind dropping over the course of the day to approx 6 knots and times and veering slightly easterly. HYC's own Dylan O'Grady had a stormer of a day with a 1st, 2nd and third but he can't rest on his laurels just yet as Kate Darcy from RCYC is hot on his heels a mere one point behind followed slightly further back on 12pts by Tom Higgins.
Over in the Junior Fleet( aged 12 and under) Aoife Byrne from RCYC is leading the charge winning the first two races and taking a 4 th in the 3 rd she is followed by the home clubs Eve McMahon and her own team mate Rory O'Sullivan.
Regatta fleet sailors sailed in the sheltered waters behind Aqua restaurant under the watchful eye of lead coachs Mark Condy and Emma Davis. They had a fantastic days sailing as they practised the skills learnt over the season. 3 short races were also completed for these younger sailors with Thomas O'Neill, Juliette Garett and John Toomey each taking a race win.
HYC's hospitality didn't disappoint and the sailors were served delicious spaghetti bolognese with garlic bread followed by ice cream in the main dining room of the club.
Racing continues today and with lighter winds forecast it's still all to play for......
(Top photo:Jonathan Wormald - report by Niamh Hopkins))
Registered in the Republic of Ireland. Registered No. 81187