Elmes & O'Sullivan win 420 Nationals in Cork
26 August 2015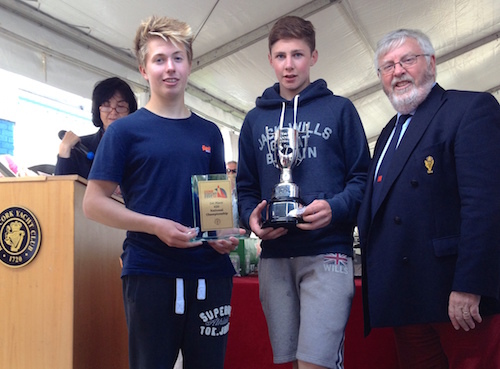 Douglas Elmes and Colin O'Sullivan won the 420 Nationals at Crosshaven as part of the 'Cork Dinghy Fest 2015' this weekend. Racing was over three days, 21-23 August, with a total of 9 races (two discards). Great racing on day 1 allowed the series to go one race ahead, with two races on day 2 in light winds, and shifty n conditions for the three races on the third day, with boats becalmed on the first beat of the third race of the day, followed by a squall that saw boats capsize a few minutes later.
Douglas and Colin counted six firsts in their total score, with Peter McCann & Cara McDowell (RCYC/MYC) coming second.
HYC was well represented at the event with Bill Staunton (crewing for James McCann RCYC) finishing fourth, Alex and Jamie O'Grady 8th, and Shane McLoughlin (with Patrick White Mullingar YC crewing) 9th.
Registered in the Republic of Ireland. Registered No. 81187