Howth's K25 'A' team win their 2nd J24 Nationals
23 August 2015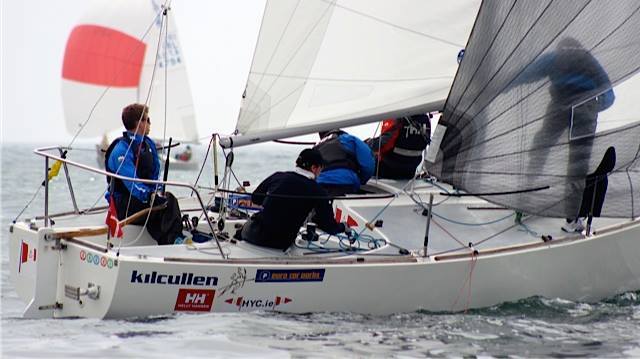 An very impressive string of results for Howth Yacht Club's K25 (Under 25) keelboat team ensured that for the 2nd time in three years, they are J24 National Champions. When added to their Class 4 results at this year's ICRA Championships in Kinsale, this means that they are now holders of two national senior titles this year. They won the title with five wins in seven races and an astonishing 12 points clear of second-placed Stefan Hyde and team which included Eamon Burke and K25 team coach Graeme Grant on 'hamiltonbear.ie'.
The K25 'A' team comprised of Cillian Dickson, Gordon Stirling, Sam O'Byrne, Cian Manly and Tiarnan Dickson and all race on 'Kilcullen', the J24 loaned to the project by Enda O'Coineen. Many of the team have been working to help a second team 'into the fold' on Graham McDowell's loaned J24 'Johnny Bravo' and that team finished in 8th position just behind Graham's helm on his 'Scandal'.
The guys have also been coaching many of the Puppeteer Class as well as helping with corporate sailing days and some of the junior sailing courses. A couple of the have even been spotted on Howth 17s recently...
The future is bright for this team and the K25 project which is now expanding its numbers to help develop a sustainable and successful formula for the future.
See their own web section here and linked from the side of the HYC homepage.
Registered in the Republic of Ireland. Registered No. 81187