Checkmate XV wins Half Ton Classic Cup in Belgium
21 August 2015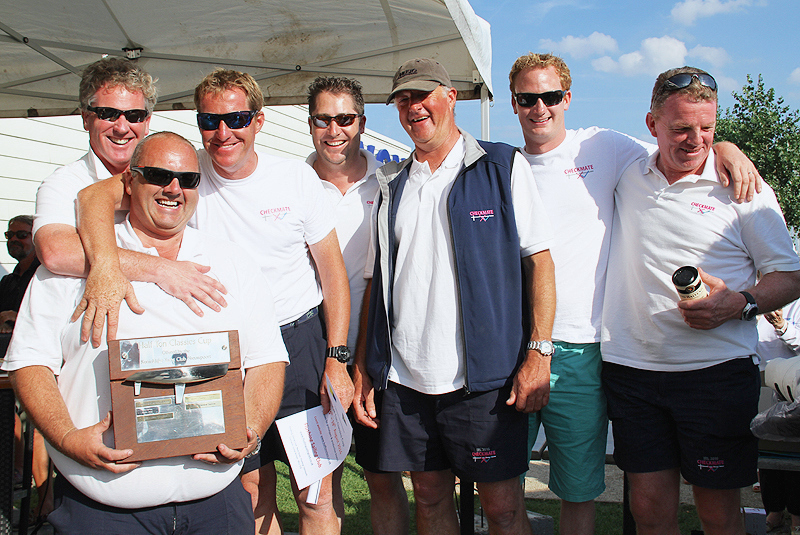 After five days, ten races, multiple parties and some amazingly close yacht racing, HYC's Dave Cullen on his 1985 Humphreys MG HS30 Checkmate XV (crewed by Mark Pettit, John Murphy, James Hynes, Andy George, Aidan Beggan and Gary Cullen) was declared the Half Ton Classics Cup Champion 2015 with a race to spare in Nieuwpoort, Belgium this week.
A hugely enthusiastic supporter of the class, David Cullen was a popular winner and magnanimous in his victory, thanking his crew, his fellow competitors, the members and volunteers of the Koninklijke Yacht Club Nieuwpoort and Race Officer Paul Charlier for an outstanding regatta. Asked how it felt to finally have his hands on the trophy after so many years he replied: "We had a fantastic week, it's a beautiful place to sail and the organisers are superb. We got a mixture of all kinds of weather, a bit of Irish weather with the rain, light breezes and windy, so we were very happy with our overall performance and obviously to win the event is very gratifying.
I actually started sailing the original Checkmate with Nigel Biggs when I was 19 – and I'm not going to tell you how long ago that was! I bought this boat from Nigel last year and we have spent all year upside down in it at very windy regattas, so to come over here and keep the boat upright is quite an achievement, never mind finishing and winning the regatta.
It's a very tricky boat, the new boats are very very powerful and we're still trying to figure it out. But we've learnt a lot this week thanks to my ace tacktician Mark Pettitt, and we look forward to moving forward and maybe being a little bit faster for Falmouth next year."
Fellow HYC competitor Jonny Swan with 'Harmony' finished an excellent 5th in the 22 boat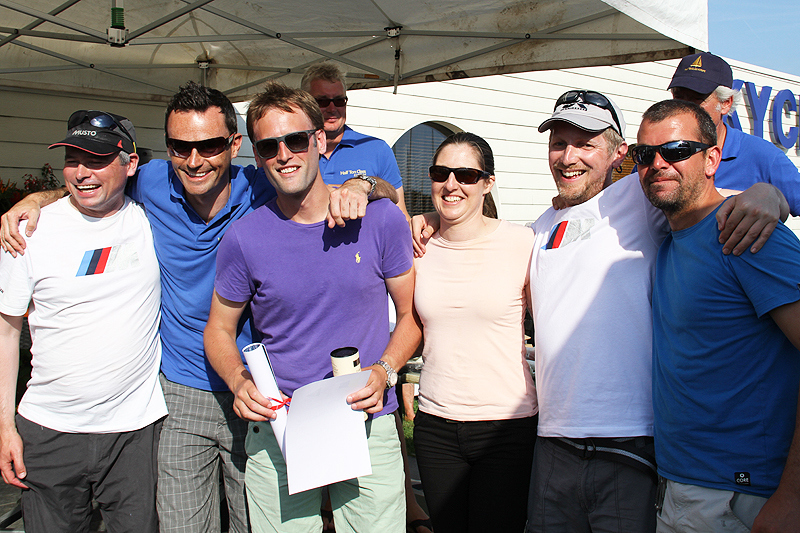 fleet with his crew including Frank Rowe, Joe Turner, Noel Davidson, Graham Curran, Edel Harvey, Gerry O'Daly and Peter Freyne. They finished with a 9th and and 8th in the final two races on the last day of the week-long event.
The Corinthian Half Ton Classics Cup Trophy was awarded to local boat Skippy's Ton helmed by Nicolas Lejeune and crewed by Jean-Marie Gilles, Ann Lippens, Jean-Benoit Boels, Jan Vyvey and Philippe Piron, who finished in 12th place overall.
The prize for the leading Production Boat was won by Crakajax, an X95 built in 1985. After the prize giving co-owner Ursula Bagnall noted, "The navigation in Nieuwpoort is really difficult because of the sandbanks and how they effect the tidal flow. It makes racing in the Solent look like a doddle. We are one of the few boats that still sails to every HTCC and we have a full interior including a toilet and cooker and bunks for eight. It's a great event and we hope to see more Production boats in Falmouth next year, perhaps even enough to have a division of our own."
In addition to the main racing trophies there is a very special award presented at each Half Ton Classics Cup. The Half Ton True Spirit Trophy is awarded to the boat that, in the opinion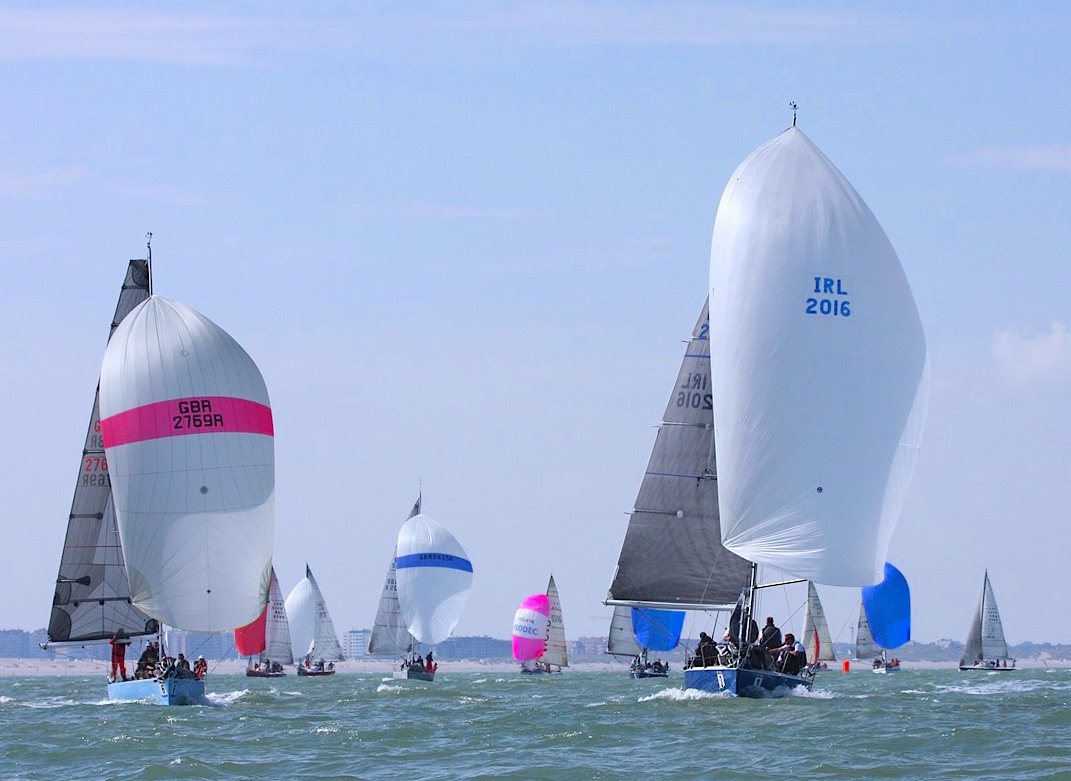 of the judging committee, truly personifies the spirit of the class in that season. For their never ending enthusiasm, their commitment to their beautiful boat and their determination to throw themselves into every Half Ton event wholeheartedly, this year's recipients of the True Spirit Trophy are Jean-Luc Courbon, Jean Marty, Richard Carlie, Pierre-Yves Danet, Helen Frouin, Paul de la Renardiere and Louison Le Scouarnec of the 1988 Andreiu designed Half Capone – names after the famous American gangster who also inspires the crews crew uniform. The ladies of the KYCN shoreteam helped to decide the winner and came armed with water pistols and handcuffs to round up their man!
Alongside the serious prizes there were a number of humorous awards, which caused much mirth amongst the sailors, and every boat in the fleet was called to the stage to receive special prizes including a copy of the Half Ton Classics Cup 2015 poster, a bottle of scotch whisky presented by Roddy Angus of Trastada and, most importantly, a special invitation to the 2016 Half Ton Classics Cup which will be held in Falmouth, UK during the third week of August.
Registered in the Republic of Ireland. Registered No. 81187