Twenty-two HYC juniors at Optimist Nationals
18 August 2015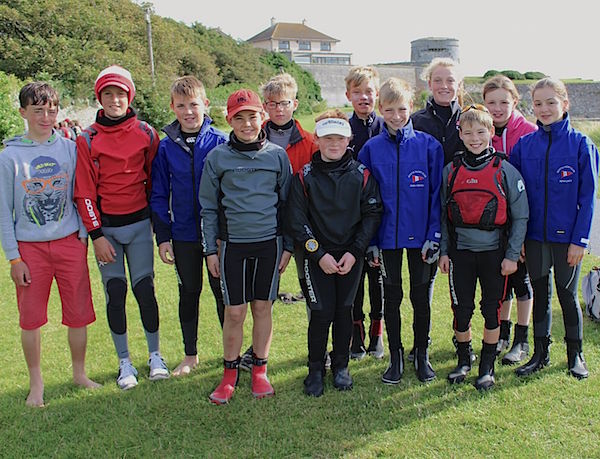 A strong contingent of 22 HYC Optimist sailors travelled to Skerries for this year's National Championships. They joined a fleet of 181 competitors from Ireland, the UK, Spain, France, Switzerland and the USA. 42 boats competed in the Senior Fleet, 94 in the Junior Fleet and 45 in the Regatta fleet.
On day one, the sailors were greeted by light winds and strong tides. The races were long and tough and 2 races were sailed. Jamie McMahon and Sam Crawford showed their experience with a solid 6th and 7th respectively in the first race. Harry Bell had a cracking 2nd in the second race behind the Spaniard Arnau Gelpi who went on to win 6 of the 10 races over the week. In the Juniors, Eve McMahon had an excellent 2nd in the first race, with Hugh Turvey 10th in the second race. In the regatta fleet Johnny Flynn had a 2nd in the second race to lay down his mark. Shane and Thomas O' Neill had a great 3rd race finishing 4th and 5th respectively. Des Turvey had an excellent 9th in his first race, at this, his first event. Ciara McMahon had a very consistent day managing to finish all three races at her first Nationals.
On day two, the wind picked up a bit, but the sailors still had to contend with an even stronger tide. Three races were sailed, but again, the sailors struggled with starts and the tides. Harry Bell followed up from the previous day with a 3rd and a 5th, to move into 2nd place behind Malahide's Gemma McDowell. In the second race, Jamie McMahon had a 3rd with Max Kavanagh in 7th. Hugh Turvey had a good day with another 10th and an excellent 7th. Aoife McMahon showed big improvement from the first day to record a 56th and 57th. Johnny Flynn continued to shine in the regatta fleet, lying in 2nd behind Cork's Jamie Venner. Hugo Crawford moved up the leader board with a very well sailed 27th.
Day 3 was a similar tale, starts and the tide made life tricky. The Howth sailors managed to avoid the inevitable black flags, but, the shifty conditions made for another long day. Race officer Liam Dineen shortened the races slightly, which helped. It wasn't a great day for Howth in the senior fleet, although Ben McDonald sailed very well to record a 9th in the last race. Dylan O'Grady also sailed very consistently to record two 21st's and a 22nd. Johnny Sargent was another who sailied consistently, just outside the top 25. In the Junior fleet Howth fared better with Hugh Turvey recording a great 3rd in the first race and moving into first Irish overall. Other notable results on the day, was a 12th from Eve McMahon, in contention for 1st Irish girl. Dylan McEvoy with a 21st , Ruth Lacy with a 24th, and Sophia Crawford with a 77th in her first main fleet Nationals. The British boats dominated the fleet with 8 boats in the top 10, which puts the above performances into perspective. In the regatta, Johnny Flynn finished with a bullet, to keep up the pressure on Jamie Venner from RCYC. Alice Lacy found her rhythm and had an excellent day scoring a 5th, 4th and 3rd.
The final day forecasted very light winds, but, the wind picked up, and the final two races of the event were completed. Harry Bell bounced back with a 9th and 10th, to finish the event best Howth boat and 10th overall. Jamie McMahon scored a 6th in the last race to finish 15th overall, following on from a great Europeans in Pwllheli, where he finished best Irish. Sam Crawford had a great penultimate race with an impressive 5th place. It was another good day for Howth in the regatta fleet, with Oisin Kelly finishing his first event in style, with a 19th in the last. Alice Lacy continued in fine form, with a 2nd and a bullet, moving her up to 8th place and 3rd girl. Shane O'Neill also had a 7th to finish his first Nationals in 13th place. Johnny Flynn finished with a bullet and a 3rd, but, unfortunately it wasn't enough to catch Jamie Venner. Johnny finished an excellent 2nd overall. Meanwhile, all the drama was over in the Junior Fleet. With two races to go, it was very close, with Hugh Turvey leading from RCYC's Rory O'Sullivan and Harry Twomey, with Conor Gorman from the National in 4th and Eve McMahon in 5th. In the first race Hugh Turvey was black flagged and Conor Gorman finished with a 4th. It was now down to the wire, with all to play for in the final race. In the end, Hugh Turvey had to settle for an excellent 3rd Irish, and winner of the bronze ISA medal. Eve McMahon finished 5th Irish , best Irish under 11 and 1st Irish girl. Luke Turvey saved his best until the last race with a fine 23rd, moving up to 4th Silver and best Irish Under 10. Des Turvey won youngest sailor.
Local sailor Peter Fagan from Skerries was the overall winner of the Optimist National Championship. The Junior National champion was Conor Gorman from the National Yacht Club.
Congratulations to Olive Parker and all at Skerries Sailing Club for running a great event and to all the HYC sailors who did exceptionally well in very tricky conditions. Thanks to HYC Coach Ciara Peelo and her assistants Lizzy McDowell, Richard Hogan and Alex Kavanagh for supporting all the sailors on the water.
Tony McEvoy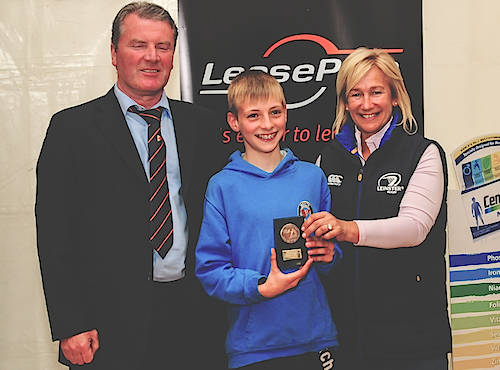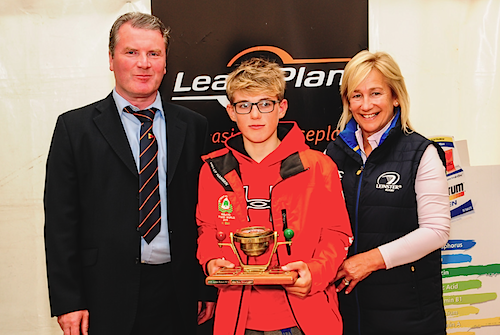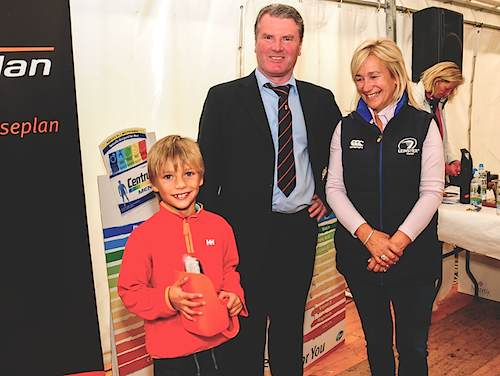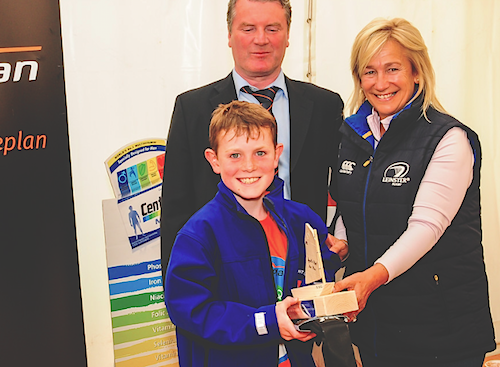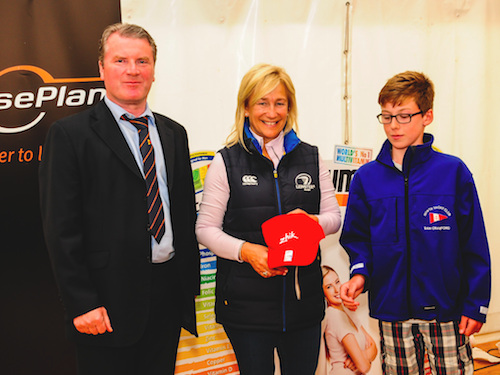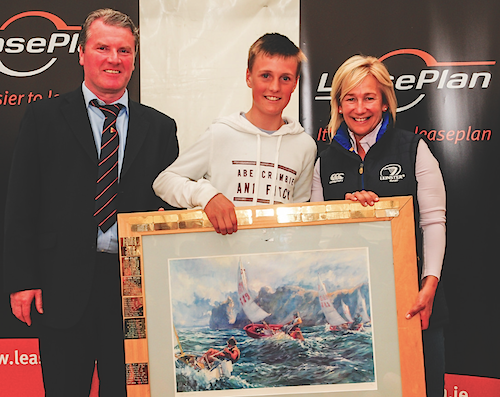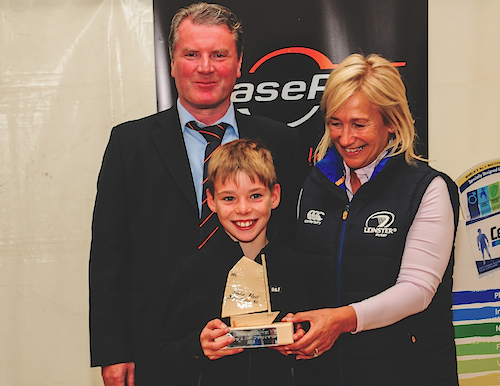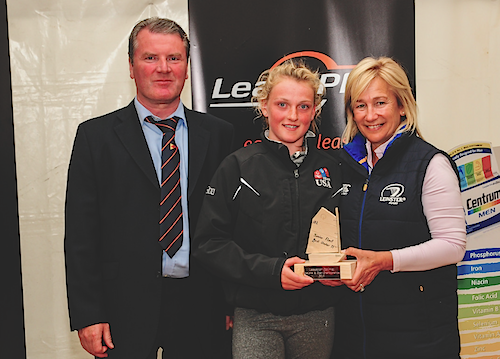 Registered in the Republic of Ireland. Registered No. 81187