17 Footers expect large entry for Championships
01 August 2015
With fourteen of the Howth Seventeen class now regularly competing in their twice weekly club racing series, next weekend's National Championships will provide an opportunity for their owners, minders, helms and crew to race in one of what is likely to be their best attended 'Worlds' (apols to ISA) in many years. It is possible that fifteen of Howth's eighteen classics will jostle for favoured position on their traditional startline in Howth Sound on Friday evening and again on Saturday on Fingal's internationally-renowned racing waters, for windward-leeward races under the direction of Scorie Walls – HYC's National Race Officer with an instinct for dealing with the demands of a quirky community.
The combined total of sailing seasons raced by this year's estimated fifteen entries (give or take some seasons off for a couple of distracting World Wars) is 1,400. However, one shouldn't assume that 'caution and compromise' are key to the preservation of the class, on the contrary – their relentless and competitive 60-race-season along with a 'no quarter given' attitude is key to their continued vibrancy and sustainability.
This year's Championships would be difficult for the bookmaker to mark odds and indicate a favourite. Most recent form would suggest that Peter Courtney's 'Oona' , the Massey/ Toomey etc owned 'Deilginis' and last year's Champions (Turveys) in 'Isobel', will all be in the running. But the lighty-raced 'Rita' (Lynch/Curley) and her 117-year old sisters 'Hera' (M & J Duffy) and 'Aura' (Ian Malcolm) will also certainly be contenders. An inconsistent season so far by Roddy Cooper's 'Leila' might tempt a punter if given long odds, as would the Jones/ Curly owned 'Rosemary' following a recent and impressive show of speed and guile. Almost any boat in this class could win a championship race and recent centenarian 'Echo' (B & H Lynch) as well as the much more youthful (timbers, of course) 'Erica', will also be in the mix throughout the weekend. Class Captain Tom Houlihan will skipper his 'Zaida' with the usual mask that belies a steely determination to take on all-comers, while the impressively competed 'Eileen' (Rima Juchnevicius), resplendent in her new lime-green lacquer, clearly intends to make an impression. Also and forever keen to take on the more experienced 17ers will be National Yacht Club Vice Commodore Frank Cassidy in 'Anita' – for whom a podium position might be a dreamy but nonetheless determined aspiration. Boats hoping to take the Handicap Trophy from last year's winners on 'Erica' (Ian Sheridan) include the 7 year-old baby of the fleet 'Sheila' (Mary Faherty) and another boat well able to turn on the pace - Susan Morgan's 'Silver Moon'.
Three of the 117 year-old class will certainly be missing next weekend: Shane O'Doherty and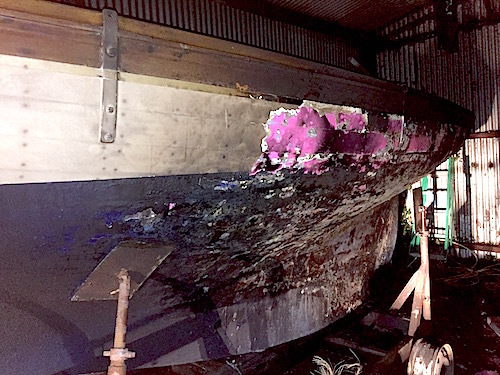 Rocket Ryan's 'Pauline' is being restored after suffering fire-damage in a near-tragic episode at its winter lodging earlier this year. The second boat is the McManus owned 'Gladys' which has remained ashore all season whilst awaiting necessary repairs and the third boat is 'Bobolink', which has had significant work done by owner Hugh Walsh and the 17's own maintenance specialist Ian Malcolm, both of whom suggest that the boat will be back in the water shortly.
The Seventeen Footer Championships start on this Friday evening with their spectator-friendly East Pier start scheduled for 19:00 and continues on Saturday in the waters between Lambay and Ireland's Eye. See full details here
(Top photo: Joss Walsh)
Registered in the Republic of Ireland. Registered No. 81187