HYC's sailors write about Laser Youth Europeans
29 July 2015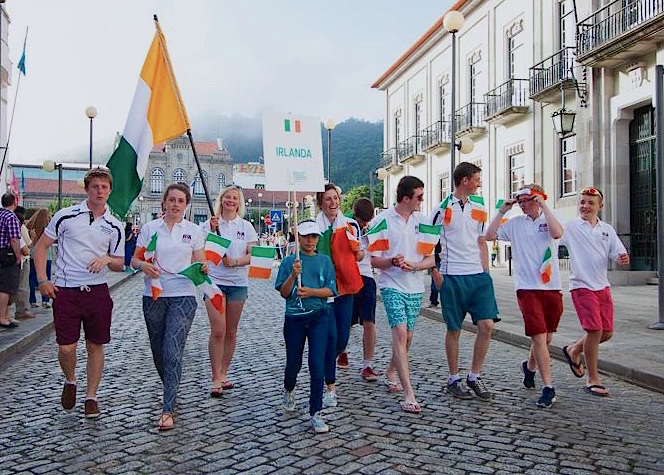 Ewan McMahon (16) and Aoife Hopkins (16) write on each of their recent experiences during the European Youth Laser Radial Championships in Viano de Castelo, Portugal. (Ewan): 'This was my 1st European championship in the laser radial class. My original primary goal in this event was to make gold fleet ,in what proved to be a fiercely contested/competitive arena. Racing conditions were somewhat mixed throughout the week which made for exciting racing during the event. Coming into the penultimate day of the championship I felt I had a reasonable shot at another goal, and that was achieving 1st u17 position. I went into the final day throwing my everything at the racecourse in order to try and succeed. I sailed, what I thought, was my best that day and was extremely pleased with my racing results. I thought I had done enough to take 1st u17 position overall.
Nobody was more stunned than I was to learn that the next contender for the u17 place had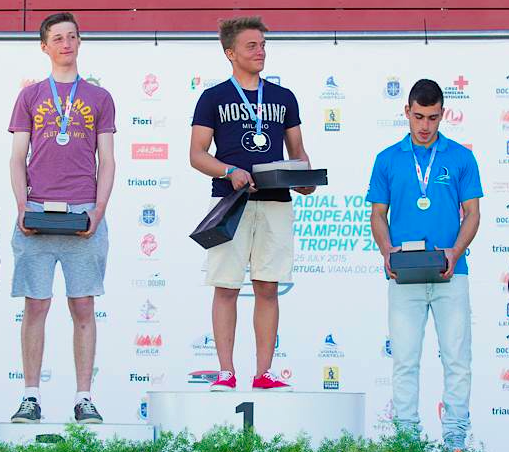 lodged a protest against me-I was unaware of any protestable incident taking place during the course of racing. It was a massive shock when the protest verdict went against me and I ultimately dropped into 2nd u17 position. Still a good achievement to be 2nd but I would be lying if I said I wasn't Gutted!!!.
However, thanks to the amazing support of my fellow Irish sailors, friends and family, I have taken this learning curve and will use it hopefully to go on to bigger and better things! Overall it was an event that was full of ups and downs for the Irish contingent but essentially a great experience and one which I intend to use as a building block to keep a positive momentum in all the forthcoming events in 2015.'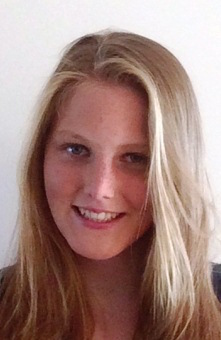 (Aoife): 'I travelled with the ISA Performance Academy team of 3 girls and 4 boys. We arrived Friday night and most of Saturday was spent queuing for measurement and equipment checks. I decided to skip the practice race on Sunday so I would be well rested for racing on Monday after a busy week previously.
Day One: We launched and racing was attempted but unfortunately there was no racing due to a thick fog that enveloped the race area so it just wasn't possible.
Day two: The fog cleared but the conditions were so light it was barely sailable. I was delighted with my two races and got a 5th in both ending up 5th overall after day one.
Day three: This was a windy one. It conditions went from one extreme to another and the winds varied from 25 to 35 knot gusts. Three races were planned but only two were completed. Again I was really pleased with how I sailed and got a 4th and 7th in the races. I dropped in the overall results to 7th overall as a discard had kicked in.
Day four: The Race Committee decided to finish the qualifying series after 4 races so the cut was made for Gold and Silver while the larger fleet of boys was split into four divisions. All but two of the Irish team qualified for the Gold fleet. Myself and the other Academy girls all made the Gold Fleet Cut.
I found the conditions strange to sail in and didn't feel that I sailed fast. There was a big swell with a difficult chop. In general I felt as though I was going slower and found out afterwards that the trick is to free off and sail looser in these conditions (who knew ☺)
My first race was a disaster as I was forced to the unfavoured side of the first beat, I got a 29th in that race, my first bad one of the series. I bounced back with an 11th and 9th in the next two races- respectable enough.
Day Five: For me day five was a game of two halves. I felt sea sick for the first two races (which had never happened before) so didn't sail as well as I had been and got a 15 and 17th in the first two races while feeling miserable the whole time! I rallied around and started to feel better then posted a 7th in the third race.
Day 6: Last Day: I was determined to end the event on a high and got a 10th & 7th which I was very pleased with.
Overall my seasickness day dragged me down in the results as I was unable to discard any of these races. One discard had to come from the qualifying series of four races so I ended up discarding a 7th from this and having to keep a 17th which was less than ideal.
I finished up in 9th place overall in the Girls Gold Fleet. So a good event for me. I was the first time I had ever sailed in a European championship in any boat so a great new experience.'
And finally a report from the ISA's PR & Communications Manager Alec Elliot following a busy few weeks for Ireland's (and Howth's) young and talented sailors:
The busiest period of the summer for young Irish sailors almost came to a close in spectacular fashion this weekend past. For a few hours we all believed Ewan McMahon had become the latest success story from the ISA Pathway in claiming the u17 European Radial title in Viana do Castelo, Portugal. However, the wind was taken from our sails a few hours later when a final race protest meant the title was no longer Ireland bound. That is sport and the decision is what it is, and Ewan will go on to fight another day. Whilst his performance stood out, the boys' results were not as strong as recent years, and the academy will need to re-group before heading to Canada for the Worlds, and hopefully a more competitive outing.
Viana do Castelo also hosted the Radial Youth Europeans, where Aoife Hopkins was impressive all week, and Aishling Keller, despite starting slow put together a great string of results. They finished 9th and 10th respectively. You did not have to go very far down the leaderboard to find more Irish female sailors - Nicole Hemeryck and Erica Ruigrok both finished in the top 20. The future of Irish ladies radial sailing is a bright one.
The busy period continued in impressive fashion with the Durcan twins from RCYC competing at the 29er European Championships, which ran from the 17-21 July in Medemblik, The Netherlands. They were the youngest qualifiers in GOLD fleet and finished in 25th position.
Next up we had the Optimist Europeans 17-24 July in Pwllhli, Wales, where we had 5 sailors in the top half, with lots of great individual race results, which indicates good future potential.
In lake Riva Del Garda, Italy, we had a large representation in the Topper World Championships which ran from the 17-24 July. For the majority of the week we had Geoff Power on the podium and he sailed an excellent regatta. In the end he was just pipped to bronze by one point. It all about fine margins at this level, but nonetheless it's a result Geoff can be very proud of.
And so, as the busy period drew to a close, all eyes moved to the other side of the World where we had two 420 teams competing at the World Championships in Castle Bay Karatsu, Japan from the 17-25 July. Douglas Elmes and Colin O'Sullivan recovered well from a pre event setback where Colin broke his toe - they soldiered on through the event and made GOLD fleet and finished a respectable 23rd. In the Ladies division Lizzie and Cara McDowell also made GOLD fleet and finished 19th overall.
So catch your breath while you still can – up next we have the 29er Worlds in Pwllhli, Wales, from 8-14 August; the Optimist Worlds in Dziwnów, Poland from August 26 - Sep 4; the 420 Junior Europeans in Bulgaria from August 8-15; and a Laser Radial Worlds in Kingston Canada 14-20 August.Follow all progress of this talented generation on the ISA Performance website - isaperformance.ie/ and Facebook page - facebook.com/ISAPerformance
Registered in the Republic of Ireland. Registered No. 81187