HYC 420 sailors at World Championships in Japan
27 July 2015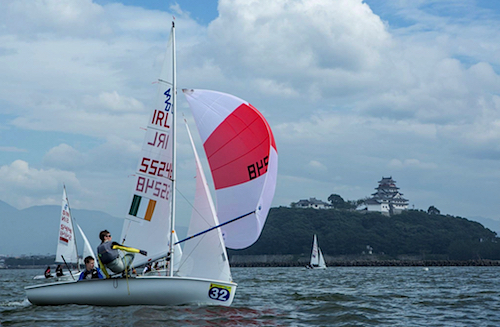 The 'warts and all' report from HYC's 420 team - Doug Elmes and Colin O'Sullivan following their recent adventures in Japan: On the 13th of July we began our long journey to Karatsu, Japan for the 2015 420 World Championship. After 24 hours of travelling and 2 connecting flights we arrived at the venue. The first thing that struck us was the stifling heat and high humidity! We checked into our hotel and walked across the beach overlooked by the towns castle to the sailing club.
Our sails missed one of the connecting flights which meant they arrived 3 days late. In the mean time, Colin had an accident on his bike which led to him being brought to hospital by ambulance. After 3 hours of x-rays and CT scans he was told that his toe was broken. He managed to get through the event with an enormous tennis shoe and some painkillers.
After a day or two of acclimatising to the heat and adjusting to the time difference. We went out on the water in what an old coach of ours would have said "champagne sailing", 30 degrees, 15 kts, surfing waves and sun.
The first day of competition brought about tough wind conditions as the gradient wind fought with the sea breeze, eventually the sea breeze won and the RC managed 1 race, unfortunately, we struggled and were pushed to the back of the fleet as a result of a few missed gusts and shifts. We settled for a 29th but in the midst of derigging, forgot to sign inshore and received a 1 point penalty. Now we know what an 'STP' means!
However day 2 was different, having improved on the previous day's mistakes, we had a brilliant start and sailed a smart first beat to keep us in 3rd till the finish. This moved us up into 31st place overall.
Day 3 and this time the gradient wind had its share with 20 kts across the bay from an unusual sea breeze. The race committee did well to crack off 3 good races to catch up on schedule. We had an ok day with middling results but very consistent.
Day 4 was the same, 20 kts again and 3 more races, after the 1st race we came ashore and were split into gold and silver for the final series. We made gold and were determined to improve on our result. We went out again and produced two good races, a 12th and a 9th.
Day 5 was a windy again! Our exhaustion showed and we lost too many places in each race getting a teens and 20's result.
Day 6 was the final day, there were very nice conditions 15kts and sunny, we had a good 1st race with a 15th but lost a lot in the 2nd and got a 30th.
Despite our last race, our consistency meant we finished the regatta in a respectable 23rd position. We are re happy but know we have even higher potential, but more than that we we had an amazing experience in Japan, a very different experience to say the least!
Overall it was a memorable experience and has prepared us for our next trip to Bulgaria where we will have high hopes for the Junior Europeans in Bulgaria!
Douglas Elmes and Colin O'Sullivan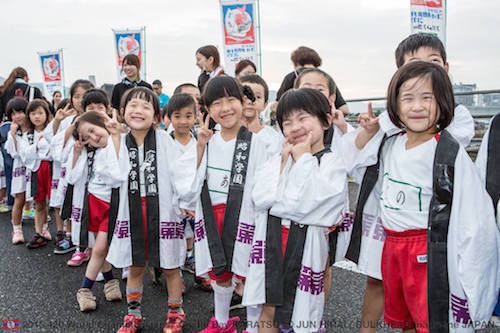 Registered in the Republic of Ireland. Registered No. 81187