La Lumiere of Howth continues her journey to Sardinia
21 July 2015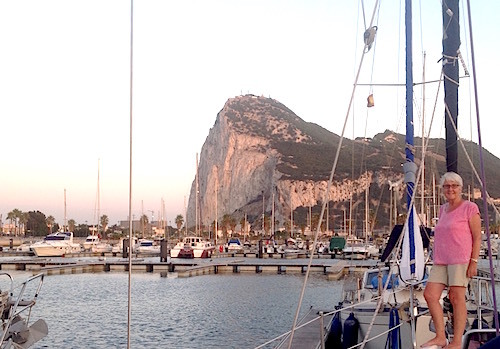 Pornichet – Les Sables D'Olonne: After a considerable amount of soul-searching and discussion, we decided to opt for a 2 night crossing of Biscay from Pornichet to Gijon, a sail of 262 nm which would bring us a good distance west along the north coast of Spain. With just two OAPs on board, night passages have become very tiring indeed. A 36 hour passage beginning at first light and ending the following day around 1800 hours is the preferred option at this stage of our lives!
However, exceptions sometimes have to be made so on Tuesday June 16th at 0800, we slipped our lines and proceeded out through the marked channel to exit Pornichet marina. With the sails hoisted, we were soon making 6 knots with the help of a NW 3-4. Once the outlying dangers were safely passed, we altered course to 210 degs which would bring us across to Gijon on the north coast of Spain.
At about an hour out, we were hailed by a Customs' boat and requested to pass over our passports and ship's registration documents. A large anglers' net was used to pass back and forth the papers. This was definitely a first in our experience. We were surprised as we thought only the Customs in Lorient were interested in examining the registration papers of Irish Yachts! (Many years ago we were fined €150 at that port for not having a full Ships' Registration). On this occasion, however, no fault could be found and they wished us Bon Voyage and sent us on our way.
Tragedy strikes!
All went well until 1830 when the passage came to an abrupt and juddering halt! As we were meandering peacefully further into Biscay, there was a sudden vibration from the engine. We soon realised we had fouled the propeller and as neither of us are into scuba diving, the only option was to turn and head across to Les Sables D'Olonne which was the nearest port on the French coast, lying 55 miles to the east.
As darkness closed in, the NW wind increased to 20 – 25 knots. Combined with a 2 meter swell also from the northwest, this resulted in a very bumpy, uncomfortable passage through the night. We were both exhausted and relieved to tie up at the Visitors' Pontoon in Les Sables D'Olonne at 0800 the following morning.
The only good news was that whatever had attached itself to our prop, had somehow worked it's way free in the rough conditions during the night and la Lumiere herself had behaved impeccably!
Hard choices!
I have to admit that I was somewhat freaked out at this stage and presented the skipper with (in my opinion) 3 reasonable options, the 4th being himself going across Biscay singlehanded!
1. Do an overnight to Santander and work our way along the sometimes hostile north coast of Spain. But beforehand, have a chat with a local sailor with real experience of sailing the north coast at this time of the year.
2. Get a 3rd person to accompany us across Biscay as far as La Coruna.
3. Have the boat transported by road to the Med.
I discussed these options with the people in the marina office and was referred to Jean-Louis who owned the nearby boatyard - 'Espace Mer' - who immediately offered to introduce us to his cousin, Jean Garnier, a retired fisherman and highly experienced sailor – a rather unusual combination! Jean-Louis also agreed to get a price for transporting La Lumiere by road to the Med.
The following morning, he duly arrived down to the boat accompanied by one of the most wonderful men to have entered my life since I met Ken in 1962!
10 minutes into the chat, it was evident that we were in the presence of a really special sailor and, indeed, person. Without any persuasion whatsoever, he offered to accompany us across Biscay. He could give us 5-6 days starting from the following Monday, June 22nd.
We would cover his costs – food, flight home, etc. – a minute price to pay for what turned out to be one of the most informative and fun sailing trips of my life! As it would cost around €5,000, including all expenses, to have the boat transported by road, Jean's offer was a no-brainer!
Les Sables D'Olonne - Bayona
After spending 5 lovely days in Les Sables d'Olonne, exploring the very pretty villages of Les Sables and La Chaume, we departed at 0715 on Monday June 22nd for a 3 nighter across Biscay with Jean on board. The forecast was for light, variable winds and, if truth be known, I didn't mind in the slightest but I kept those thoughts to myself!
While initially, there was some wind from the predictable northwest, it soon died off never to reappear again during the 84 hours it took us to reach Bayona! Every time there was the slightest puff of wind, the sails were hoisted but rather sadly rolled away again a few hours later, having been of little use.
My Saviour!
Under these circumstances, there was plenty of time to chat. I can now speak with some authority on fishing for tuna off the Azores, for prawns in the Irish Sea, conger eels off the Northwest coast of Spain and the politics of EU Fishing! Jean was also very familiar with all the fishing ports in Ireland and had some very nice things to say about the warm welcome always awaiting French fishermen who have to seek shelter in Irish ports. He seemed to be particularly familiar with the fleshpots of Waterford!!! (I hadn't realised that the nite-life in Waterford was quite so colourful)
I soon discovered that he was no ordinary fisherman but the owner/captain of a number of rather large fishing vessels and, after retiring from fishing, was appointed to represent The French Federation of Fishermen in Brussels during the 10 years up to his retirement a few years ago. He owns a sailing yacht which he keeps in Les Sables d'Olonne and has extensive experience as a single-handed sailor.
For those of you familiar with Les Sables D'Olonne, Quai Garnier, to starboard of the entrance, is named after his uncle, a war hero, who was a member of the French Resistance and who died on a train heading for Auschwitz after being captured by the Germans.
The big regret was that Jean's English was a step below pidgin (He sounded like a character from "Allo,Allo"! ) and Ken's French also nearly non-existent, so the two men really couldn't communicate very much with one another. Thankfully, I am very comfortable speaking French so could act as translator!
Crossing Biscay was a doddle!
After all my fears and dread of Biscay, we ended up motoring across in a flat, calm, empty sea with hardly any wind! Jean would announce each time I came on watch "No Boat, no Wind". The days took on a routine of their own – I fed my men well, stood my watches but there was plenty of time for reading, resting and of course chatting!
As we passed La Coruna at 2200 on Wednesday June 24th, we decided to head on to Bayona which was another 150 nautical miles away. We thought it would be a good idea to get a recent forecast and therefore contacted La Coruna radio for a weather update. We were told to expect ENE 4 occasionally 5 - winds which would be perfect. The visibility, which can be a huge issue between La Coruna and Capo Finisterre, was to be good.
This turned out to be pure fiction! The wind died off completely, a fog descended and our speed dropped to a steady 4 knots as we battled our way against tide and current round Capo Finisterre, finally struggling past it in dense fog at 1000 the following morning! The fog didn't dissipate until 1430 that day when Jean shouted down into the main cabin that 'The foog is out' (The fog has lifted!)
Finally, with better visibility, the wind filled in, our speed increased to a much more welcome 5.5 knots and with the sails hoisted, the final 36 miles into Bayona passed pleasantly and swiftly. Now our main priority was to replace all the fuel we had used over the previous 84 hours!
After refuelling, we went into the delightful town of Bayona where Jean treated us to a delicious meal in Café Naveiro just across from the marina in grateful appreciation for all the tasty meals I had cooked for him. (He said and I quote!)
We soon realised that flying back to la Rochelle or Nantes from nearby Vigo was not an option for him. The flights were costly and not direct. As there are Ryanair flights between Porto and La Rochelle, we booked a flight for Saturday June 27th and decided to set out for Porto, 63 miles away, early the following morning.
Bayona – Leixeos/Porto
We departed Bayona at 0700 with the hope of arriving in Porto about 11 hours later. With good visibility, a flat sea and a NW 3, we motor sailed on low revs, just bumping over one unseen lobster pot along the way!
The Portugeuse coast is like a minefield with literally thousands of lobster pots dotted along the coast up to 20 miles off shore, just waiting for boats like La Lumiere of Howth to come along and get entangled in them! Fortunately, we had a lucky escape this time and at 1830, we arrived in Marina Porto Atlantico in Leixeos - pronounced 'Lesheosh' - near Porto.
The town was 'en Fete' with a Mediaeval Pirates' Festival taking place in the Fortress just across the road from the marina. There was a tremendous buzz about the place and we enjoyed dinner in a typical Portuguese restaurant 'Brisamar' where all the serving staff and cooks were dressed as pirates.
We had covered 518 miles since leaving Les Sables D'Olonne the previous Monday morning.
Leixeos - Lagos
Jean left us on Saturday , June 27. We were all sad to say goodbye to one another as not only had he made this long passage possible for us but had been great company as well. After Jean's departure, we enjoyed a visit to the wonderful old city of Porto and to the mediaeval Pirates' festival in Leixeos where we purchased lots of souvenirs for our grandchildren!
Our next deadline was to get to the Bay of Cadiz by July 9/10 to meet up with our son, John and his lovely new fiancée, Marie Finnerty, from Clane who were coming over to Jerez de la Frontera to celebrate the wedding of Marie's brother to a Spanish girl.
The Race to Cadiz!
On Tuesday, June 30, after 4 nights in Leixeos, (dense fog kept us in port for an extra unplanned night), we proceeded to hop, skip and sail our way down the Portuguese coast, slipping in and out of marinas on a nightly basis! The northwest wind and the Portuguese current ensured speedy , uneventful passages from port to port.
First up was Figuera de Foz, 63 miles down the coast. We arrived in the marina at 2030 hours to find the office closed. So we tied up at the fuel pontoon and were wondering how to pay for the overnight when a night security man appeared and relieved us of our cash!
At 0600 the following morning, we were up and away bound for Peniche , 52 miles away. When we arrived, we had to raft up to a Norwegian boat we had already met in Leixeos and we spent a truly awful night being flung in all directions by the wash created by the many fishing vessels entering and exiting the harbour throughout the night.
It was a shame that there is so little space for visiting yachts as the town itself is truly authentic and has not been touched by commercial developments.
However, at first light, ourselves, Vid Vandre ( the Norwegian yacht) and Lazycat ( a French yacht) all fled within 5 minutes of one another towards Cascais at the entrance to Lisbon and enjoyed a restful nights' sleep in the comfort of this excellent marina.
Then came another day of lobster pot dodging as we proceeded further south to Sines, a fishing port and holiday resort 35 miles south of Cascais. Although the marina is quite small, the facilities are first class and the town itself a delight to visit.
The weather forecast was predicting increasingly strong winds along the west coast of Portugal and in particular at Capo Sao Vincente, which is notorious for strong winds and big seas at the best of times. As the winds were due to last for 4-5 days and strengthen. On Friday July 3 we decided to break our golden rule of never going out when a F6 is mentioned and departed Sines with a Force 6 expected once we rounded the corner at Capo Sao Vincente but it would be from a favourable direction.
We set the alarm for 0330 and were motoring out of the marina by 0400 in the hope of arriving at Lagos (77 nm away) before the really strong winds arrived later in the day. At 1315 we rounded the Capo in a big swell and plenty of wind but the conditions were thankfully manageable.
Once rounded, we were met by 20-25 knots of wind from the NW, gusting 30 and even though the lobster pots still abounded, we had the very best sail of the trip so far up to Lagos. At precisely 1700, we docked at the waiting pontoon in 20 knots, relieved to be safely in port but also delighted with ourselves as we now knew we would make our date with John and Marie in the Bay of Cadiz!
Lagos – Rota
We decided to award ourselves with a 2 night stay in this lovely but expensive marina. We also needed to catch up with laundry and provisioning so this was an ideal place to catch our breath in every sense.
On Monday, June 6, we headed along the coast to Vilamoura, an even more expensive but characterless marina full of very large motor yachts but very few sailing boats and surrounded by a huge number of restaurants with even larger numbers of tourists dining in them!
By 0600 the following morning, we departed for the much more authentic marina of Mazagon which was located 66 miles across the Gulf of Cadiz in Spain. We tied up at 1745 and after checking in, enjoyed a supper of delicious paella in the small, friendly restaurant at the marina.
Mazagon is part of a group of marinas in Andalucia run by the local council where charges are fixed and affordable unlike Cascais, Lagos and Vilamoura in Portugal. The price per night for a 36 ft boat is €27.67 which is great value given that we are now in the high season.
From Mazagon we made our way to Chipiona, at the mouth of the river Guadalquivir which leads up to Seville.
On Thursday July 9, our son John and his fiancée joined us on board and rewarded our efforts to meet up with them with an invitation to the wedding in Jerez de la Frontera on Saturday July 11.
The following day, we headed down the coast to Rota in the Bay of Cadiz which would be closer to the centre of action and therefore easier for transportation purposes.
The Wedding!
Now every woman and maybe even man who is reading this will appreciate that the next problem to be solved had nothing to do with big swells, strong winds, lobster pots or fog but with what I could possibly wear to a rather posh Irish- Spanish wedding given that the only footwear I had on board were flip flops and rather battered sailing shoes!
I was duly ferried by car to a branch of El Cortez Ingles near Jerez and managed to buy shoes, a bag and some silk palazzo pants which I teamed with a top I had on board and off I went to the wedding. Ken looked splendid in an open-necked shirt and chinos!
The wedding was a magical experience – the mass was celebrated at 8pm in a wonderful old Baroque church in the centre of Jerez. The music was provided by a professional choir of young people who sang really beautifully. The soloist was our very own future daughter-in–law, Marie, whose voice was trained by Veronica Dunne. Her rendering of the Ave Maria was truly memorable.
After all the pomp and ceremony of the church service, a change of mood and tempo was announced with the arrival of a Tren Turistico! The 150 guests boarded outside the church and to the sounds of a rather raucous rendition of Molly Malone, were shunted through the narrow, cobbled streets of Jerez to the oldest winery in town where the wedding feast was to be held. The Irish had arrived !
And what a feast that was - beginning with lobster and ending with a delicious raspberry roulade. The speeches were kept to a minimum and the dancing commenced at 2.00 am!!! The contingent of relatives who had travelled on an early morning Ryanair flight from the West of Ireland were in a state of bewildered collapse by this stage! Ken and I departed the festivities at around 3 am, taking a taxi back to Rota and to the peace and quiet of our boat after a really fantastic wedding celebration.
After a 4 day mini- holiday in the really lovely town of Rota, complete with American naval and air-force base, we headed for Barbate to position ourselves for navigating the Straits of Gibraltar, a very tricky 20 mile stretch of water, which has to be treated with the upmost respect.
Barbate and Our Lady of Mount Carmel!
There was to be a 4 night wait in Barbate as a Levante ( a strong wind from the east) was blowing as we arrived.
However, life was not boring even though the marina was nearly empty of boats except for those waiting to transit the Straits of Gibraltar! One could say that it really owes it's continued existence to the 'Levante'! Quite a bit of socialising took place between the very international group of yotties who, like ourselves, were awaiting a change in the wind direct.
The marina itself is quite unattractive, although it does boast a little café with good wifi. It is surrounded by a high cement wall which creates an oven- like effect in the sweltering heat and the town is a 30 minute walk away. So it is definitely not an ideal place to have to spend a prolonged stay!
July 16 was the Feast of our Lady of Mount Carmel which is a national holiday in Andalucia. The celebrations in town were mega complete with a floating procession of the statue, La Virgen del Carmen, around the port accompanied by a flotilla of boats. This was followed by a firework display and the inevitable disco which boomed on until 5 am in the morning!
We decided to join in the celebrations and hosted a little party on board la Lumiere on the 16th ( It was my feast day after all!) with our own international flotilla of guests from the United States, Norway and France! (See photo below)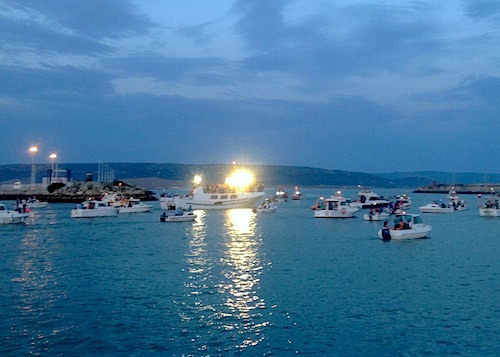 La Lumiere arrives in Gibraltar!
On Saturday July 18th, conditions were right for transiting the Straits. We departed Barbate at 1145 to catch the current at Tarifa which would sweep us into the Bay of Algeciras. 7 hours later, with everything going in our favour - wind, current and visibility, we tied up in La Linea after a perfect passage through the Straits. 55 days and 1,650 nautical miles after departing Howth, the Kavanaghs had finally arrived back in the Med!
(Top photo: Carmel and La Lumiere arrive in Gibraltar)
Registered in the Republic of Ireland. Registered No. 81187