Squib Nationals title still undecided
01 July 2015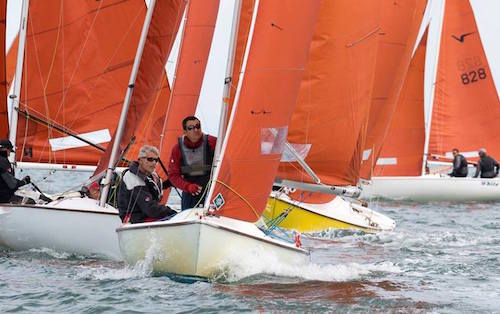 Following 4 days of racing in a variety of conditions and having had to deal with everything that the Fingal waters have been presenting, the eventual winners of this year's Squib Nationals will be deserved of the title making them the best Squib sailors in the UK and Ireland.
The top of the leaderboard has changed significantly in the past few days as lighter winds provided challenging racing for the 48 boats and crews. The 2-race per day schedule has provided competitors with great sailing despite losing a day due to the Force 7 winds on Tuesday. Having completed 7 races, Royal Corinthian Yacht Club and Burnham Sailing Club's Malcolm Hutchings with crew Adam Ramsey lead the series in 'Lady Penelope'. A slim 2 points back sees Nigel Harris and John Stevenson on 'Banshee', one of nine entries in the championships from South Caernarfonshire Yacht Club (SCYC) and the waters of Cardigan Bay, familiar to many HYC cruising sailors and ISORA veterans. David Jones and Mark Hogan's 'Ric O'Shea' from SCYC see themselves 6 points adrift of second place with another Royal Corinthian Yacht Club entry 'Helmut Shoing II' (Nigel and Jack Grogan) a single point behind them.
Top Irish boat in 7th place is John O'Driscoll's 'Aficionado' from Royal North of Ireland Yacht Club and crewed by David Cagney. The race management team at the 2015 'Nationals' is in the expert hands of PRO and Howth's International Race Officer and Past Commodore David Lovegrove, who will no doubt ensure that all competitors including the 30+ visitors from Northern Ireland, Cork and the UK get the very best racing this week. Racing will be completed on this Friday and will be followed by prizegiving dinner that evening.
(Photos by Fotosail - see all galleries here)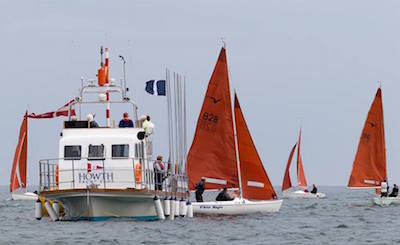 Registered in the Republic of Ireland. Registered No. 81187