Doug and Colin shine in the 420 fleet at Kiel
28 June 2015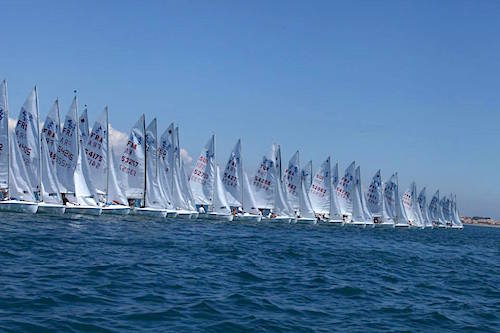 Benefiting from the expert coaching of Graeme Grant, HYC's Doug Elmes and Colin O'Sullivan finished in 5th place in 420 class at last week's Kiel Week regatta. They were competing with 154 of the top 420 sailors in Europe and the USA and the Irish results were made al the more remarkable with Cork's Peter McCann and Harry Whittaker finishing in 3rd place.
Graeme described it as a 'brilliant result' for the Irish teams and continues the steady stream of high-performance young Irish sailors on the international circuit.
An event report from Doug and Colin:
On the 25th of July, we flew out to Germany to attend the 133rd Kiel week event in the 420 class. We flew out three days in advance of the competition to ensure adequate preparation before the high level event we had ahead of ourselves.
154 entries saw a great number of boats and tough competition attending the regatta. However our training in the preceding days meant we went into in the 1st day in full swing and we came out of it with a rewarding 5th and 10th.
The 2nd day was trickier, only one race was sailed and we struggled to get off the line after we got caught in a heap of boats stuck at the pin end, we didn't give up though and sailed a very good race somehow managing a 16th.
Our 3rd day was our best. Everything went well for us, we were sailing out of our skin securing two bullets and a 2nd in very close racing. This put us into 2nd place overall with Peters McCann and Harry Whitaker of RCYC in 1st. It was clear that our long winter days training in Howth were starting to pay off!
We went into the last day not nervous but very happy as 2 of the Irish boats headed out onto the water wearing yellow and blue bibs! The last day of racing proved to be the most difficult, we got a late teen result in the 1st race which knocked us back a bit but we sailed a very good 2nd race to attain a 4th. Conditions in the last race proved very difficult pushing us back to the late teens again.
When we got back on land we heard we were leading going into the final race! We were a little frustrated with this but overall extremely happy with our final position of 5th place out of the 154 boat fleet.
The event was great for us, we were not expecting our result and it has given us a great incentive to push hard going into the world in Japan mid July and junior Europeans in Bulgaria early August. We hope to carry our learning from this event into these forecoming events and are looking forward to a busy summer!
Douglas and Colin
Registered in the Republic of Ireland. Registered No. 81187