Howth win '2-Handed Division' in Dun Laoghaire-Dingle Race
15 June 2015
Howth YC's Colm Buckley and Simon Knowles will tonight collect the two-handed trophy at the prize-giving gala dinner in the Dingle Skelligs Hotel for the 280-mile Dun Laoghaire to Dingle Race, which started at 9.0pm on Friday. Racing the Elan 340 Blue Eyes, they'd a challenging race of two days and five hours in which their fortunes waxed and waned to such an extent that at one stage in the small hours of Sunday morning near the Fastnet Rock, the Race Tracker showed Blue Eyes as leading overall on corrected time.
This put them ahead of such boats as the famous Ker 40 Antix (Anthony O'Leary, Royal Cork YC), which was leader for most of the first half of the race, her crew including HYC's Dylan Gannon, Ross McDonald and also Tommy Murphy.
However, the Blue Eyes crew soon found that share values can go down as well as up. Nearing the Kerry coast in a calm south of Dursey Head later on Sunday, they slipped down to third in the two-handed division, and around 20th overall. So it was a tenacious struggle to make the best of the wind returning from a northerly direction, but unlike the eventual overall winner, the J/109 Ruth (Shanahan family, National YC) which had carried the northerly breeze close-hauled without having to tack the whole way from Skellig Michael to the finish through Sunday afternoon and evening, Blue Eyes later on Sunday night found the wind veering, and she'd to beat slowly up Dingle Bay to finish in the small hours of Monday morning in the mouth of Dingle Harbour.
However, this was enough to put her firmly back in the lead in the Two-handed Division, and it also made her 12th overall, a great performance when you remember that Colm and Simon had sixteen fully-crewed boats behind them on the final leaderboard.
(Top photo:) The Elan 340 Blue Eyes (Colm Buckley & Simon Knowles HYC, left) settling down after the start of the 280-mile Dun Laoghaire-Dingle Race on Friday night in Dublin Bay, and already showing ahead of the Sigma 38 Joker (David Gibbons, Kinsale YC) which was to place second to Blue Eyes in the two-Handed Division. Photo: W M Nixon
(Below:) Howth sailors hit the big time – Dylan Gannon, Ross McDonald and Tommy Murphy aboard the famous Ker 40 Antix before the start of the Dun Laoghaire-Dingle Race on Friday. Photo: W M Nixon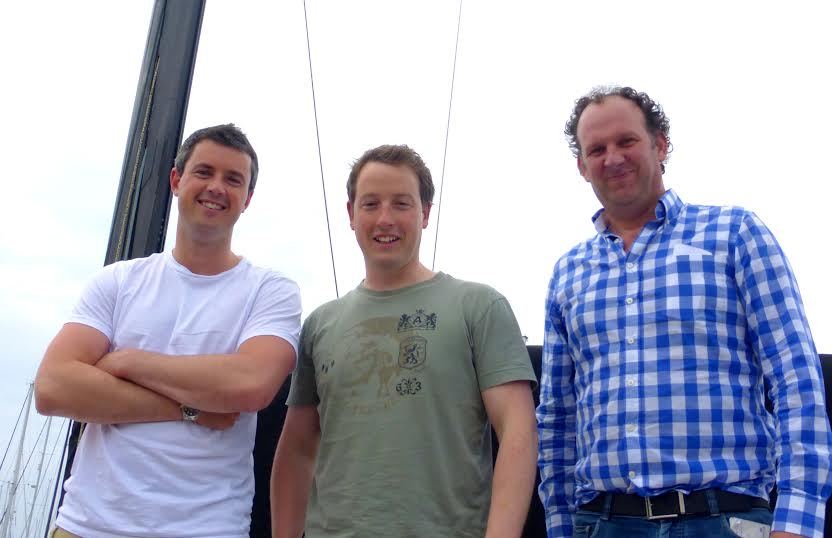 Registered in the Republic of Ireland. Registered No. 81187