Aoife Hopkins qualifies for ISAF World Cup and youngest sailor in the regatta
09 June 2015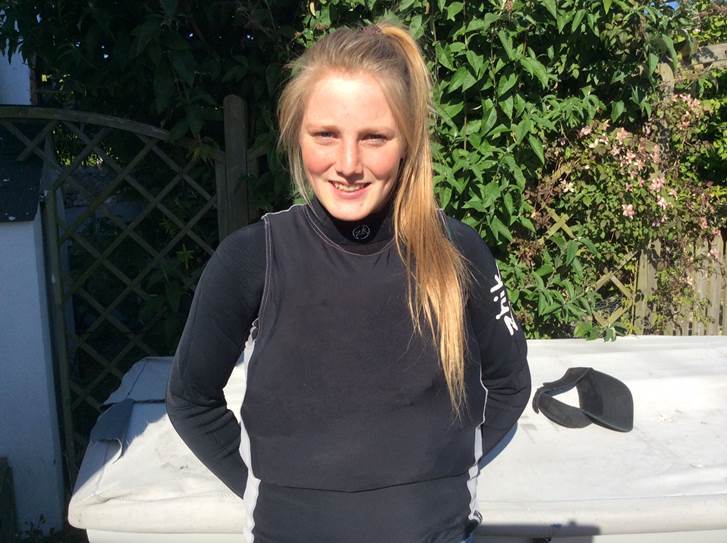 Howth Yacht Club sailor Aoife Hopkins is today competing in a World Cup event for the first time. At 16, Aoife is the youngest sailor at the Weymouth/Portland World Cup event in the UK. She secured an invite in the Laser Radial class thanks to her impressive performance at the Delta Lloyd Regatta in May.
Commenting on her qualification, Aoife said: "When I received news of having qualified for the World Cup in Weymouth I was beyond delighted. I started crying straight away, in front of everyone. This will be an amazing experience. I will be competing against sailors who have dedicated their lives to the sport. I expect a good thrashing but to even be on the start line with these girls will surely be a massive learning curve."
"I qualified by achieving a good result in the Delta Lloyd, Medemblik. This was another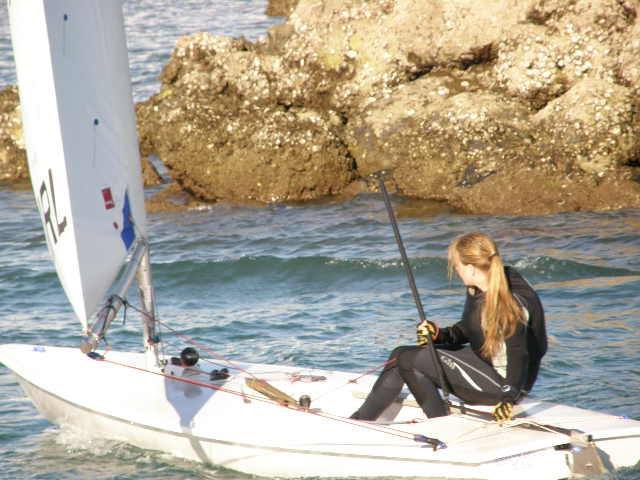 regatta that I, as a 16-year old schoolgirl and not a full-time athlete, wasn't expecting to do very well in. The Delta Lloyd (a qualifier for the world cup and a very well run event) brings the best sailors from all over the world. I was shocked and thrilled to have two brilliant days at the start of the regatta and to make gold fleet. I finished 40th overall in the 82-boat fleet. This result qualified me for the World Cup in Weymouth. To have an opportunity like this is priceless, most of the senior girls have been sailing the Laser Radial for longer than I have been sailing. To be competing against them at this level is an incredible experience that I'll certainly improve from."
When he was told of her qualifying for Weymouth, HYC Commodore Brian Turvey said of Aoife: "She deserves every chance and opportunity to sail with the world's best in this regatta. Aoife has always been a dedicated and hard grafter throughout her comparatively short sailing life and this will be a brilliant experience for her to remember. Our club is thrilled to see her get this far and we are very proud of her remarkable achievement."
Aoife joins Providence Team IRL, comprising three Irish Olympians and two Paralympians, who return to the scene of the London 2012 Games this week to compete in the re-vamped International Sailing Federation (ISAF) World Cup series. Annalise Murphy in the Laser Radial; Ryan Seaton and Matt McGovern in the 49er; and three-man Paralympic Sonar sailing team, John Twomey, Ian Costello and Austin O'Carroll will be joined by Andrea Brewster and Saskia Tidey in the 49erFX class.
Following on from her recent success at the recent Delta Lloyd Regatta, Annalise Murphy spoke of her experience of Weymouth and her hopes for the event: "I have a lot of great memories from Weymouth as I first competed there in the ISAF Youth Worlds in 2006, and I have spent so much time there, everything is very familiar. Having the top 40 boats in World Cup events brings a whole new dynamic to Olympic racing. If you make a small mistake you're most likely going to get punished for it as everyone is so close."
James O'Callaghan, ISA Performance Director says of the event: "The Weymouth week is a major occasion for us in the sailing calendar, and this year we're bringing a mixed team of experienced and younger sailors to compete in what should be another great World Cup series."
The competition welcomes the world's finest sailors to UK shores in what is the most competitive series outside of the Olympics. ISAF Sailing World Cup 2015 marks the first series where fleets are decided based on primary qualification through the ISAF world ranking lists, culminating in a season-ending final in Abu Dhabi. Racing for the Olympic and Paralympic Classes will run from 10-14 June.
Full details of the event are here: www.sailing.org/worldcup
Registered in the Republic of Ireland. Registered No. 81187