K25 Team arrive in France for J24 Europeans
06 June 2015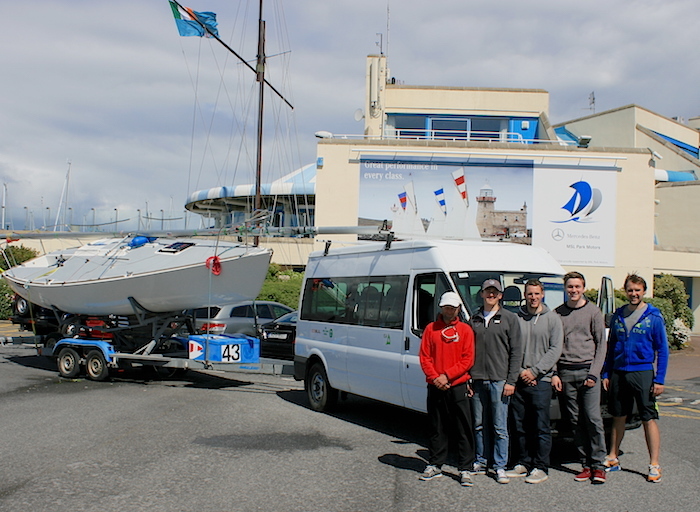 Howth Yacht Club's K25 Team have arrived at Le Crouesty, South Brittany in France for the 2015 J24 Europeans which begin this week. The event runs from Monday 8th to Thursday 11th with 3-4 races scheduled per day. The team have been working hard in preparation, including the recent running of a fundraising quiz for the event, and they've have sent the following initial report:
Day 1:
Arrived yesterday evening and had a race to get as much boat work done as possible before dark. We got the rig up and put a final coat of spray paint on the keel so it would be dry for this morning. We got up early this morning and wet sanded the newly painted keel up to 1200 grade and polished the hull and foils. Set the rig up at base and got lifted in on a very dodgy crane! We heading for our first sail in the race area, with Graeme Grant doing a great coaching session.
The weather is great here, a big high pressure system is sitting over us so high temperatures and low winds for the next couple of days. A big thanks to Graeme for driving us down, and a big thanks to the ISA for lending us their van. Looking forward to getting a really good morning and afternoon session tomorrow. We are the first boat to arrive here for the Europeans so are making the most of the extra time we have on the water.
Day 2:
The sun shone down on Yacht Club Port de la Crouesty on the first day of measurement for the J24 Europeans. The team made the weight limit with two kilos to spare and with the boat and sails passing inspection we had time for a tuning session with Mike Ingham who showed us how to get the most out of our new North Sails. Final prep is almost completely done with only a final coat of polish to be applied before lifting in tomorrow ahead of the first days racing on Monday.
The 2015 K25 Team representing HYC at the Europeans are:
Helm : Cillian Dickson. After helming the squad to the National Title in 2013, Cillian has taken to living full time on a barge, a move he hopes will help the team this coming season. We hope that all that extra time on the water pays off when it comes to race time in France.
Trimmer: Harry O' Reilly. The K25's longest serving member (if you forget that one summer he spent last season sailing J24's in the States). 'Arry's return to the K25 squad has been likened to Johnny Sexton's return to Leinster by many Sky Sports analysts . A key member of the 2013 squad who won the Eastern and National Championships.
Tactician: Gordon Stirling. Not convinced that his undergraduate degree in Sports Management would be enough to lead the team to glory, Gordon is currently pursuing a masters in the same field. Rumour has it that he has a successful trip to France will account for 10% of his final grade. He returns to tactician after a brief stint at the helm saw the team finish a highly respectable third at last years nationals.
Performance Analyst: Sam O'Byrne. Cut short a year long trip to the states to join up with the squad, an opportunity that he describes as "A dream come true". A former Irish Match Racing Champion, Sam brings a wealth of experience to the team having competed at several world championships and spent time training with top US J24 crews.
Bow: Cian Manly. Handpicked for last years squad for his ability to call the line to within 2 inches, Cian gets the nod at bow again after claiming he speaks fluent French, we have our doubts about the later fact but you shouldn't doubt his bow work. Famously wore shorts to a February training session and didn't feel one bit cold.
Top photo: Coach (& driver!) Graeme Grant, Sam, Gordon, Cian and Harry.
The event website is here: www.j24euro2015.com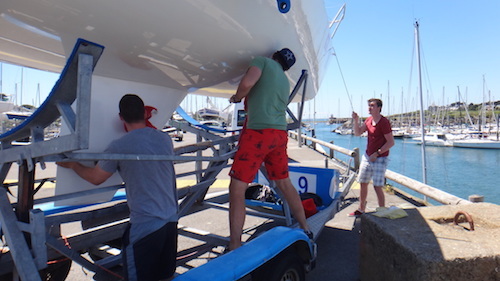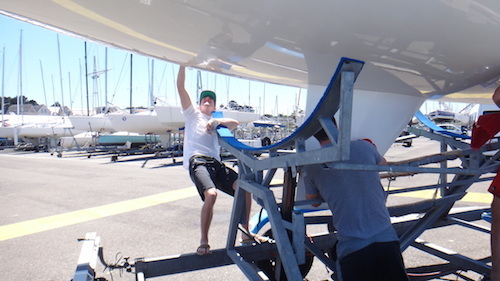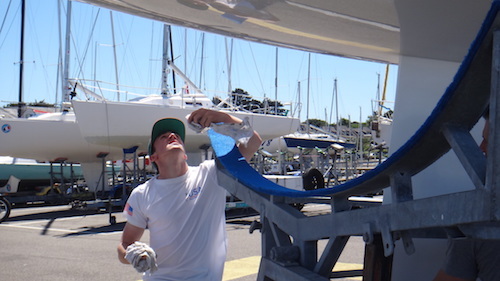 Registered in the Republic of Ireland. Registered No. 81187