Howth's sailors help 'Antix' with 2015 campaign and 'Myth of Malham Race'
25 May 2015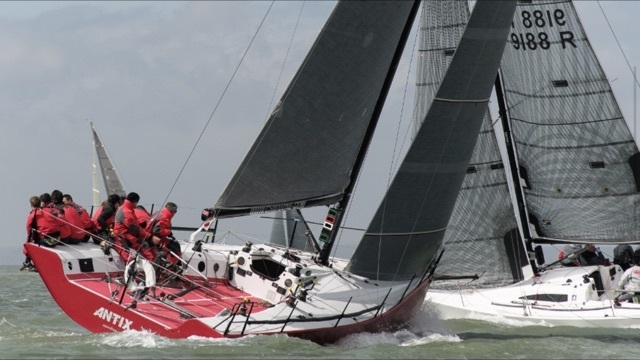 Over the UK Bank Holiday last weekend, the 141 yachts racing in the RORC Myth of Malham Race enjoyed a dress rehearsal for the start of this year's famous Rolex Fastnet Race. The race began in the Western Solent on Saturday morning in light airs. The large fleet made its way south west out of the Solent and down to Hurst Castle, before a long limb to windward along the south coast of England and to the Eddystone Lighthouse, off Plymouth Sound.
At one stage it looked very promising for Anthony O'Leary's Antix, the Ker 40 with HYC's Ross McDonald and Dylan Gannon on-board. They rounded the Eddystone Lighthouse early on Sunday morning and made good progress to finish in Christchurch Bay just before midnight the same day. However, they were unable to stretch their legs and get far enough ahead of the smaller boats behind them in order to beat them on corrected time. In the end and after a gruelling 34 hour race, Antix had to settle for 9th, finishing 1 hour and 32 minutes behind Géry Trentesaux's French JPK 10.80, Courrier Du Leon, on corrected time.
Next on the calendar for Antix is the Dun Laoghaire Dingle race in June, which will serve as further preparation for August's Fastnet Race, before the boat returns to the Solent where the crew will hope to defend their crown in the UK IRC nationals in July.
For a full report, see - http://www.rorc.org/2015-race-news/courrier-du-leon-by-a-whisker.html
Registered in the Republic of Ireland. Registered No. 81187