Difficult conditions for 420 Leinster Championships
03 May 2015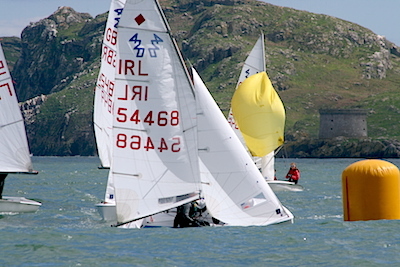 The 420 Leinsters took place in Howth Yacht Club on the weekend of 2nd/3rd May. The event which was sponsored by CurraDinghy Sailing also served as the second leg of the 420 Class Association trail series for teams for the Open and Ladies World Championships and Junior European Championships.
Thirty competitors arrived down to Howth Yacht Club on Saturday morning to be greeted by a 20-30 knot easterly wind, heavy rain and rough seas. After consulting weather forecast and his race Committee PRO Richard Kissane decided to abandon racing for the day. The Saturday evening dinner was moved forward to lunch time and the sailors took the afternoon off to go to the cinema or study for exams.
The sailors headed out on Sunday morning in glorious sunshine and a 5-10 knot westerly breeze with the intention of sailing four races. Alacoque Daly and Anna Kelly from Royal Cork Yacht Club/Tralee Bay Sailing Club lead the fleet for most of the first race. With an easterly swell and a fading breeze making challenging sailing conditions, there were a number of lead changes before Douglas Elmes and Sean Waddilove from Howth Yacht Club eventually took the gun.
After a number of postponements and an abandoned race, the wind eventually settled when a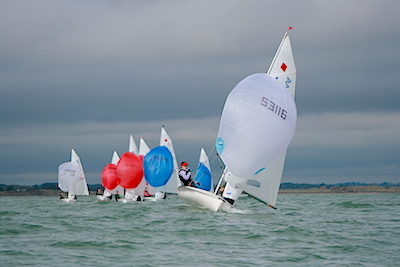 very light south easterly filled. Peter McCann & Harry Whitaker from Royal Cork Yacht Club appeared to have a comfortable lead in the second race, until a misinterpretation of the sailing instructions handed the win to Lizzy McDowell and Anna O'Regan from Howth Yacht Club/ Malahide Yacht Club.
The third and final race was sailed in very light conditions and there were many changes in position as the competitors to find pressure and get down wind against the tide. When the race was shortened at the second windward mark, Lizzy McDowell & Anna O'Regan just managed to sneak across the line ahead of from Kinsale Yacht Club/Courtown Sailing Club.
When the final results were tallied it was clear that consistency paid off in the 3 race non discard event. Douglas Elmes & Sean Waddilove edged out Cliodhna Ni Shuilleabhain & Niamh Doran on a tie break to become Leinster Champions. Lizzy McDowell & Anna O'Regan were third overall. Alacocque Daly & Anna Kelly won the Silver fleet from Peter Fagan & Ben Walsh from Skerries Sailing Club and Shane McLouglin & Tim Coyne from Howth Yacht Club. Alex & Jamie O'Grady won a prize for best new sailors in a boat that they had never sailed before.
Howth Yacht Club was well represented by 15 sailors, thanks to a good turnout from the Club's 420 fleet and guest appearances from the Optimist sailors Jamie & Eve McMahon and Topper sailor Shane O'Brien. They all sailed extremely well in a very competitive fleet where there was close racing from start to finish. Hopefully they will continue practice their racing skills in club racing on Sunday mornings. (Photographs will be posted on the Irish 420 Class Facebook page)
Malahide Yacht Club's sole representative was Lizzy McDowell. Colin O'Sullivan missed the event through illness and Cara McDowell is still recovering from a shoulder injury. The good news is all 3 should be fit to compete in the 420 World Championships in Japan, where they will be part of a 3 boat Irish Team.
(Report kindly compiled by Graham Smith - photos from Brian McDowell)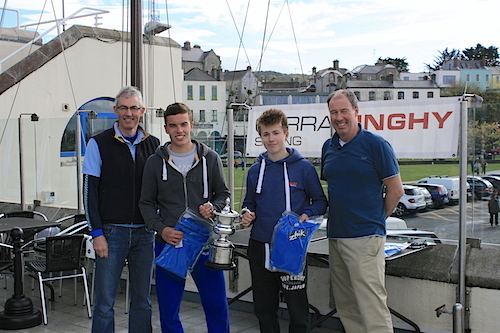 Event organiser Des Flood with winners Sean Waddilove and Dougie Elmes and Commodore Brian Turvey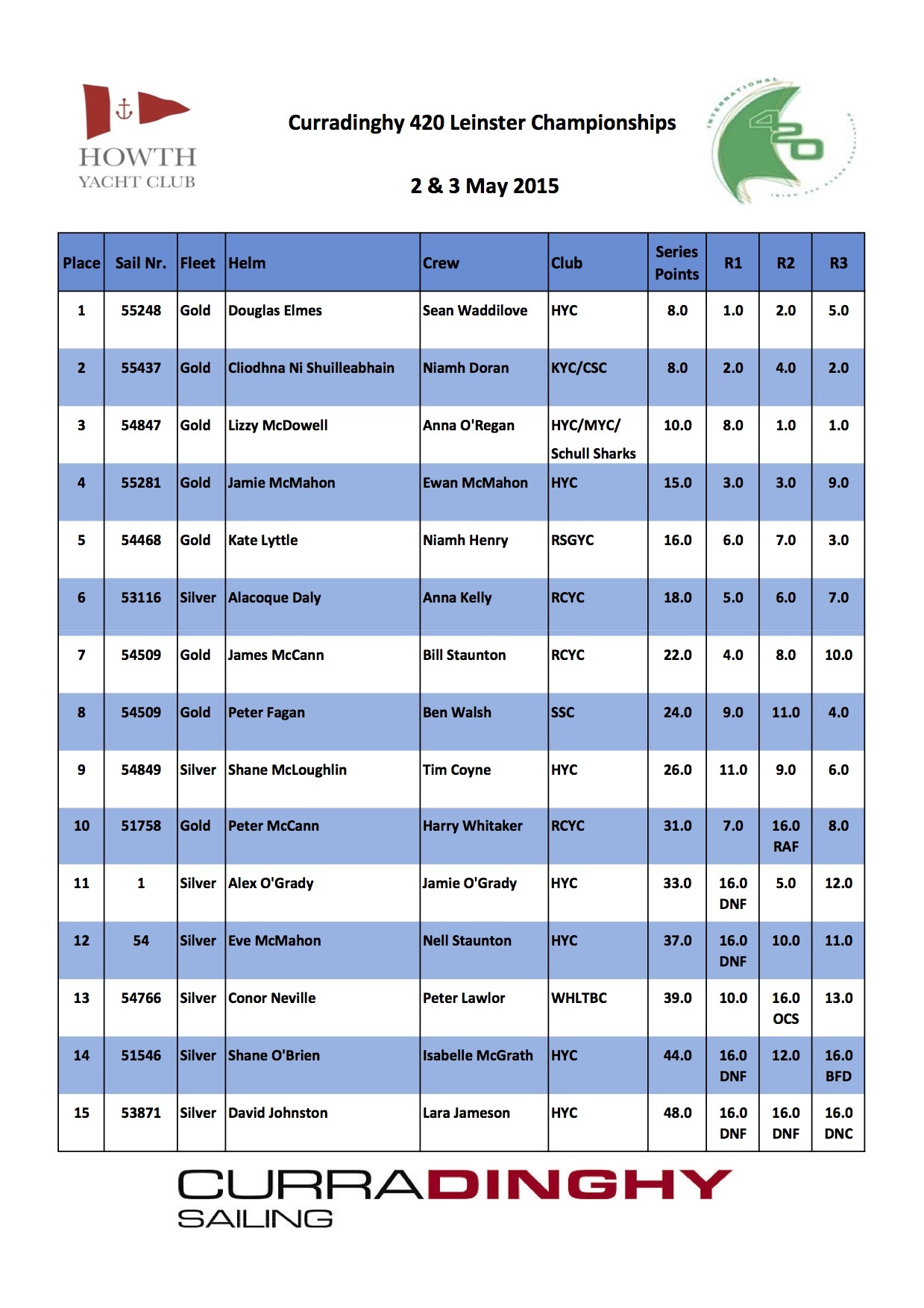 Registered in the Republic of Ireland. Registered No. 81187