Lambay Races get new sponsor and add a classic dimension
26 April 2015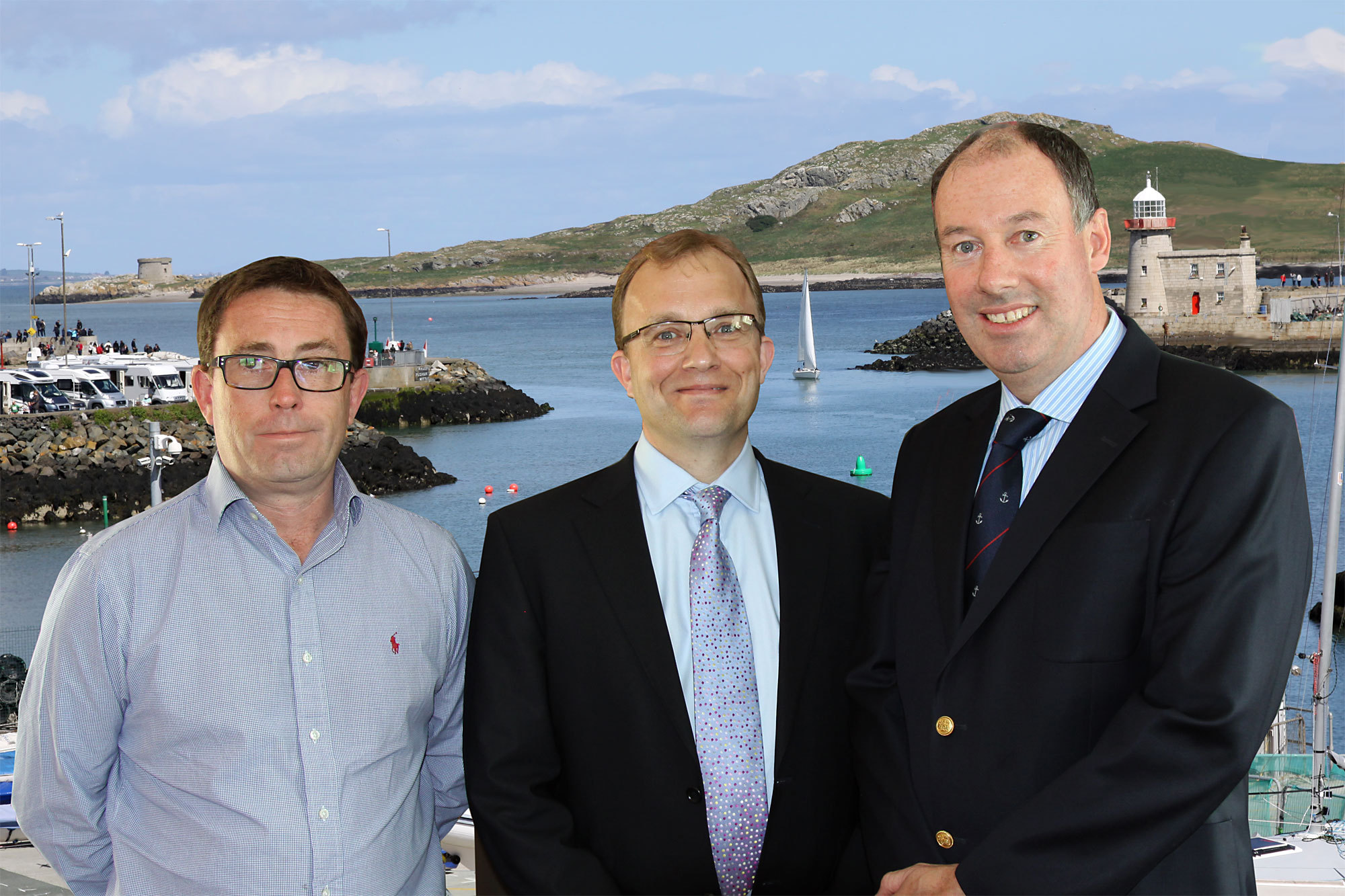 With a little more than 6 weeks to go before the unique and longstanding annual keelboat regatta, Howth Yacht Club is delighted to announce the association of the Davy Group as sponsors of the event. The Lambay Races affords skippers and crew of cruisers and one-design keelboats the opportunity of competing in a 'testing' coastal yacht race which is traditionally run on the Saturday after the June Bank Holiday, meaning that the event will be run on June 6th this year.
Davy Private Clients' Graham Cawley said of the announcement: 'Davy has been working withclients since 1926 helping them to plan for the future and navigate markets whatever the conditions. We are delighted to support Howth Yacht Club and to be associated with the Lambay Races - a long standing, much loved regatta, revered by sailors up and down the coast.'
In addition to the 5 cruiser classes and 6 one-design classes competing, event organiser James Markey has also included a traditional course for the 'Old Gaffers', following their successful and most welcome inclusion last year. (See special article by WM Nixon below.) However, brown sails and the smell of turf won't distract from the serious racing business within all of the classes, after which the renowned party will commence ashore.
Top photo: James Markey (event organiser), Graham Cawley (Senior Portfolio Manager, Davy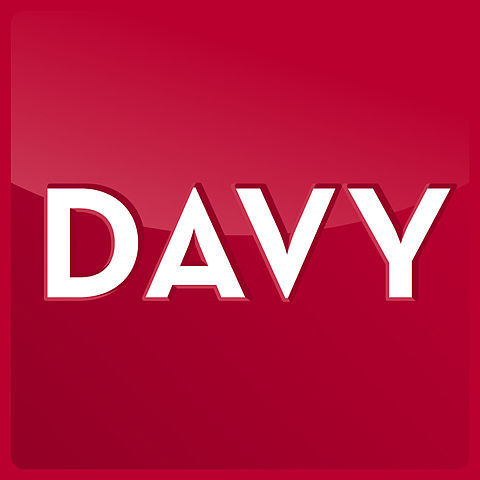 Private Clients) and Commodore Brian Turvey
Lambay Race spreads its historic net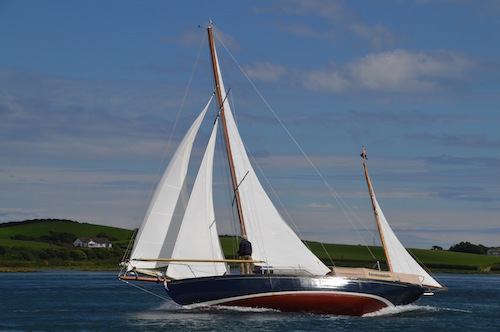 The 1912-built Ainmara (Dickie Gomes) will be coming south from Strangford Lough for the Lambay Classic on June 6th. She won the race in 1921 when still owned by her designer/builder John B Kearney. Photo: Pete Adams
Howth Yacht Club's annual Lambay Race has developed over the years into the premier sailing celebration of the coast of Fingal writes W M Nixon. Indeed, there are few places in Ireland which can offer such a beautifully straightforward course of sufficient length to make it something of significance, yet without being unduly long. And the fact that the turning mark of Lambay is an island of such unspoilt natural beauty when so much of the East Coast has been over-developed is a bonus, as is the fact that the course is well clear of all commercial shipping.
It was 1970 when I first sailed the Lambay aboard the late Johnny Pearson's 8 Metre Cruiser/Racer Orana. We must have had a reasonably good race without actually winning, for my abiding memory is of the charm and fascination of the course, and the sense of a large fleet having a good time together in a race well worth sailing.
In those days, the course was simply round Lambay and back to the pierhead line in Howth, though whether you left Lambay to port or starboard would be decided on the day by the Race Officer. But this was a relatively new twist to the event - the traditional Lambay course was through the Sound inside Ireland's Eye, Lambay left to port, then finish back through the Sound.
By the 1980s we were racing our own family cruiser, the Hustler 30 Turtle, and the course was becoming a bit more complex with extra marks in order to ensure there'd be a real beat to suit the new type of hyper-efficient racing yachts. Despite that, we managed in 1981 to get so lucky with our tactics and sail decisions in a varying sou'westerly that little Turtle somehow won overall. But that's not something I'd recommend. It resulted in an ECHO handicap so punitive that in order to get any meaningful racing over the next few years, we had to go to the expense of getting the boat rated under Channel Handicap, which cost a fortune when we didn't have a bean.
Since then, the Lambay course seems to have become ever more complex, so in recent years there has been a certain nostalgia for the straightforward circuit of the old days. The earliest records are sketchy, for all we definitely know is that Howth SC member Henry Stokes put up a cup for a race round Lambay in 1899, yet it doesn't seem to have been raced for until maybe 1902, but it certainly was annually raced by 1904.
However, the best account we have of the Lambay Race in the old days is of the race of 1921, and if you happen to have a copy of A Centenary of Sailing, the history of Howth Yacht Club published for the club's hundredth anniversary in 1995, in it you'll find a vivid account of the race of 1921, written by Pat Walsh of the Royal Irish Yacht Club in Dun Laoghaire. He came second in the cruiser class in a breezy race, sailing single-handed in his lovely little 1905-built 25ft gaff yawl Sheila, which is still in existence.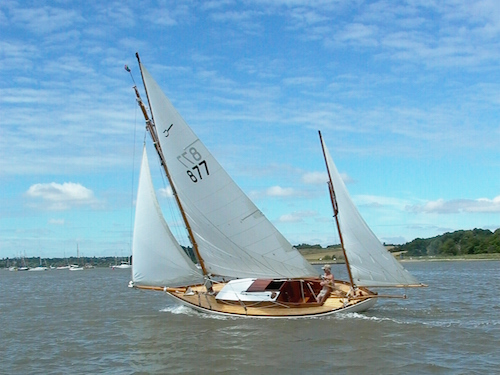 Sheila, the 25ft classic yawl which came second in the Lambay Race of 1921. She has been immaculately restored and maintained in the same ownership in Suffolk for 38 years, and is currently for sale.
The winner of the cruisers in 1921 was designer/builder John B Kearney, a member of Howth SC though he was Ringsend-based in those days. His boat was Ainmara, a 36ft 1912-built 9-ton yawl which, like Sheila, is still going strong. In fact, of the fourteen or so boats which raced round Lambay in 1921, at least ten are still very much in existence, as of course many of the boats which did the race in 1921 were Howth Seventeens.
So for years some of us have had the dream of a sort of a re-enactment of the 1921 race. But the actual movement towards doing something positive came from a different direction entirely. Last year, Howth Seventeen senior skipper Bryan Lynch and his daughter Harriet were asked if they'd like anything special arranged for their boat Echo's Centenary, and one of the good ideas which came up was a special course for the Howth Seventeens in the Lambay Race, though all that was special about it was that it was a welcome reversion to the traditional course.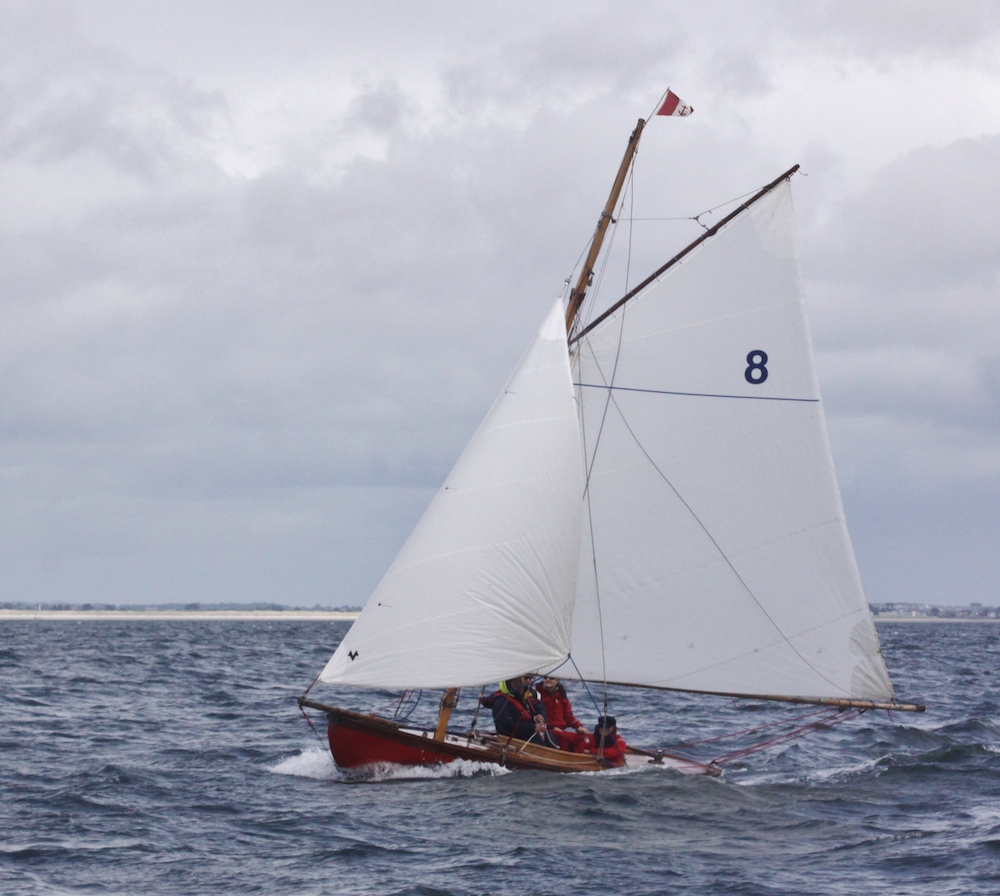 Bryan & Harriette Lynch's Howth 17 'Echo' taking part in the Old Gaffers Golden Jubilee in Dublin Bay in 2013. It was their request for the revival of the original Lambay Race course to mark Echo's Centenary in 2014 which has resulted in this year's expansion of the traditional element in the Lambay Race on June 6th. Photo: Dave Owens
The idea rang a bell in other quarters, and when it was realized that the morning of the Lambay Race would see the Starter's Hut on the East Pier being manned just to send the Seventeens off on the time-honoured course direct round Lambay, a suggestion for an additional start ten minutes later for Old Gaffers and Classics was readily met.
However, it was well into the season when all this was arranged, but even with the very short notice, four old gaffers turned up to race the course, and had themselves a fine old time. The winner was the Old Gaffers Association International President Sean Walsh with his Heard 28 Tir na nOg, which is now Dun Laoghaire-based, but was of course for many years an adornment of Howth under the ownership of the late Gerry McAvoy, while second place went to the splendid big Galway Hooker Naomh Cronan, which was built sixteen years ago in a community project in Clondalkin, and is still going strong.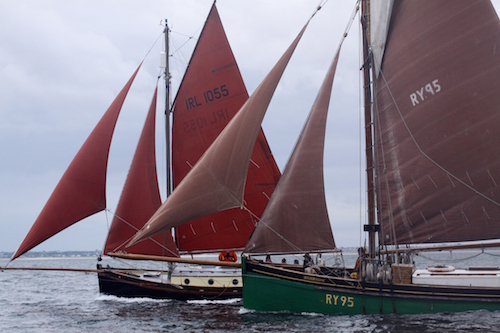 Sean Walsh's Heard 28 Tir na nOg (left) won last year's inaugural Lambay Classic. She is seen here with Joe Pennington's restored Manx Longliner Master Frank, which is a possible entrant for this year's race. Photo: Dave Owens
Master Frank (left) and the Galway Hooker Naomh Cronan, which was second in last year's inaugural Lambay Classic.
During last year's Lambay Race, old gaffers like 'Naomh Cronan' made for a marked contrast with racing machines like Dave Cullen's King One, but despite the large fleet there was room for everyone…… Photo: W M Nixon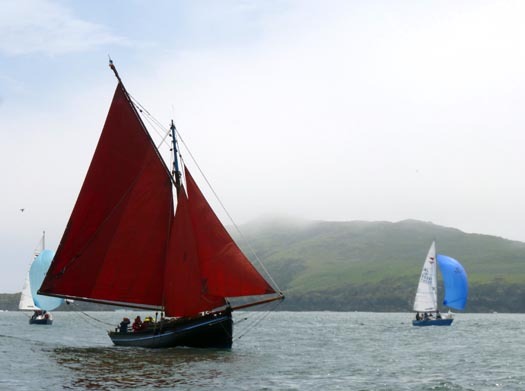 …and Naomh Cronan, in company here with two Puppeteers, found the north coast of Lambay to be reminiscent of Connemara. Photo: W M Nixon
This involvement of the Old Gaffers in the Lambay Race of 2014 was an unofficial late addition to their annual programme. But for this year, Lambay Race Chairman James Markey first confirmed that the Seventeens wanted to do the traditional course again, and then sent the Dublin Bay Old Gaffers Association a slightly more formal invitation to take part, and they have accepted.
Already this special "show within a show" of the Old Gaffers in the Lambay is gaining traction. Although the 1921 winner Ainmara is now bermuda-rigged, she's regarded as an Honorary Old Gaffer, and noted offshore racing skipper Dickie Gomes, her owner since 1966, has indicated his intention of coming south from Strangford Lough to race round Lambay on June 6th.
Defending champion Sean Walsh is very much lined up to go again with Tir na nOg, as too is Niamh Cronan from Poolbeg. And a particularly interesting entrant which has been Poolbeg-based this past winter while her owner, Darryl Hughes, lived aboard and studied English-Irish literature in Trinity College, is the magnificently restored 43ft Tyrrell-built 1937 ketch Maybird, which was berthed in Howth for some weeks in 2012.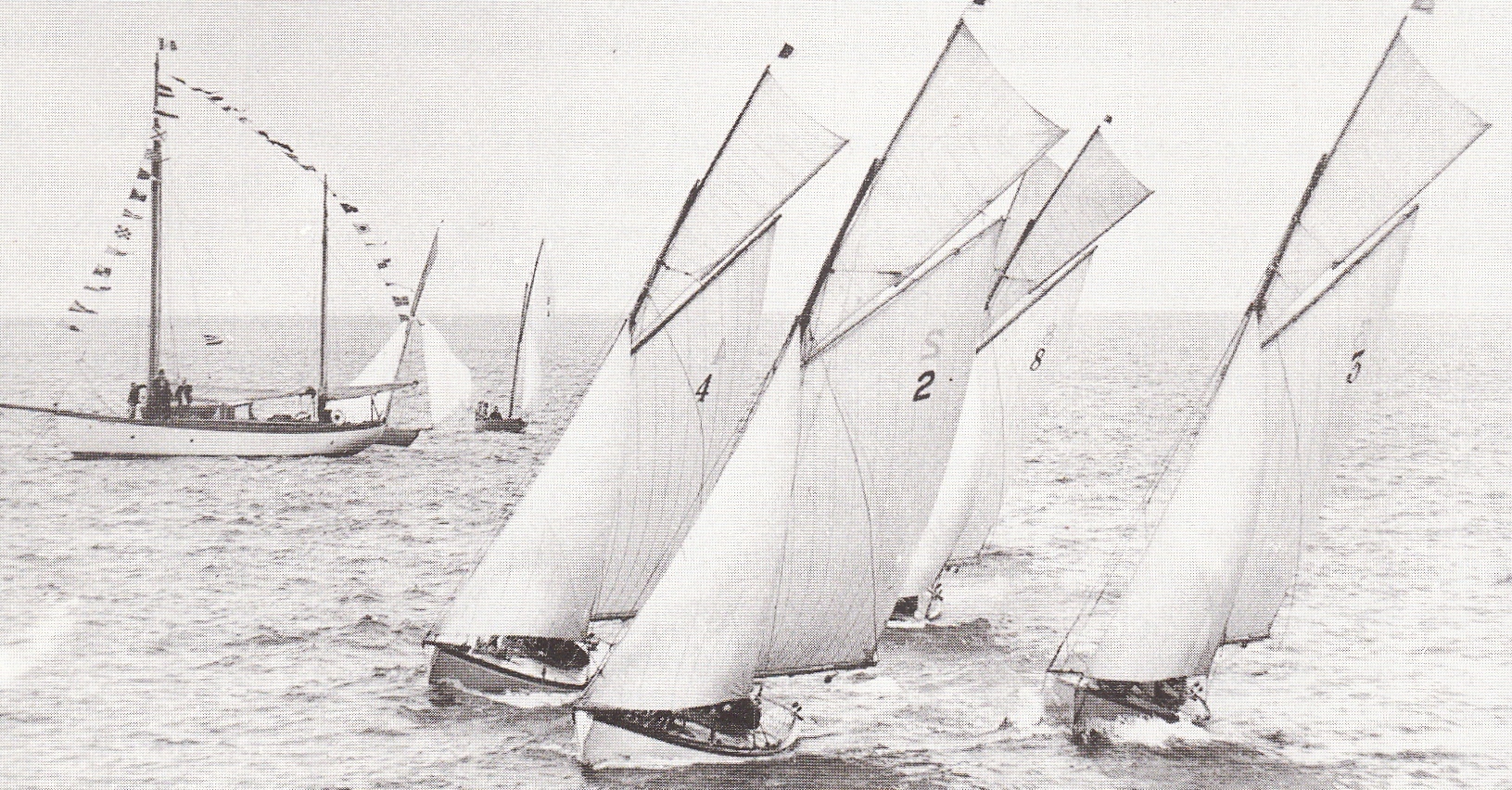 Billy Mooney's Aideen doing duty as the Committee Boat at Howth Regatta in 1935.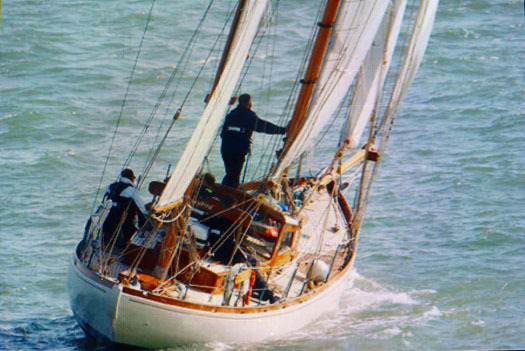 Maybird, the sister-ship of Aideen, has already reserved her marina berth to race round Lambay on June 6th, and her crew will include Paddy Cronin whose father Tom was a regular crewmember on Aideen.
Maybird made a point of visiting Howth during a round Ireland cruise three years ago because she is a sister-ship of the legendary Billy Mooney's 1934-built ketch Aideen, which was Howth-based between 1934 and 1943, and would have done the Lambay Race several times. In Aideen's regular crew in the old days was Tom Cronin, so most appropriately Tom's son Paddy – formerly ace owner-skipper of the Howth 17 Gladys - has signed on to do the Lambay Classic aboard Maybird.
A boat which definitely did the race of 1921 is the 25ft cutter
Marguerite, designed by Herbert Boyd and built by Jack Wellington in 1896 in Malahide, and as she is now owned by DBOGA President Tim Magennis and based in Dun Laoghaire she's very much expected. And so too is longtime Dun Laoghaire gaff rig enthusiast Dennis Aylmer (RIYC), who these days sails the very manageable Cornish Crabber Mona, but back in the 1960s as a very young enthusiast he played a pioneering role in the traditional boat movement by keeping a genuine Galway Hooker in commission in Dun Laoghaire.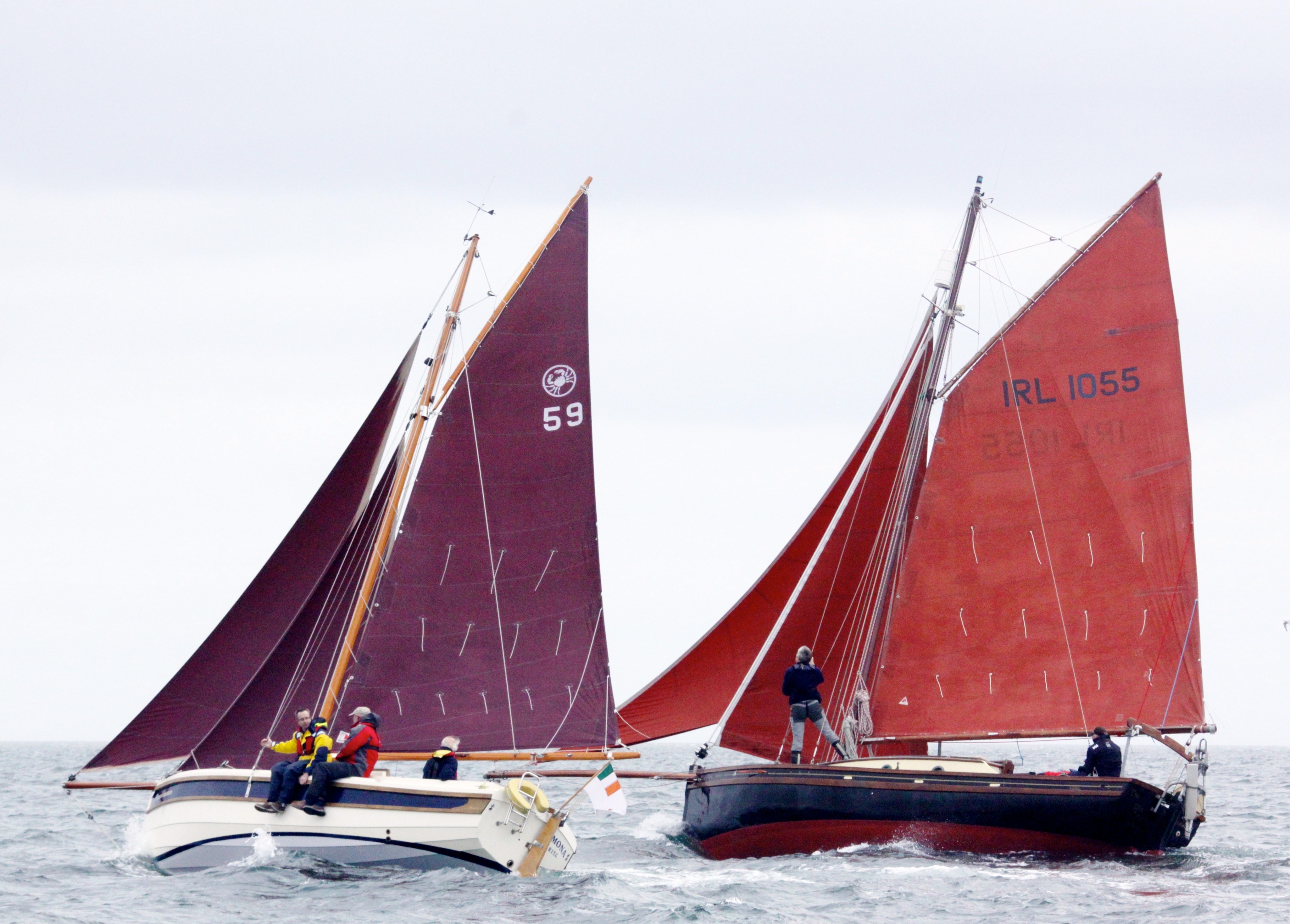 Dennis Aylmer's Mona (left) with Sean Walsh's Tir na nOg. Photo: Dave Owens
One of the Irish Sea's most interesting traditional gaffers, Joe Pennington's 1895-built cutter Master Frank from the Isle of Man, will also be taking part if her intrepid owner-skipper can fit the race in around plans to cruise to Brittany. Master Frank really is the business, a fine restoration of the last surviving Manx Longliner, and she is of such significance that she will feature on an Isle of Man postage stamp next month.
So it looks as though the Classic Lambay on June 6th will serve up some varied and colourful participation with the Old Gaffers, and the concept seems to have such appeal that the organisers are also receptive to the idea of giving a third starting signal from the pier to send off a class for those vintage Bermuda-rigged cruisers whose racing days are long past, but whose owners would jump at the chance to take part in the great Lambay sailing festival.
In the midst of all this excited anticipation, is there anyone out there who might be interested in getting the perfect little classic Sheila - second in 1921 - involved again? Despite her Irish Sea background of being built in the Isle of Man in 1905, and based in Dun Laoghaire from 1909 to 1922, Sheila has for the past 38 years been far away in Suffolk, where she has been lovingly maintained and restored by Mike Burn.
But now, after 38 years, he has other things in mind, so if Sheila can find a good home, she'll be sold for 18,000 sterling, which seems to me to be very reasonable value when you remember a new Shannon One Design or Water Wag could cost more. Yet Sheila is of such a handy size that she could conveniently be road-trailed to events like this year's big one, the Glandore Classics Regatta from July 18th to 24th. That is, of course, after coming to Howth and giving Ainmara a tough time in the Lambay Classic Race 2015……..
Registered in the Republic of Ireland. Registered No. 81187