Dinghy Racing hits the right note
25 April 2015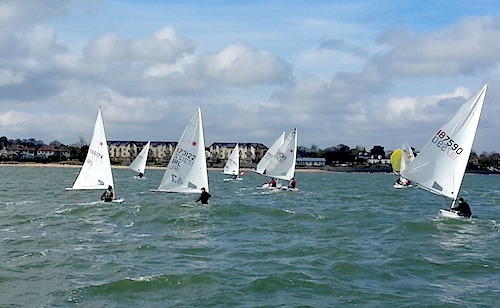 This season's Club Dinghy Racing got off to an enthusiastic start with a total of 18 boats taking to the water on Sunday last, April 19th. Conditions proved ideal with a steady breeze of about 12 knots and a gentle swell from the East, coupled with some very pleasant sunshine. Notwithstanding the benign conditions, there was evidence of some sailors being a little rusty; the odd upturned hull was to be seen and a spot of swimming done. Two back-to-back races of about 40 minutes each were held over a windward – leeward course, with the Optimists and Toppers sailing two laps, and 420s and Lasers sailing three. For the first time in some considerable time, boats in the Sundry class out-numbered those in the Optimist fleet by 13 to 5, and it was very pleasing to see seven Lasers out pushing the 420s very hard.
In the Optimist class, Dylan McEvoy won the 1st race with Hugh Turvey a close 2nd. In the 2nd race the orders were reversed with Hugh taking the gun and Dylan a close 2nd. Aoife McMahon came home in 3rd place in each of the races.
In the Fast Sundries category Douglas Elmes and crew Colin O'Sullivan in their 420 took two bullets with Ewan McMahon taking two 2nd place finishes in his Laser Radial. Saoirse Kelly and crew Conor Twohig sailing a 420 took 3rd place in the 1st race with Daniel Hopkins in his Laser 4.7 taking 3rd place in the 2nd one.
In the Slow Sundry category, which was made up exclusively of Toppers, Max Kavanagh took two bullets, with Jack McMahon two 2nd places and William Lacy two 3rd places.
For all of you who missed last Sunday's racing, the Spring Sunday Series runs for a further four Sundays and, with one discard per four races sailed, there is no excuse for not dusting off your boat and getting out on the water.
A big thank you to all the volunteers, both on the water and ashore, who made racing possible.
Author: Brendan O'Reilly
Registered in the Republic of Ireland. Registered No. 81187