Optimist Trials and ISA Youth Nationals in RCYC
15 April 2015
Last week was an important and exciting week for HYC Junior Sailors as they prepared to take part in the ISA Youth National's and also the Optimist Trials. It was the largest number of participants from Howth in the Trials in recent times. Both events were held at the same dates and venue, Royal Cork Yacht Club on the 9th to 12th April.
it was going to be a culmination of a long winter's training programme and personal commitment to sailing for all participants. For the Oppie sailors and particularly first time trialists, it is a grueling event with up to four races per day and there is no age distinction as both junior and senior age groups sail in the same flight. Ultimately the final result decides the IRL team places for the 2015 season.
In final preparation for racing the HYC Oppie sailors took part in two days of onsite training at RCYC, Tuesday 7th and Wednesday 8th April in advance of the scheduled 14 races from Thursday 9th to Sunday 12th of April. The continuity of coaching was preserved and Michael Gryglewski travelled from Poland to coach and manage the Howth Optimist sailors during the event.
The HYC Oppie 'trialists' were as follows:
Max Kavanagh
Sam Crawford
Ruth Lacy
Eve McMahon
Harry Bell
Dylan O'Grady
William Lacy
Dylan McEvoy
Hugh Turvey
Jamie McMahon
Jonathan Sargent
HYC youths in other classes at the ISA Youth Nationals included:
Topper:- Shane O'Brien & Jack McMahon
Laser 4.7:- Daniel Hopkins & Alex Kavanagh
Laser Radial:- Ewan McMahon, Richard Hogan & Aoife Hopkins
420:- Colin O'Sullivan, Shane McLoughlin, Bill Staunton & Nell Staunton
During the two training days the sailors experienced relatively light winds and insofar as the Oppies were "Rigged & Ready" for 09.30 each day they didn't get on the water until later in the morning as the breeze tended to build at mid day.
On Thursday 9 th racing began. Due to the numbers of different classes racing in Cork harbor the Oppie Trials race area was at an area know locally as the "Bank". This is the closest race area to the club, however it is very much tidal and very shifty. This certainly tested both the Race Officer (Anthony O'Leary) and the Oppie sailors over the four days.
Overall HYC managed to secure 3 IRL Team Places, Harry Bell qualified for a Worlds place, Jamie McMahon qualified for a European place and Max Kavanagh qualified for a place in the International Development Team.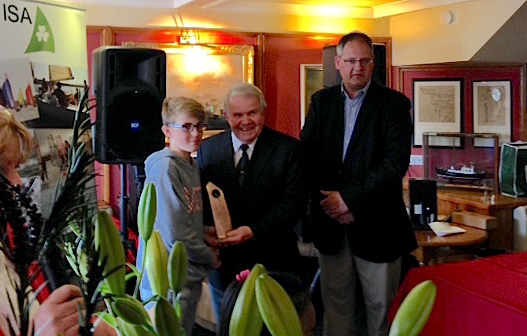 Out of the 11 Oppie sailors there are four sailors who are aged 12 or under and accordingly these sailors have qualified for the Under 12 Oppie Squad who will travel as a team to the UK Nationals in Pwllheli, 25 th July to 1 st August. These sailors are Eve McMahon, Ruth Lacy, Hugh Turvey and Dylan McEvoy.
For all the other HYC Sailors, many of whom it was their first trials and for many who are still juniors, it was a major achievement to manage the "Highs & Lows" of such intense racing and they definitely will have come home stronger sailors.
Good Luck to all HYC Juniors in 2015
Registered in the Republic of Ireland. Registered No. 81187