K25 Squad Announce Experienced Team for J24 Europeans
12 April 2015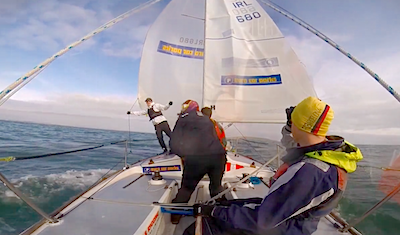 Howth's K25 Squad will be one of three Irish crews who will compete against Europe's best in Le Crouesty, France from the 6th to the 12th of June. The team retains three members from the 2013 squad who competed in the World Championship, topping the under 25 division as well as winning the Irish Nationals and Eastern Championship. They will be aiming to build on that success with a strong performance in the 2015 J24 European Championships.
Helm : Cillian Dickson
After helming the squad to the National Title in 2013, Cillian has taken to living full time on a barge, a move he hopes will help the team this coming season. We hope that all that extra time on the water pays off when it comes to race time in France.
Trimmer: Harry O' Reilly
The K25's longest serving member (if you forget that one summer he spent last season sailing J24's in the States). 'Arry's return to the K25 squad has been likened to Johnny Sextons return to Leinster by many Sky Sports analysts . A key member of the 2013 squad who won the Eastern and National Championships.
Tactician: Gordon Stirling
Not convinced that his undergraduate degree in Sports Management would be enough to lead the team to glory, Gordo is currently pursuing a masters in the same field. Rumor has it that he has a successful trip to France will account for a significant portion of his final grade. He returns to tactician after a brief stint at the helm saw the team finish a highly respectable third at last years nationals.
Strategist: Sam O'Byrne
Cut short a year long trip to the states to join up with the squad, an opportunity that he describes as "A dream come true". A former Irish Match Racing Champion, Sam brings a wealth of experience to the team having competed at several world championships and spent time training with top US J24 crews.
Bow: Cian Manly
Handpicked for last years squad for his ability to call the line to within 2 inches, Cian gets the nod at bow again after claiming he speaks fluent French, we have our doubts about the later fact but you shouldn't doubt his bow work. Famously wore shorts to a February training session and didn't feel one bit cold.
Here is a link to the full size intro video. https://vimeo.com/124836096
Registered in the Republic of Ireland. Registered No. 81187