Tough conditions shake off the cobwebs at Spring Warmers
11 April 2015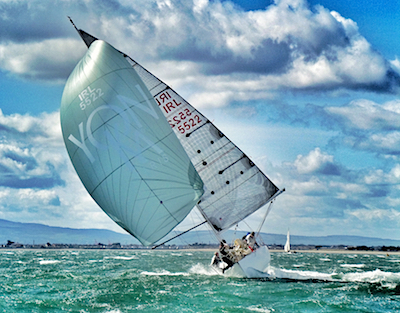 The second weekend of the Key Capital Private Spring Warmers provided conditions in complete contrast to the previous week's light airs, with very strong winds testing the competitors and boats throughout the two races. Whilst it was a day to be conservative, most of the competitors could not resist the challenge of the gusty conditions and pushed their boats to the limit for the first race.
In the busy combined Class 1&2 fleet, Paddy Kyne's 'Maximus' won the first race with a minute to spare from the Kelly/ Boardman half-tonnes 'K1' and they then swapped positions on the finish line of their second race. In the J24 Class, Steve Atkinson's 'Bád' won the first race but Martin Reilly's 'Crazyhorse' was the only boat that managed the fierce conditions to complete race 2.
The SB20s races were unmatched for excitement and will undoubtedly provide the sailors and their boats with a great early season warm up for their Eastern Championships which are to be held in Howth directly after this series finishes. In the Squib Class, local sailor Fergus O'Kelly is declaring his intent to compete at the front end of the 2015 Squib Nationals later this year by leading the class after the first 3 races of this series.
See some of Jonathan Wormald's photos from this weekend in the Gallery
Registered in the Republic of Ireland. Registered No. 81187