Brassed Off Cup attracts large fleet of Optimist sailors
07 April 2015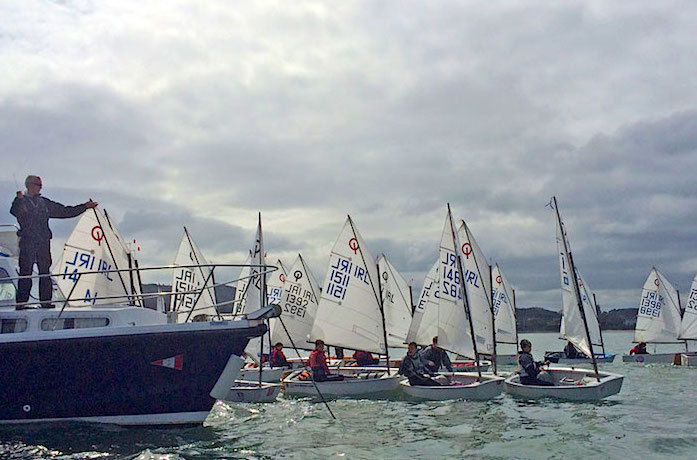 Last weekend saw Howth Yacht Club host their annual Brassed Off Cup regatta for the Optimist class. The event which is traditionally held on Good Friday was postponed until the following day as a cold & blustery north-westerly wind blasted down the race course for the day. And what a difference a day made, as Saturday was truly summerlike with warm sunshine and a gentle breeze.
Race officer Jim Lambkin (above, sending the fleet off) & his team managed to get three good races in before the light NW breeze died away. The racing was tricky with slow & difficult beats against a strong ebbing tide. It became a case of the 'rich getting richer' with the first few boats to round the weather mark quickly stretching out from the fleet behind.
In the Senior fleet, the Dun Laoghaire boats revelled in the light & tortuous conditions (obviously experience of sailing in Dublin Bay paid off here!). Jack Fahy (RSTGYC & LDYC) managed to squeeze out Clare Gorman (NYC) for 2nd, but it was to be Hugo Kennedy's day (RSTGYC). Hugo won the event convincingly with two bullets and a third and got to take the Brassed Off Cup home.
The Dun Laoghaire boats reigned supreme again in the Junior Fleet with Conor Gorman (NYC) taking gold after winning two races and coming second in the last. Alana Coakley (RSTGYC) took silver and HYC's Luke Turvey restored some dignity to the host club by taking bronze.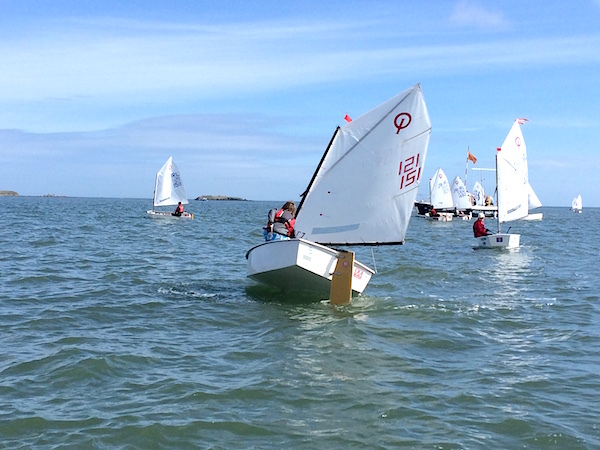 The Regatta Fleet was closely fought by local sailors Johnny Flynn & Alice Lacy. They got a big jump on the fleet by being the only two to finish the first race. They ended tied but Johnny took gold as a result of having bagged two firsts. Elysia O'Leary (RSTGYC) took third overall.
Well done to all who took part in the event and many thanks to the Dun Laoghaire clubs & Lough Ree Yacht Club who travelled to the event in such great numbers.
Many thanks to the generous contributions of local store 'Daybreak' and also the 'Country Kitchen' who provided many of the 'goodies' on the day!
See all the photos in the Gallery here
Registered in the Republic of Ireland. Registered No. 81187