Sunshine and light winds for Key Capital Private Spring Warmers
03 April 2015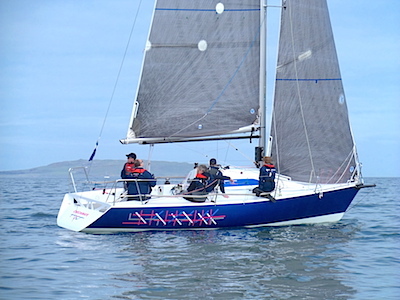 The competitors at the Key Capital Spring Warmer were treated to glorious sunshine on the opening weekend of the season. Unfortunately for all, the wind gods weren't as generous. In Race 1 in Class 2's Dave Cullen's beautifully turned out Checkmate got off to a winning start from Maximus in second and K1 in third. The SB20 fleet was led from start to finish by Michael O'Connor in Sin Bin despite a great second beat by Ger Dempsey on Venues World. The podium was completed by Jerry Dowling's Bad Kilcullen.
The J24 fleet had shown great commitment in getting entries from as far afield as Sligo, Carrickfergus and Lough Ree. It was a dominant performance by Steve Atkinson in Bad winning both races with Martin Reilly's Crazyhorse and Finbarr Ryan taking a second a third place in each of the two races. Local Squib guru Fergus O'Kelly heads the fleet with two first places. Second is Brian O'Hare and Alain Deladienee followed by HYC's Dave Sheahan.
Unfortunately the SB20s and Class 1 & 2 only completed one lap before the wind shut down forcing the race committee to abandon their second race. Hopefully we will see greater number out for the second Saturday as more boats get launched and there is no Leinster match competing for competitors attention.
Registered in the Republic of Ireland. Registered No. 81187