Lasers finish Spring Series and prepare for the Round the Island Race next weekend
08 March 2015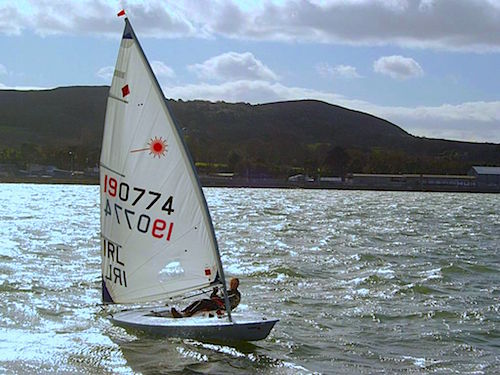 Seventeen lasers braved the cold blustery conditions for the final two races of the Spring Series. It was an interesting preamble to the Round Island race on Saturday 14th March. The racing was incident packed. In the first incident of the day Dave Kirwan broke his mast on his way to the starting area, leaving him watching from the committee boat with his hangover for company.
Race 1:
1st Ronan Cull
2nd Michael Evans
3rd Paul McMahon
4th Stephen Quinn
5th Daragh Sheridan
1st Radial Aoife Hopkins
1st 4.7 Sarah Gallagher
Race 1 started with an offshore breeze over twenty knots, kicking up a short chop. The steep waves made progress upwind difficult and on occasion helped the laser to become a submarine off the wind.
The race management team decided on a triangle sausage course and set a pin end starting line bias. This bias was just enough to allow Daragh Sheridan to pull off a dream port tack start, he even crossed the bow of Dave Cotter who cheekily started before everyone else.
Ronan Cull led the fleet to the top mark closely followed by the pack headed by Daragh Sheridan, Ronan was to hold the lead to the finish, despite giving the fleet a chance to catch him with an upwind capsize on the second beat during one of his "roll tacks".
Dan O'Connell deviated from his usual silky style and dropped out of the racing with a capsize and a 360 degree rig rotation.
Michael Evans finished second taking advantage of a fearful capsize on the last gybe of the race by McMahon.
Race 2
1st Ronan Cull
2nd Paul McMahon
3rd Stephen Quinn
4th Michael Evans
5th Dan O'Connell
1st Radial Aoife Hopkins
1st 4.7 Sarah Gallagher
Race 2 very much a scaled down version of race 1, another pin end bias was set. This time no sailor was gutsy enough to chance a port tack start. Dan made running repairs to his boat and to his credit endured the cold to wait on the second race. and rejoin the fleet. Race two was a tighter affair with Cull piping McMahon to make it 2 wins from two races. These wins topped a great spring series by Ronan who topped the rankings by 19 points from Dan O'Connell, with Daragh Sheridan taking third place overall.
The form book will be thrown out the window for next Saturdays stand alone Round the Island Race, this classic Laser race never fails to throw out a few surprises.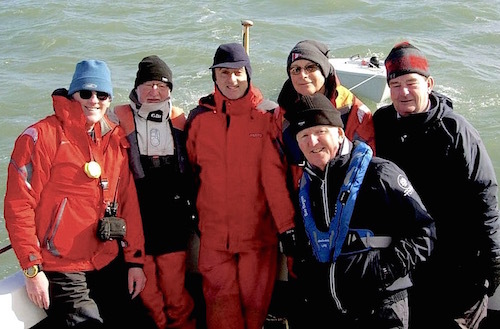 Registered in the Republic of Ireland. Registered No. 81187