Two races for H&K Laser Frostbite sailors despite reducing breeze
08 February 2015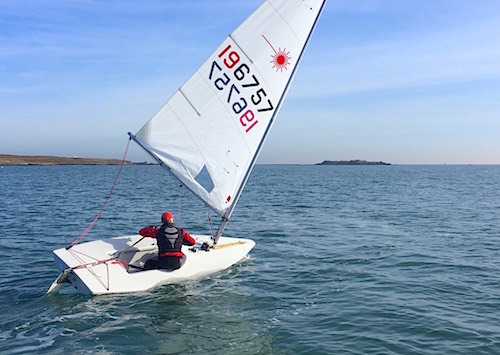 A cracking morning with sunshine and a light breeze, and none of the usual horror one feels looking out across the sound, of a February Sunday morning in the Frostbite series. Day 5 opened with trash-talk in the dingy pen, and promises that Stephen Quinn would be 'seen' at the start line. He was seen on the start line (although not in the Al Pacino sense of the word), and a good start on the pin he had too, in race 8, and taking advantage of a left-hander, rounded the windward in first. The 8 knots didn't suit his downwind defence however and he slipped back to 4th, after Ronan Cull, Daragh Sheridan and Ian McSweeney. Peter Kilmartin came into the mix in the second lap, and there was some competition for 3rd place in shifty and light airs. Cull proved a savant once more and won by some distance, followed by Sheridan and McSweeney.
The breeze lightened, and the heavy-weather types weren't as nippy out of the blocks in race 9. McSweeney cut a fine figure in new wetsuit and cag (proudly supplied by Dinghy Supplies), rounding mark 1 in first place. Sheridan, Troy Hopkins and Cull followed, and all four lined up for a close downwind leg. McSweeney rounded the leeward first, heading for the finish on a shortened* course. Cull took advantage of a poor decision by McSweeney and called him on starboard right below the line, Cull taking the bullet by half a second. Sheridan followed (having assumed a 2nd round, and over-standing the pin), and Hopkins finished a well sailed fourth. Manouever of the day goes to Dan O'Connell, who capsized in what can only be descibed as 3 knots of breeze.
Overall leaders are Ronan Cull, Dan O'Connell, and Daragh Sheridan.
Four 4.7's competed, and Rory McEvoy took two bullets. Alex Kavangh leads overall.
* Despite comments ashore, the course was not shortened simply because the class captain was winning at the time. Although he'll remember to make a deal with the PRO next time.
Report by Ian McSweeney - see Photos by Scorie Walls
Registered in the Republic of Ireland. Registered No. 81187