H&K Laser Frostbites Spring Series - Day 4
01 February 2015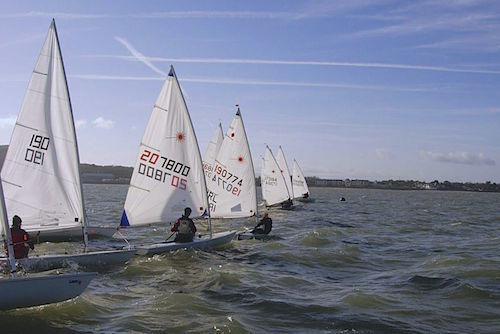 Another nasty Northerly(ish), more ice, and a visible chop from the shore, caused many a hesitant head as Laser Frostbite sailors watched the intrepid Dan O'Connell capsize on the slip while launching; a marked departure from his usual elegance in lauching and recovering.
Upwind legs were made a little more painful with a reasonably strong ebb and max of 24 knts in Race 1, but made for great reaching on a beatifully set Olympic Triangle. Dan O'Connell, Ed Rice and Ronan Cull were first around the windward, after heading left and out of the tide on the beat. It stayed this way until the last round, and finished O'Connell 1st, Cull 2nd, Rice 3rd. Further down the pack there was plenty of place changing caused by tomfoolery like mark-hitting, capzising, falling out, and swamping.
The wind abated slightly in race 2 with a low of 12 knts being recorded. Some of the young and infirm went ashore after race 1 (it was baltic, in fairness), but well done to those that started that second race – especially Paddy Judge, who remonstrated with Liam Dineen in the bar, after the latter had told rescue to pull the former out of the water. Paddy's swimming is a credit to HYC mind you!
Similar tactics were employed in race 2, and the breeze held on for some nice reaching in the chop. Dan O'Connell was top trump once again, followed by Ed Rice and Mike Evans in 3rd.
Overall: Ronan Cull, Dan O'Connell, Edward Rice, Mike Evans, Robin Hegarty.
In the Radials, Aoife Hopkins won the day with a 1st and 2nd, despite a sprained wrist. Ewan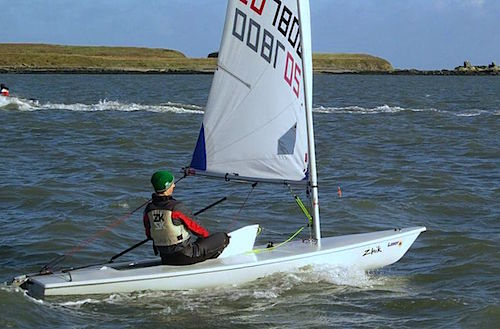 McMahon leads overall.
There were three 4.7's who placed in both races as they stand overall. 1st was Alex Kavanagh, 2nd Sarah Gallagher, 3rd was Rory McEvoy.
Thanks to the Race Committee for another good morning on the water, and well done to those for getting out.
(Photos by Neil Murphy)
Registered in the Republic of Ireland. Registered No. 81187