Lasers experience 'light and fickle' to 'wet and wild'
25 January 2015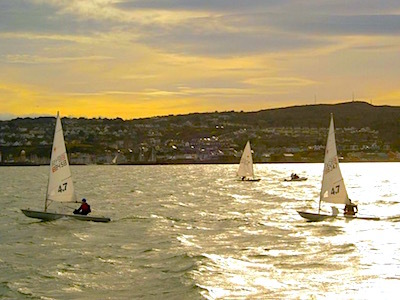 The dedicated Laser sailors of the Howth Frostbites launched in less than 5 knots and sailed a long downwind to the start line. The Race Committee raised the AP flag in the hope that the forecasted breeze would fill in from the West.
Race 4 (W/L Course) of this series got underway on Sunday 25th January in chequered conditions, as puffs and shifts rolled down the course. After a clean start, the fleet headed up the first beat against a flood tide which saw half the fleet sail to the right and the other half playing the centre and left side of the course. Mike Evans approached the WW mark in just above the Starboard layline in the lead as the wind started to fill in from the right. He was closely followed by Ronan Cull and Dan O'Connell.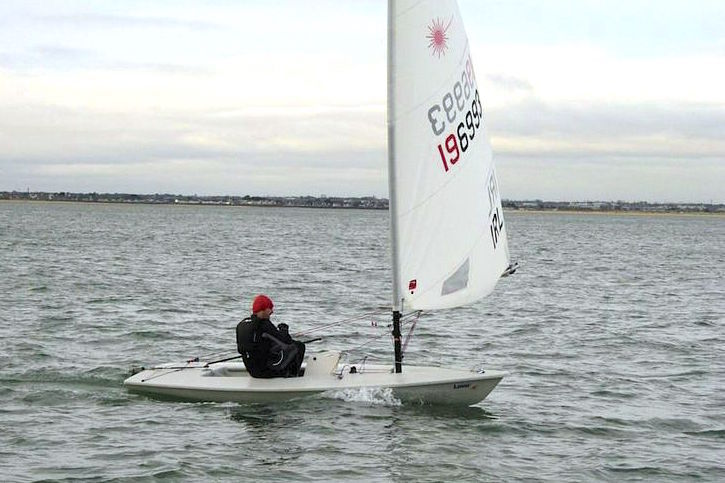 A cross swell on the run made it difficult to surf the waves keeping the fleet relatively close together with plenty of place changes as they approached the leeward mark. Ronan Cull led up the second beat followed closely by Dan O'Connell and Daragh Sheridan. This trio managed to pull away from the pack with Daragh Sheridan climbing up to second on the final beat just at the finish. Dan finished 3rd followed by Mike Evans in 4th and newcomer Galen Lowney representing Wexford Harbour & Boat Club in 5th.
In the Radials, Ewan McMahon took the bullet from Conor Twohig in 2nd. Five 4.7's braved today's conditions with Daniel Hopkins winning Race 1.
Race 5 was a different story; a steady Westerly at 20 plus knots was the challenge on an Olympic Triangle course. The RC wasted no time in getting into sequence and the fleet got away, despite the efforts of Troy Hopkins who had to go back on an individual recall. The leaders powered out to the left hand side before tacking just shy of the Port layline. Ronan Cull, Ed Rice and Dan O'Connell led the pack. After rounding the WW mark, the reaches provided some exciting planing conditions as sailors powered over the swell. Despite the conditions, the majority made it round the gybe mark unscathed avoiding the typical graveyard scenario!
Race 5 finished with Ronan, Ed and Dan rounding out the top 3, followed by Daragh Sheridan and Conor Costello, who is continuing his good run of form in the breeze!
Ewan McMahon took the bullet in the Radials, whilst mixing it with the Standards. And Alex Kavanagh took advantage in the breeze to win the 4.7's.
(Photos from Neil Murphy)
Registered in the Republic of Ireland. Registered No. 81187